Every year, religious and cultural events such as Christmas and Deepavali are celebrated in prominent, attractive places in Singapore. Singapore has no dearth of fabulous locations – there's the Marina Sands Bay, the Gardens by the Bay, Little India, Chinatown, Clarke Quay and many others. Singapore celebrates all festivals and events with great pomp and splendor. Each event here is a feast for the eyes and the soul. Here are five events that are celebrated with great pomp in Singapore at terrific locations. If you know of any others, do let us know!
Christmas at the Gardens By the Bay

The Gardens by the Bay is getting ready for its four Christmas spectacular. This spectacular futuristic park is putting up the Christmas Wonderland, which is Singapore's biggest yuletide fair every year. This year, the Gardens by the Bay is pulling out all the stops and here's what you're getting!
The highly-awaited Asian debut of the globally-acclaimed Ethiopian Circus Abyssinia
Magical skating under the stars
A tantalizing festive buffet by Singapore's award-winning restaurants Southeast Asia's tallest luminaire light sculpture
The yuletide season brings more surprises at the Gardens by the Bay. The seasonal floral display in the Flower Dome Observatory launches the 'Poinsettia Wishes' floral display teeming with winter flowers from the Nordic region. A lovely magical wintry landscape awaits you with conifer trees that glow in the night, and winter flowers scattered everywhere. Obtain a Singapore city tour itinerary and map out the places where events are taking place throughout the city. The Christmas celebration in the Gardens by the Bay is one of the top Christmas attractions in Singapore. It's simply not to miss and we hope you'll be there this year.
New Year Party in Singapore Marina Bay Sands
Usher 2018 in with great style at one of this year's most sought after New Year's Eve party destinations in all of Asia. You're in for an unbelievable, totally unforgettable night of fabulous festivities at the many party outlets of the Marina Bay Sands complex. We hope you will plan a trip to Singapore soon to join in one of these awesome parties!
Sky High Social: At 9:30 P.M. exactly, be sure you're at Marina Bay Sands, as Singapore presents its uber-glam countdown party. The SkyPark Observation Deck offers unparalleled views of the cityscape, and it's the best place to jive to the music with drinks in hand as the countdown fireworks begin. Partying at a height of 57 levels is something else; you'll be drowning in champagne, party favors, special celebrity performances, and plenty of in-house entertainment.
Spago Bar & Lounge: Experience a royal countdown from 7 P.M. at the red and gold Spago. Dress to the nines and jive away with glass in hand to the most cutting-edge DJ tracks.
Club 5: Club 5's got its own celebrations on for NYE 2017. You get a fabulous view of the fireworks on the 54th floor from here. Enjoy the stunning view while feasting on a buffet spread of seafood. If you've hankered for expensive caviar on ice and Sea Urchin in gravy, here it is for you as part of the celebrations.
Adrift: The next exclusive party location on Marina Bay Sands is Adrift Bar and Lounge. Enjoy 23 uninterrupted hours of free-flowing wines, beers, champagne and spirits. Bottomless booze is just one side of things. There's intoxicating live music, and a sensational 6-course dinner by Chef Chutoro Tataki. Enjoy fabulous foods like Kagoshima Wagyu with Japanese Sweet Potato and Smoked Cheese and Finger Lime and Pink Pepper.
ZoukOut 17 – Asia's Biggest Dance Music Festival In Sentosa Island
One of Asia's longest running dance music festival that takes place every year at ZoukOut, which is ranked the 4th best nightclub in the world. It's a dusk-to-dawn festival that runs for more than 12 hours. This year in 2017, we will witness the 17th edition of the festival at ZoukOut, and expect about 45,000 fans to arrive at Siloso Beach, Sentosa on the 8th & 9th of December. ZoukOut is a dance pioneer in the entire region; each year, ZoukOut has been putting together immersive, Class A experiences using world-class stage productions and ensembles, with some of the biggest names in dance music globally.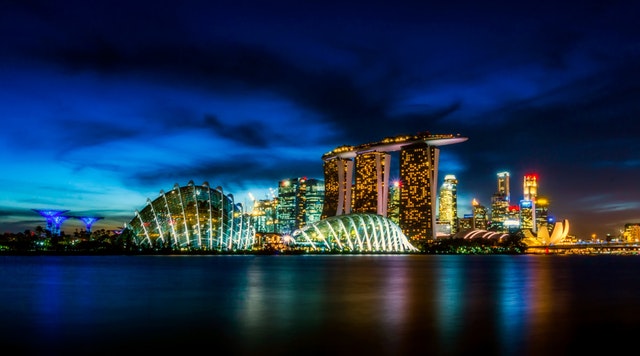 Chinese New Year – Marina Bay River
The people of Singapore are all set to usher in the Chinese New Year in February 2018, at Singapore's Marina Bay's iconic Floating Platform on the River Hongbao. You're guaranteed some special Chinese cultural experiences throughout the lively River Hongbao celebrations at Marina Bay Sands, an event that's been going on since 1987. Huge lanterns depicting figures from Chinese myth, handcrafted by Chinese craftsmen will light up the skies. Have your fill of the mouth-watering Chinese spread at this festival. Take part in the fringe activities such as carnival games and amusement rides. This colorful extravaganza's best part is the fireworks New Year's countdown, which will be spectacular.
Deepavali In Little India
This annual Hindu festival of light over darkness is celebrated at Little India with bright colors, tantalizing aromas and the illumination of a million little clay lamps lit with oil and wick at Little India. Entire streets will be lit up and shops will be specially decorated with auspicious plantain leaves, flowers, colorful patterns and lamps of oil.  Huge statues of elephants and peacocks welcome visitors while fireworks go off at night in celebration. Be sure to shop for flowers and watch the parade of the goddess Sri Drowpathai Amman from the Sri Mariamman Temple in Chinatown to Little India. A week before Deepavali, the Sri Mariamman Temple conducts an unbelievable spectacle. It's called Theemithi, which literally translates into 'step on hot coals'; it's a ritual where men walk on a strip of hot charcoal as a tribute to the goddess.