In order to make our trip economically viable, planning began in late September. The cheapest flight to Amsterdam was from Southend Airport – strangely dubbed 'London Southend', even though it resides in Essex. We could get there on the train, with a few stops, directly from Norwich. As an example of the importance of good preparation, the total price of travel to and from Amsterdam was just £83.96 each.
We took a taxi to Norwich railway station. The Pogues' Fairytale of New York rang out from the Volkswagen's speakers, reminding us of the season: it was Christmas. There is some inherent pleasantness created by Christmas music, especially good Christmas music, that forces us to shed out pretences; the taxi driver happily hummed and mumbled along with the radio in a pseudo-Irish slur.
At the station, we had a few minutes to collect our tickets before the train. We made stops at Colchester and Shenfield before arriving at Southend Airport. The train journey was pleasant, if not a little long. Travelling by train has always been my favourite mode of travel: the scenery, the comforting sway of the carriage, the history of the tracks beneath you.
Southend Airport is small. 'Our flight was today, wasn't it?' I said to my fellow traveller. The airport seemed empty, except for a Hasidic Jew walking back and forth outside, trailing his suitcase behind him – a magnificent top hat adorning his head; below it, Payot curls fell. Naturally, we moved through security very quickly, however, this meant that we had a long wait before our flight.
Aboard the plane, a group of young, blonde-haired Dutchmen played cards and drank the exorbitantly priced on-board cans of Heineken. We had already booked a tour around the old Heineken brewery – there was not much else to do before our flight – and I licked my lips thinking about it. It was the first time I had flown in darkness. The lack of views during the flight was a small price to pay. As we descended, the stunning lights of Amsterdam engulfed my vision. The runway was lit up in red. 'Is that the red light district?' someone behind me said during landing.
A double-decker train took us to from Amsterdam Schipol Airport to Amsterdam's Centraal station – around €5. As we moved towards to city, in the dark of night, buildings grew taller and neon lights and signs grew brighter. From the upper deck of our train, looking out at the light display, I felt like I was Harrison Ford in Blade Runner.
Centraal Station opens out onto the expanse of Amsterdam. We emerged into the city hungry and tired, but elated. It was meant to be a thirty-minute walk to our hotel. Meant. It took us over an hour and a half – in the downpour of a relentless rain, no less. Never trust the little triangle on your phone which confidently (yet, as we would soon discover, erroneously) asserts your direction.
For around €50 a night, we slept in a comfortable double bed, in a clean, large room, with an en-suite bathroom and shower. I cannot recommend Hotel Bellington enough. The stairs up to our room were lethal – at least I did not fall down them twice – but, other than that, I cannot fault the place. The receptionist, Michelle, talked us through the city on a map, a local's guide: the markets, secret gardens, points of interest. We unpacked, explored a little and then went to bed. It was late.
We woke up to the chirping of wild parakeets and the rising of the morning sun. Slants of light broke through the curtains. We needed to get out and grab breakfast before our early slot at the Vincent Van Gogh museum which was, fortunately, only around the corner. Indeed, Hotel Bellington is excellently located: all the major museums are within a five-minute walk. If you like shopping, you will not need to go anywhere else – Tommy Hilfiger, Tiffany's, Chanel, and every other conceivable high-end shops are on the same road as the hotel.
Michelle recommended Bagels & Beans for breakfast, a two-minute walk from the hotel. Although we later learned that it was a chain, Bagels & Beans' quality is incomparable to the dross found in the United Kingdom. For €11.90 we each had a fresh bagel of our choice – sesame seed, sourdough, tomato and basil, raisin, et cetera – with gorgeous strawberry jam and the greatest cream cheese I have ever tasted, coffee and freshly squeezed orange juice.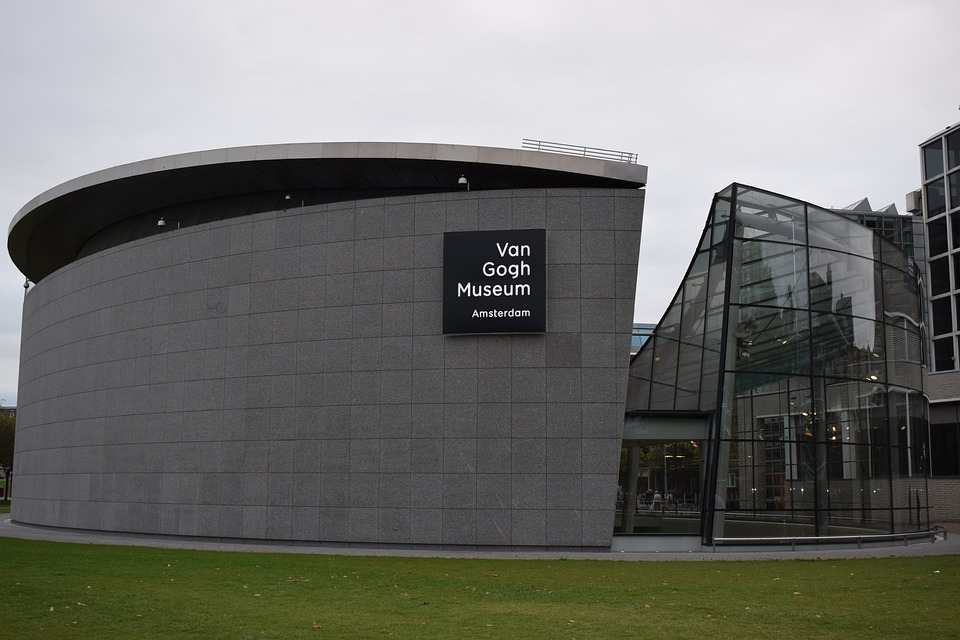 The Vincent Van Gogh museum – entry €18 and well, well worth it – it was the highlight of my stay in Amsterdam. It holds two hundred paintings, four hundred drawings, and seven hundred letters of Van Gogh. You explore the famous painter's artistic origins, his decline into ill-health and death, and everything in between. No other artwork has affected me the way that Van Gogh's Self-Portrait with Grey Felt Hat did, not even the Mona Lisa. The sadness, the promise, the uniqueness, the colour, the innocence. By the time we left, I felt like I knew him, as cliché as that sounds. The museum was not very busy and we managed to see everything we wanted. The benefit of Christmas travelling, especially just before the school holiday begins, includes both the decorations and atmosphere, but also the lack of tourists who swarm the city in summer. We spent the rest of the day exploring Amsterdam's canals and cobblestone streets, identifying several places where we had stopped the previous night in the rain, exasperated and dumbfounded by our directional inadequacies.

The next day we ate breakfast at a small bakery near the hotel: coffee and almond croissants all around. We then attended the Rijksmuseum – entry €17.50 – and spent hours examining art and artifacts from the middle ages, up to now. 'The Nightwatch' by Rembrandt was particularly striking, displayed at the end of a lofty room. It is a mammoth piece of art, awe-inspiring, and something you must witness in person to fully comprehend. The museum offers fantastic range, which may be more suited to those who might find the Van Gogh museum restrictive.
Outside we ate street food: veggie hot dogs, covered in lettuce and onion and mayonnaise; and freshly pressed, hot, sticky, stroopwafels. As we munched on our food, we gazed out across the ice rink near us. A young couple clung to the edge and I wondered if they would ever let go. Maybe they are still there. A father gingerly shifted along in trainers while his three children joggled across the ice in front of him, unaware of the panic they were causing him. Beside the rink, what seemed like hundreds of people gathered around the 'I Am Amsterdam' sign, desperate for a picture to show their friends. In reality, the pictures taken probably only showed them in front of a single letter, like 's' or 'm' – maybe both. Hopefully not 'terd', though. We spent the rest of the day discovering hidden streets and old cafés. Amstel and Heineken – actually, all of the Dutch beers which are imported to the United Kingdom – tasted wildly better.
We then looked around Heineken's old brewery as part of the 'Heineken Experience' – entry €16.00, including two drinks. We were led through various rooms and factory spaces, saw the brewing tanks, mash tuns, tasted Heineken, and ate cheese and mustard. Of course, the tour is heavily commercialised and what you are seeing feels more like a façade than anything original. However, we thoroughly enjoyed ourselves and it passed the evening marvellously.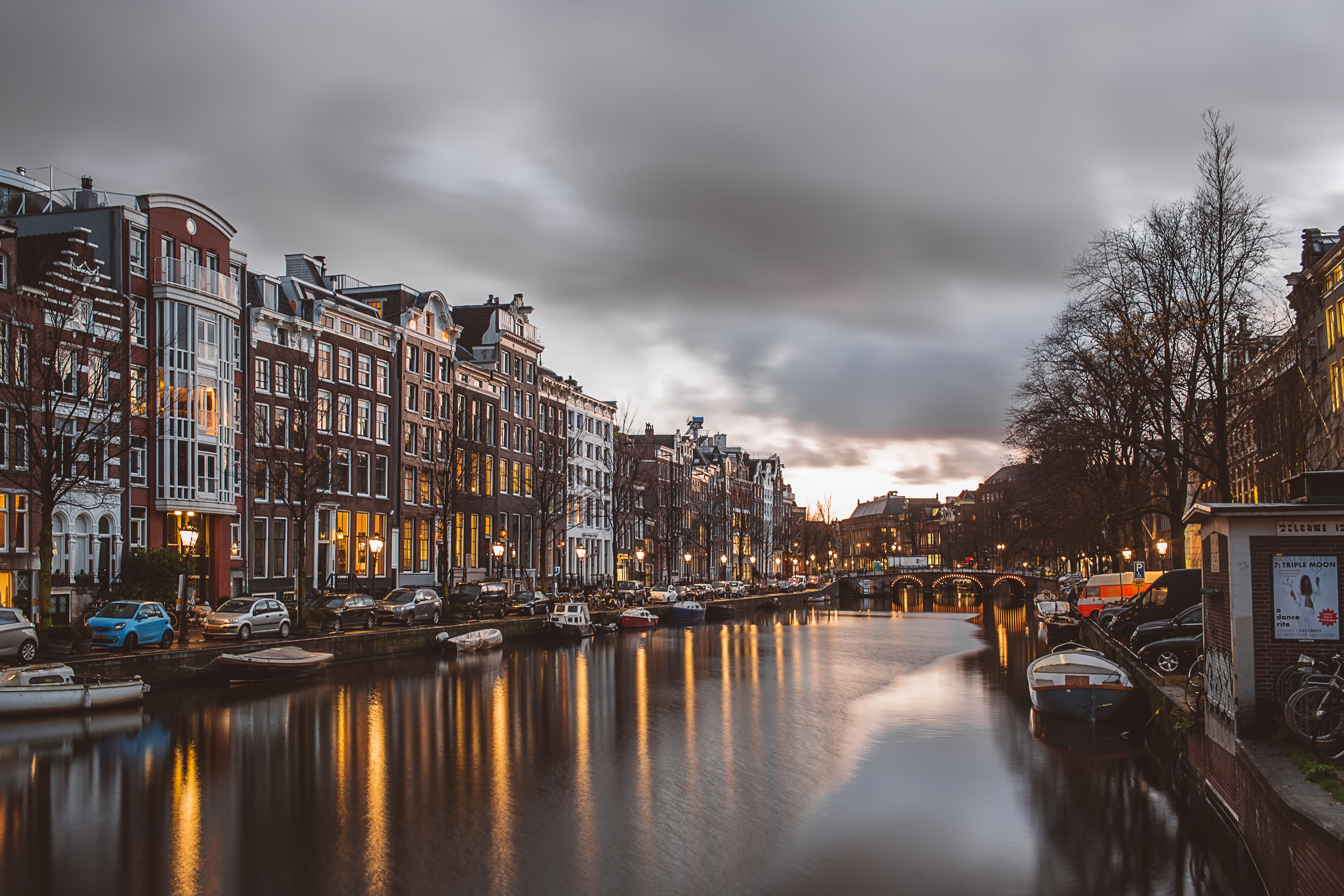 The following morning we got up early and trekked across Amsterdam towards the Anne Frank House – entry €9.00. We had breakfast and coffee, looking out of the café's large window: cyclists darted past, trams blasted through, and tourists wondered about, their eyes absorbing their surroundings. The Anne Frank House was very moving. The original diary was replaced with a facsimile due to construction work on the building next door, which was a shame but did not really matter. Anne Frank is an inspiration to us all: yesterday, today and tomorrow. She was so extraordinary, and the tour reaffirmed this. It is necessary for all who visit Amsterdam, a kind of acknowledgement-of-history-and-our-terrible-past pilgrimage that every tourist must take.
Later we walked through the streets and it began to lightly rain. It was time for lunch. We visited The Pancake Bakery, having read excellent things about it online. It appeared that other people had, too. There was an annoyingly static queue.
'We might as well wait,' I said.
My fellow traveller swallowed their annoyance and said, 'Okay, if you insist.'
How very British of us. It was so worth it. To start we had a giant cheese and mushroom omelette, placed on top of granary bread; the side of the plate was covered with a crunchy, beautifully dressed salad; and generous dollops of ketchup filled the small gaps that were left on the plate. It was, without a doubt, the best omelette I have ever had. Next, it was time for a pancake – after all, this was why we had come. We looked at the menu: 'The Dutch: Pancake with stroopwafel chunks, cinnamon ice cream, chocolate flakes and whipped cream.'
'It would be rude not to,' I said.
'Agreed.'
It lived up to its description. If in Amsterdam, you must go to The Pancake Bakery, even if there is a queue. Order 'The Dutch', but, by God, share it with someone else. Otherwise, you will eat yourself into a cinnamon ice cream and stroopwafel stupor.
It was the final day. We checked out of the hotel, sad at the dwindling time we had remaining. We looked around the Red Light District – who does not? – and drank coffee in a quirky café. A cat sat near us, staring out of the window. In the city centre, we had some time to kill before our train.
'We could always go to that Body Worlds thing,' my fellow traveller said.
My stomach turned. 'Okay,' I said.
Body Worlds – entry €20.00 and dubbed 'The Happiness Project' – is a strange, terrifying, and beautiful exhibition by Gunther von Hagens. It features over 200 anatomical specimens of real human bodies – from cross-sections of the liver to full bodies engaging in intercourse. They are preserved through a process called plastination, stripped of their skin – except, strangely, that of their nose, eyebrows, lips, ears, and sexual appendages – and posed in various ways. They never truly felt real. It is hard to describe the feeling they give you without one actually experiencing it themselves: eerie, uncomfortable, yet mesmerising and inspiring. The exhibition had a strong focus on our health, the importance of exercise and a balanced diet, and the detrimental effects that bad life choices have on our bodies. I did leave inspired, but shortly after I returned to a stomach-turning nausea.
We had just over an hour until our train. The Sex Museum – entry €5.00 – is located by the station, Amsterdam Centraal. 'Why not?' I asked. 'It can't be any weirder than the last one.' The less said about the Sex Museum, the better. If you do decide to go – why not? – then prepare for freaky celluloids, statues and… other things. In all honesty, though, some of the ancient carvings were very interesting and illuminated us on many of the leisurely pursuits our ancestors followed.
Our train arrived. We headed off to the airport – again, around €5.00 – with a quiet sadness. Amsterdam Schiphol Airport was surrounded by fog. Our flight was delayed several hours. Better yet, the gate number kept changing and in our small cohort of Amsterdam-to-Southenders, panic and restlessness struck. We had no idea what was going on. Finally, we boarded the plane; the fog had somewhat subsided. Bags away, seat belts on, and an announcement: another delay. Groans filled the cabin.
In the end, we arrived home safely and began missing our travels straight away. It had been a memorable five-days-and-four-nights. Our feet ached; we had walked miles and miles each day to save money. But our hearts were warm. I would love to go back in the summertime and experience it all over again, with new light on the trees and a gentle breeze to cool us as we explore more of Amsterdam's hidden gems.
Written by Alex Caesari
&nbsp