The summer of 2016 saw me solo travelling to Italy to visit my best friend Shannice, who had recently moved over there to live. Despite being incredibly upset that she'd moved countries, it allowed us to have the best five days together.
I plucked up the courage to fly on my own, well, it never really sunk in until I was on my way to the airport, and then I was like uh…am I actually doing this?! It was scary and nerve-wracking, but such an achievement for my own confidence. I salute all those who go on holiday by themselves, I couldn't do it! I booked flights with Ryan Air and it only cost me £15 each way, so if you're wanderlust, you can definitely travel on a budget!
I had to fly out to Pisa, because that's the nearest airport, and despite being delayed and causing me more panic, I made it and was greeted by Shannice! Off we went in search of our Air B&B, we had to take an extremely packed bus (I almost toppled out of the doors), and then search the streets aimlessly for the correct building, we thought we were going to become stranded. Alas, we found it! As we were only there for the night, we just payed for a cheap, standard room. I would recommend looking for cheaper alternatives like an Air B&B when traveling instead of a hotel, but always make sure you do your research, and stay safe!
It was night time when we arrived, but we managed to still make out the Leaning Tower of Pisa. HOW do you take those candid photos pushing the Tower over, or doing some cool artsy handstand against it?! My photo wasn't even close… just picture a member of a girlband posing awkwardly. We ate pizza by the Tower, ended up in a random empty bar, and had no sleep in the room due to the heat and no working fan. Looking back on it, it was a funny experience.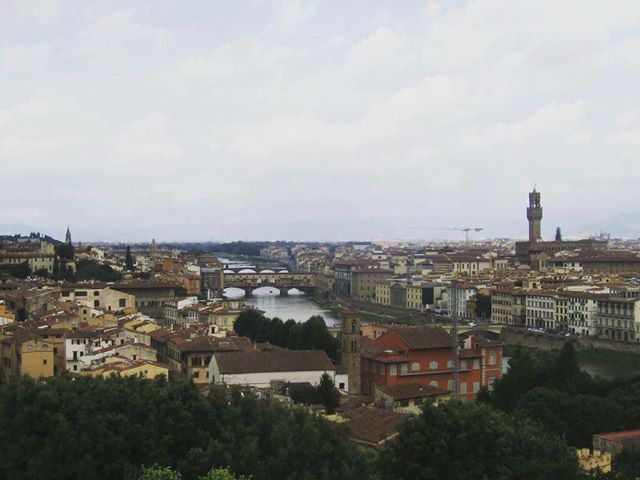 We took a coach the next day to Florence, and my oh my, was I blinded by its beauty. The stunning architecture, the vibrant bustling streets, the strong smell of bread and biscuits baking in nearby cafes, sold me instantaneously. Florence is well known for its art and grand churches, so how could we not go see the Cathedral of Santa Maria del Fiore (the fourth largest Church in the world!!)
Our Air B&B was absolutely gorgeous, and this time we had our own apartment, despite it being up about ten flights of stairs (it was worth the work out each day). I thoroughly enjoy exploring new places, just walking around with no real plan in mind, we let spontaneity engulf us.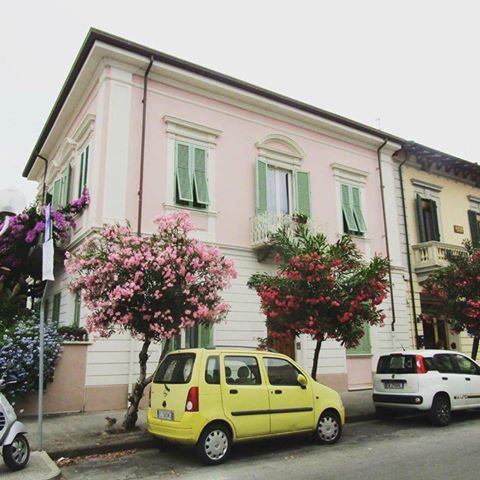 I've never really been one for art myself, I'm absolutely terrible at it for one, and I've just never really appreciated it before. However, Shannice and I visited an art gallery, it all felt very high brow at first, but I actually loved it! We went round interpreting the art, you know, like you see in the movies, it was very fun coming up with our own scenarios and using our imagination. I think it's great to get out of your comfort zone and do things you wouldn't normally do. Pull out your imagination hat, wear it with pride, and take a walk in someone else's shoes, it's incredibly enjoyable.
On one of the days we even randomly found a river that was surrounded by sand and people sunbathing, we grabbed a can of coke and took some time out from all the hustle and bustle. We came here after visiting The Giardino Delle Rose, which is a beautiful rose garden, full of flowers and panoramic views of Florence. Once you reach the top of the hill you will be utterly mesmerised by the magnificent view that's awaiting you, it shouts for you to come explore its hidden gems, busy shops, and stand out attractions. (HELLO Sephora!!!)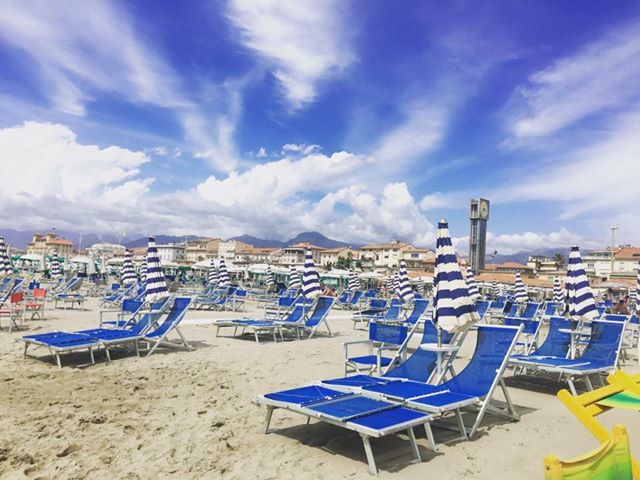 When in Florence, you can see the most famous statue in the world, the Michelangelo statue, the Ponte Vecchio, The Duomo, and the Santa Croce Church, I wish we had had endless time to see even more of the sights, but I wouldn't have changed the trip for the world. We didn't plan anything in advance, I was lucky enough that Shannice and her boyfriend Guglielmo acted as my travel guides, but the rest of the time we just caught up with each other, drunk wine, ate pizza and pasta, went to a club, shopped, danced, laughed, chilled in the apartment, went for walks, ate the nicest sandwich I have ever tasted by the river (oh sandwich how I miss you… Joey Tribbiani who?!), it was all just very magical and surreal.
Of course it was Italy, home to exquisite wine, that transformed me into a wine lover too!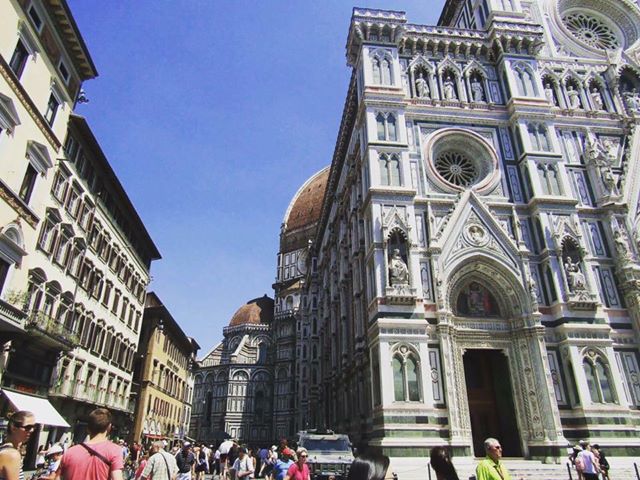 I think it's great to see the sights and popular tourist attractions when you go away, but I definitely recommend just going off the books, and finding your own paths. Thus, the last day became my favourite of them all. A visit to Viareggio. I mean, it was an adventure in itself trying to find the correct train platform, but once we got on (it was a double decker train!!!) the journey begun. Upon arrival, I felt like we were apart of a film. There was nothing in sight. We were slightly worried to the say the least. However, we took a five-minute stroll, and upon turning down a street, we were surprised to see the most amazing pink and red flowers dotted on every tree. We felt like Hansel and Gretel, following a trail of breadcrumbs to the house made of sweets, except it was a gorgeous beach for us! The houses were something else, think pastel pink and blue doll houses you'd play with as a child, it was a real life film set. Viareggio is a must visit, we had lasagne by the sea, a look at all the cute little shops, and sunk our feet in the sand. On the way back to the train station, we took a different route, and walked past a huge woods. We soon realised it was a carnival and could not resist having a peak. There were stalls of flowers of every colour, home decor, food glorious food, and then to our right we saw…the rickshaw bikes. Oh you best believe we drove that thing like there was no tomorrow. It was hilarious riding it around, trying to dodge not only people and cars, but other rickshaw riders, who were erm, quite competitive beeping their horns at us at every turn! Shannice and I have never laughed so much in our life, peddling really fast so we'd fly down the little hills at top speed, trying to drive out of ditches that we'd accidentally landed in, and stopping to catch our breath every two minutes, what it's tiring!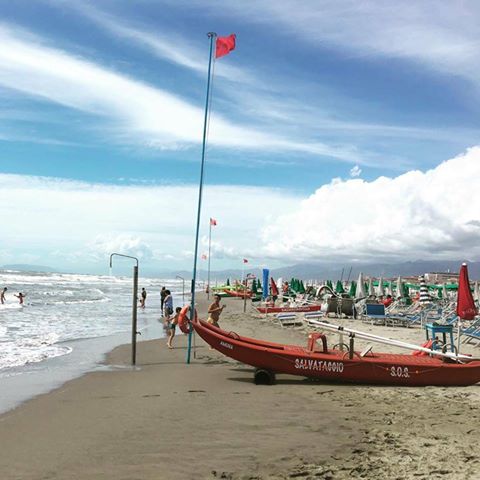 I've loved reliving the magic whilst writing this post, but it's also made me miss my best friend and the city so much, I think another trip is in order soon, huh Shannice?!
Have you ever visited Florence before? Did you find yourself making plans and sticking to the tourist attractions, or were you spontaneous and stumbled across hidden gems?!