According to Aristotle, "There is something of the marvellous in all things nature", and England's natural wilds are marvellous indeed.
This pocket guide follows one of the best wildlife walks in England, the four mile Blakeney Point Coastal Walk in Norfolk. Lasting around three hours, the route will take you to the iconic four mile sand and shingle spit, the Point, one of Norfolk's most iconic landmarks.
Beginning at Cley Beach, follow the shingle ridge towards the sea, or walk along the beach if the tide is out – the firmer sand is an easier surface for aching calves. Vegetated shingle such as you will find on the ridge is a rare habitat, so keep an eye for the purple sea pea which has floated to Norfolk from its native home in Asia, America and temperate parts of Europe. You'll also find the horned sea poppy, amber and gold yellow and a protected species, so don't pick them, however beautiful. You might also find shrubby sea blight, which is most commonly found on this coast. Expect nesting birds along the way, so tread carefully, although most nesting areas are fenced off. Oystercatchers and other waders will be present along this part of the route, as will lapwings, easily identified by their splendid crests and you might be lucky enough to see grey seals sunbathing on the shingle.
The next landmark you'll see is the Watch House, also known as Halfway House. Thought to date from the 1830s, it was used as a look-out for smugglers until it was discovered the smugglers were using it as a place to stash their contraband. HM Coastguard took it over as a foul weather watch station and in the 1930s was leased to the Girl Guides Association, who continued to use it until 1992. The Blakeney Watch House Trust which now looks after the property, lets it as holiday accommodation and it has proven so popular that applications to stay there have been decided by ballot.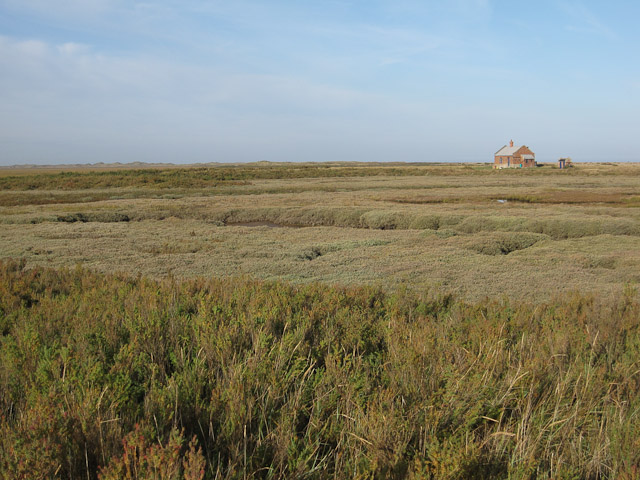 From the main dunes, head towards the blue lifeboat house, which is more than a century old. Originally built in 1898, and refurbished several times during its lifespan, the bright blue lifeboat house was only home to lifeboats for a short time before build-up of shingle rendered launching the boats impossible. In 1923, the first ranger to look after the Point moved in, and it's been home to rangers ever since, with a brief interlude during World War II. The views from the lifeboat house stretch from Beeston Bump in the east to Scolt Head Island in the West. Cley and Blakeney are just two of the coastal villages also visible.
The Point itself is infamous for its breeding and migrant birds, which include Terns and pink footed geese as well as barn owls and birds of prey Marsh Harriers and Peregrin Falcons. But it's Blakeney's seals that really attract the visitors, and the Point is home to a colony of common and grey seals: 2,700 seal pups have been born here since 2001 and they are a familiar sight. Access west from the beach boardwalk is prohibited to protect seals, although you may be able to spot them hauled-out on the tidal sands nearby.
Now it's simply a matter of returning to the car park with the sea to your left, enjoying the wildlife on your way back to Cley Beach.
We stayed at The Kings' Arms to experience "Real Norfolk, real Blakeney, real hospitality". This Grade II listed traditional inn is just a short distance from the Quay. Offering bed and breakfast and famed for its locally-sourced seafood, it's the perfect way to relax after your wildlife experience on Blakeney Point.