We often look to get on a plane when it comes to going on a getaway. However, in recent years our capital has been voted the best city in the world for quality of life, beating Paris and New York! That being said, what better way to spend overlooking the beautiful sites London has to offer than sipping a cocktail with your friends or partner. With this in mind, here's a list of 10 amazing London rooftop bars you must check out!
---
London Rooftop Bars | Galvin at Windows | Mayfair
Situated on the 28th floor of the London Hilton on Park Lane, this places oozes sophistication with an interior evoking the glamour of the 1930s. Sit in the bar with views overlooking Canary Wharf, the London Eye, Hyde Park, Buckingham Palace and Wembley Stadium, with DJs spinning tracks at weekends, or make a reservation in the Michelin-starred restaurant and experience seasonally inspired menus based around modern French haute cuisine.
London Rooftop Bars | Sushi Samba | Liverpool Street
Located on the 38th and 39th floors at Bishopsgate, just a stone's throw away from Liverpool Street station, for added convenience, this place is very special indeed. Offering a unique blend of Japanese, Brazilian and Peruvian cuisine, culture, music and striking design. According to their website the location features the highest outdoor dining terraces in Europe, offering 360 degree views of London city. As soon as you enter you are instantly wowed by everything you see, from the bold black and white gloss floor to the tall open bamboo ceiling, glass windows with breath taking views and orange tree on the terrace.
London Rooftop Bars | Bokan | Canary Wharf
Lounge in the sky all year round and relax on the rooftop terrace, sip cocktails, wines, spirits and crafted beers from the bar, or indulge and dine whilst admiring captivating views of London's skyline in the restaurant on the 37th floor at Bokan. I found the staff very polite and helpful, who listened to my drinking taste and made a cocktail specifically to suit my preferences.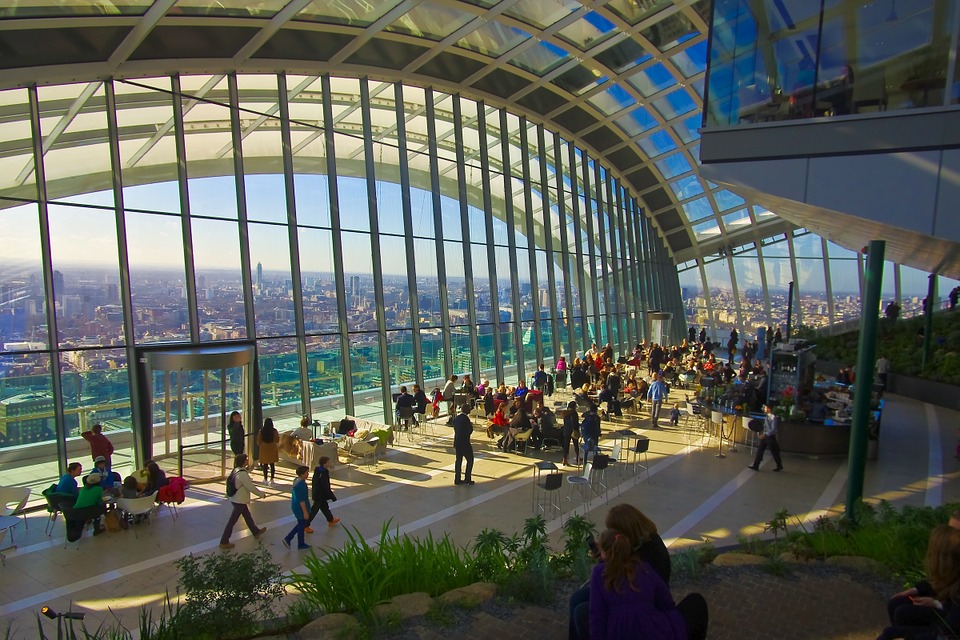 London Rooftop Bars | The Roof Gardens | Kensington
Set beside three rooftop gardens are the Roof Gardens in Kensington. Away from the business that London brings, this bar is worlds apart and comes complete with flamingos which only enhance the elegance of this unique rooftop bar. You can dine in style as the Roof Gardens are as glamorous as they come and the events held here are beyond spectacular. Enjoy a delicious meal and sip your champagne as you take in the tranquillity the garden has to offer.
London Rooftop Bars | Sky Garden | Fenchurch Street
Often referred to as 'the walkie talkie' due to its unusual and unique shape – the Sky Garden is a grand restaurant located on the top floor of a sky scraper approximately 155 metres high. The stylish restaurant offers views overlooking the capital and beyond and is a dining experience like no other. Its British contemporary menu includes a wide range of meat and fish dishes with excellent vegetarian choices – all very beautifully presented. This exquisite location takes up three storeys of the famous enlarged glass dome on 20 Fenchurch street and offers open air terraces and modern public gardens.
London Rooftop Bars | Rampus Room | South Bank
Whilst enjoying the iconic views of London, you can indulge in the British-American styled cocktails and cuisine surrounded by lush greenery and music from some of the hottest bands and DJs. The comfortable lounging spots and the chilled atmosphere makes it the perfect rooftop bar for those looking to simply enjoy the company of friends and tasteful dining in modern London.