Japan is famous for a number of things; its unique architecture, tasty cuisines, and hectic nightlife. But this time of year brings new beauty – between March and May, the green of Japan's trees fade and is replaced with pastel pinks and purples as cherry blossom begins to bloom. And these are the best places to see it…
Kakunodate
An expanse of weeping cherry blossom trees can be seen here, along with enchanting samurai residences – they have an extensive history stretching back over more than 300 years.
When cherry blossom season comes around in late April, visitors can embark on a 2km stroll parallel to the Hinokinai River, through a flowering tunnel of pale pinks and purple. The black walls of the residences against the pretty pink is beautiful – and the trees are identified as one of the nation's natural monuments.
Hirosaki Castle Park
This spot is one of the best places to see cherry blossom trees in the Tohoku region; plus it's steeped in history – there is a castle with gates and turrets that were constructed by the Tsugaru family who once owned the area.
For the best experience, take a walk along the castle's western moat; you'll see the Shunyo Bridge, Mount Iwaki, the stately castle tower, and of course, plenty of pink cherry blossoms – there is around 2,600 trees of 50 varieties! The best time to see them is late April to early May – this is when the Hirosaki Cherry Blossom Festival is held annually.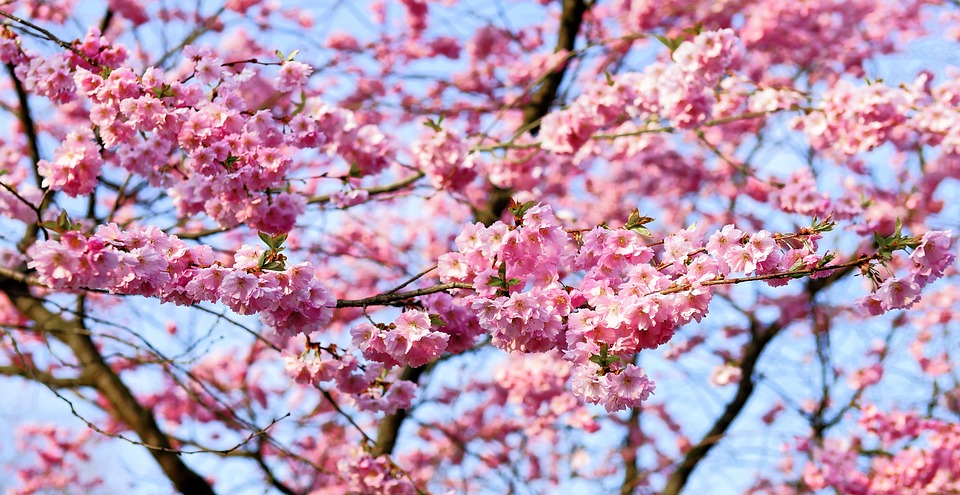 Ueno Park
This is the most popular cherry blossom spot in all of Japan; it features more than 1,000 trees paving the streets towards the National Museum and all around Shinobazu Pond.
In the evenings, the trees are lit up creating a truly magical space. Parties are often held here during the spring under the canopies of flowers. The best time to see these blossoms in between late March and late April.
Nagoya Castle
Alongside Himeji and Kumamoto castles, Nagoya is one of Japan's most beautiful castles. It is used to display art treasures including 1,047 paintings, and the upper floors serve as a scenic observatory.
The castle is most stunning when the cherry blossoms flower; there are several weeping cherry trees, yoshino trees, and even some rarer varieties of cherry trees blooming here between late March and early April. At night, the trees are lit up.
Maruyama Park
It's one of the oldest parks in Kyoto and it is famous for its large weeping cherry blossom trees which look their best at night. They are brightly illuminated and attract scores of people in early April right through until the end of the month.

Visitors can explore the Philosopher's Path; a track from the Ginkaku-ji Temple to Wakaoji-jinja Shrine – you'll see a variety of cherry blossoms decorating the river banks, and pretty pink petals floating down the stream. It's a truly atmospheric and stunning walk between the hitoric monuments.