Prague, the Czech capital, is a beautiful and vibrant city which enables visitors to absorb some of the purest and strongest 'European' vibes that the continent can offer. With a diverse and unique history flowing back and forth between its neighbours in Germany, Austria and Slovakia and the notoriously complex Czech language, the country carefully balances its own identity with that of a wider European community. As a result, eating can be quite an experience with restaurants in Prague ranging from multinational, nondescript chains, to quirky, fun eateries and local, quintessentially Czech dining venues.
In the heart of Prague – Mama Lucy. 
It's impossible to miss the iconic Staroměstské Náměstí (Old Town Square) when visiting the Czech capital. Here lie some of the city's most notable landmarks and with thousands of people wandering between the famous Pražský Orloj as it chimes, clunks and ticks and the imposing Týn Church, it's no surprise to see a high number of restaurants and bars all competing for custom. Mama Lucy is located in a street just north of the square and makes a point of claiming to serve 'Traditional Czech Cuisine'. Inside, a quaint, rustic and busy atmosphere marries attentive, friendly staff on hand to guide you through a good selection of Czech main courses. This includes the local Prague Goulash, served within a loaf of bread, along with other pork and duck dishes and tender chicken schnitzels. For the less adventurous, Italian pasta or Norwegian fish can be picked from the rest of the menu and with Pilsner Urquell lager and the rather potent Jubilejná (a strong Slovak spirit) on offer, there's something hailing from central Europe to suit most. Prices are noticeably steeper than other restaurants in the city, but this is no doubt due to its proximity to one of the main tourist draws. As with almost anything in the Czech Republic, prices are still much lower than those of neighbouring countries using the Euro.
For the western comfort eater – the Hard Rock Café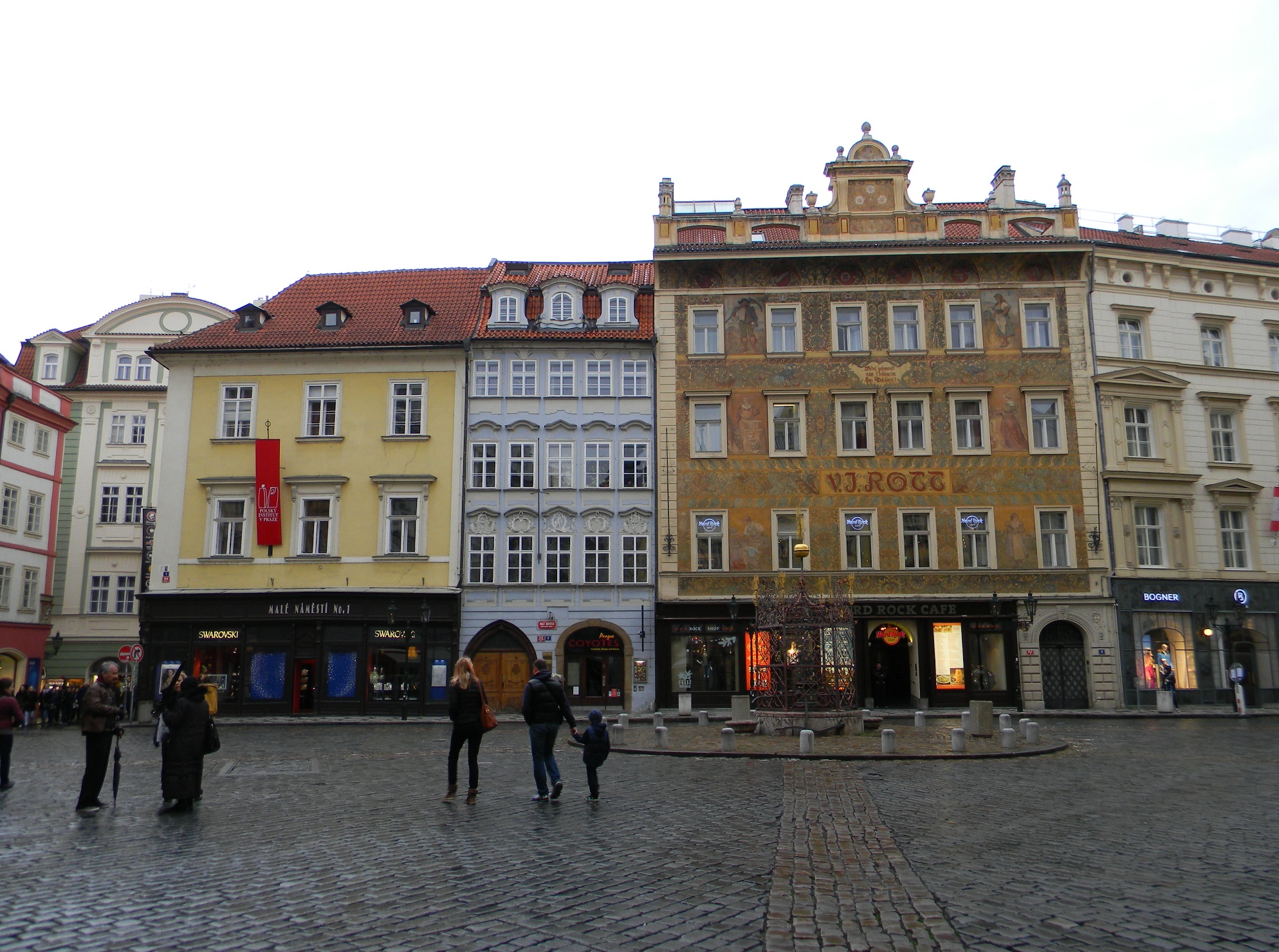 Sometimes, even the most the engaged travellers seek to find familiarity in foreign lands and for those with some extra spending money, a desire for western grub and an enthusiasm for anything remotely American, the Hard Rock Café provides the perfect evening meal. The set-up is simple; decorate an attractive building by filling the interior with rock n roll memorabilia, over-priced merchandise and a heavier-than-average soundtrack, level the playing field with English-speaking staff and offer food and drink with little or no resemblance to one's actual location. While this might sound like a snub, the fact is that in most capital cities this culinary chain brings people of varying nationalities (including locals) to one place for the night and with good service, plenty to talk about on the walls and satisfying food, the Hard Rock Café sits perfectly when celebrating a momentous occasion or just having a good time. The restaurant is located in the beautiful V. J. Rott Building in Little Square, just west of the Old Town Square.
Štefánikova & Mie Frais – seeking something different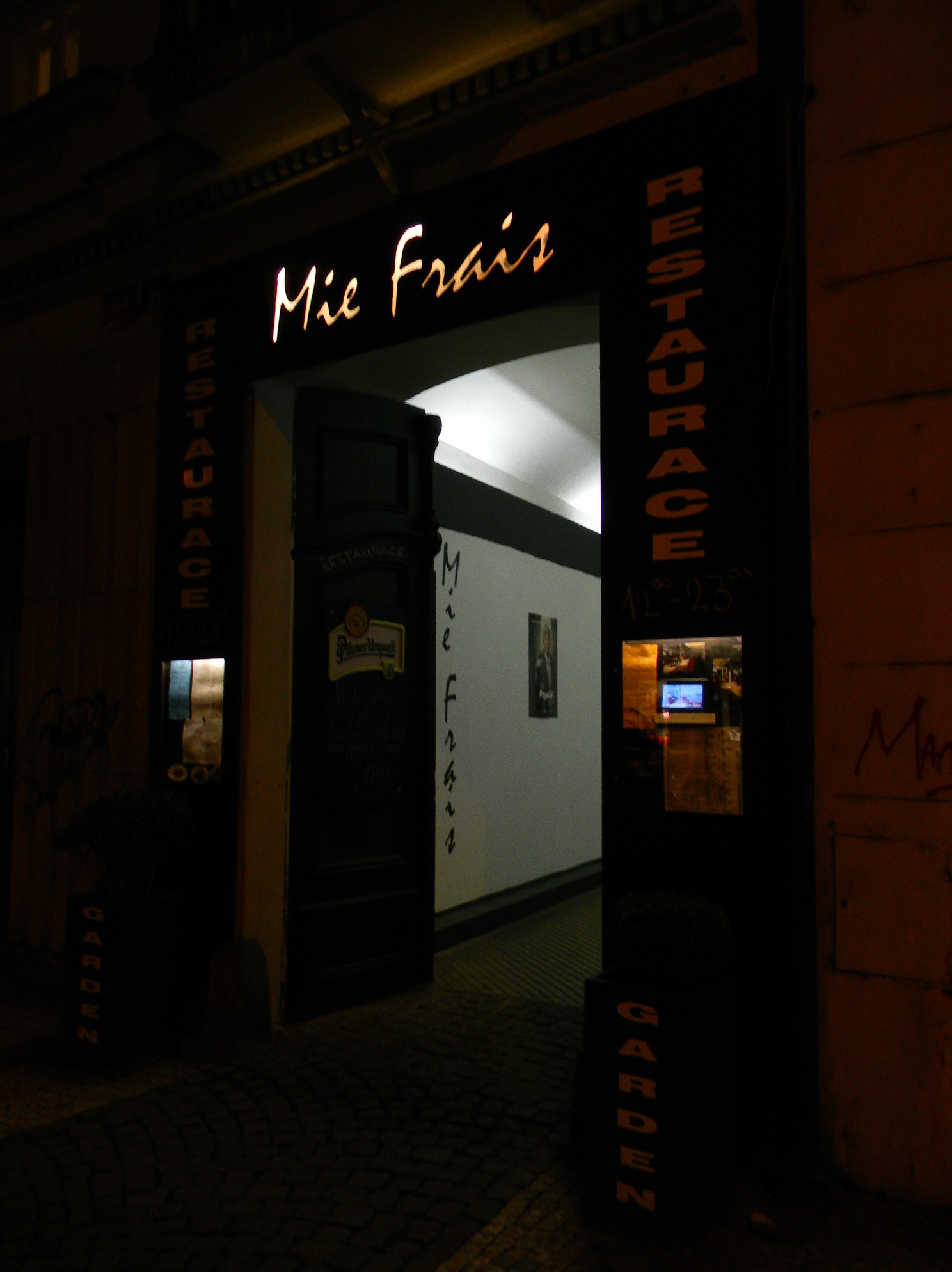 Sometimes, going away from the crowds and seeking the strange and unusual is by far the most rewarding way to dine abroad, even with the risk of stumbling upon awkward language barriers, perplexing menus and uncomfortable customs. Štefánikova is a wide thoroughfare southwest of the city centre starting at the Švandovo Divadlo tram stop. With a large number of 4-star hotels located nearby it's not unusual for tourists to venture out this way in the evening, but it certainly marks a departure from finding restaurants and waterholes closer to the thriving old town. It's here where patience is required to peruse each venue carefully, ignoring the lack of English in the outdoor menus and looking further into whether a place looks presentable, clean and not too desperate for diners. Mie Frais, reportedly closed in recent months, epitomised the holy grail of foreign dining by offering a fantastic selection of 'Tartine' open sandwiches characterised by the desired choice of meat in an underground, cavern-like setting. Large tankards of Czech lager came at around £1.50 when converted from Czech Koruna and with tables 'lettered' instead of being traditionally numbered and the prospect of observing a incomprehensible local pub quiz, the place seemed to signify a welcoming introduction to life in Prague. The entrance, marked only by an impressive set of double-doors leads customers down an alley way to a staircase on the left descending below ground level. Even with the former hosts gone, the location alone presents an intriguing choice for eating out.
Naturally, with food being such a subjective part of travelling, guidance for eating abroad can be somewhat pointless but even if specific establishments differ wildly in experience from person to person, the consistency of finding a place suited to one's holidaying motives ultimately remain the same.