The dreamy scenery of Esperance makes it worth the effort to get there. This remote town has a coastline that rivals even the finest beaches in Europe, boasting some of the world's whitest beaches and most transparent waters.
An island-wrapped vista, Esperance is adored for its clean beaches, calm seas and colourful wildflowers. While the town has many beauty spots, among its most famous is Lucky Bay, a beautiful location where even the kangaroos can't resist visiting! Situated in a stunning area with a breathtaking seascape, this part of Western Australia is worth the eight-hour drive from Perth. And, due to the towns remote nature, Esperance is a perfect location for people desperate to escape-from-it-all. In this article, we'll cover the top attractions and sights in Esperance; you'll be booking your holiday in no time!
---
Island Day-Trips
Of the over 100 islands that encapsulate Esperance, not a single one is inhabited! However, you can explore the wild side of life on day trips or stay at the Nature Reserve on Woody Island. On these islands, all that matters is the freedom of being close to nature. Popular activities include snorkelling, fishing, bushwalking and swimming. Exploring these islands is an absolute delight, as the environment is untouched by humankind. Wildflowers cover the islets in an array of colours, and you'll catch a glimpse or two of the wallabies and bandicoots that live on them! In the summer months, camping is endorsed, but you can expect to stay in one of the beautiful huts overlooking the ocean for the rest of the year. Both options are fantastic, and there's nothing like waking up to the grand views of Western Australia.
Fun Fact:
Western Australians are sometimes referred to as Sandgropers after the subterranean insect that inhabits sand. This is because much of Western Australia primarily desert!
View Western Australia's Bubblegum Lake
Yep, you read it correctly. And nope, that image is not photoshopped – Lake Hillier is bubblegum pink! Viewable from a scenic flight or boat cruise, you can find Lake Hillier on Middle Island in the Recherche Archipelago. Most flights are on-demand and stop at the island, meaning you will have the chance to see the lake up close to make sure it's not a magic trick. The fuchsia pink water is truly something you have to see to believe, and it makes for a perfect Instagram opportunity. So once you're done picking your jaw off the floor, make sure to snap a few pictures and tag us @TravelPocketGuide!
Sunbathe with Kangaroos at Lucky Bay
Set against a seascape of over 100 islands, the views from Lucky Bay are spectacular. Often referred to as the biggest jewel or most beautiful beach, Lucky Bay is one of the many stunning locations along Cape Le Grand National Parks coast. The warm waters are perfect for swimming in, and the clean white sands attract all walks of life. In other words, on this beach, you can expect to be accompanied by one or two kangaroos! Less than an hour from Esperance, the beachfront is an ideal off-the-beaten-track location for camping and fishing. Just one glance at the picture below, and you'll see that this area is one of the most picturesque locations on earth! Lucky Bay is an absolute must when it comes to day trips.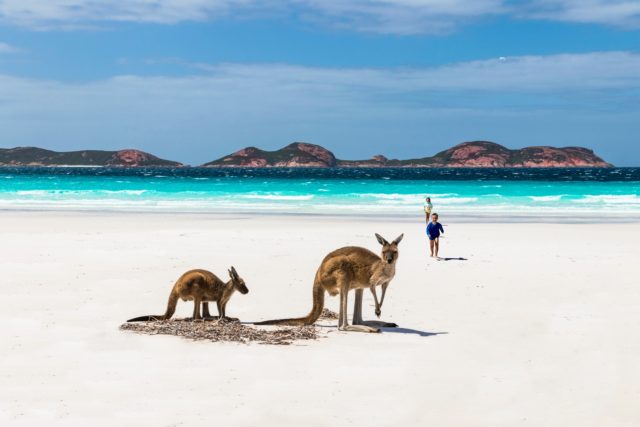 Fun Fact:
Other creatures inhabiting Western Australia include emus. In 1932, over 20,000 emus were causing farmers problems, and they called for help from the military. The Minister of Defence deployed troops to deal with the emus, which bested the troops and eventually won the "Great Emu War"!
Explore Esperance's Many Beaches
Lucky Bay isn't the only beach near Esperance; the area has numerous bays and shores that will take your breath away. Among them, Twilight Bay and Blue Haven Beach are the most popular. Twilight Bay rivals the Caribbean when it comes to azure waters, and the rugged rock formations make for a fantastic view. The beach is shaped like a horse-shoe and has many granite rocks off-shore to jump from. Blue Haven Beach, on the other hand, is a hidden gem with snow-white sands. More peaceful than some of the other shores, this quiet little bay is a great snorkelling location!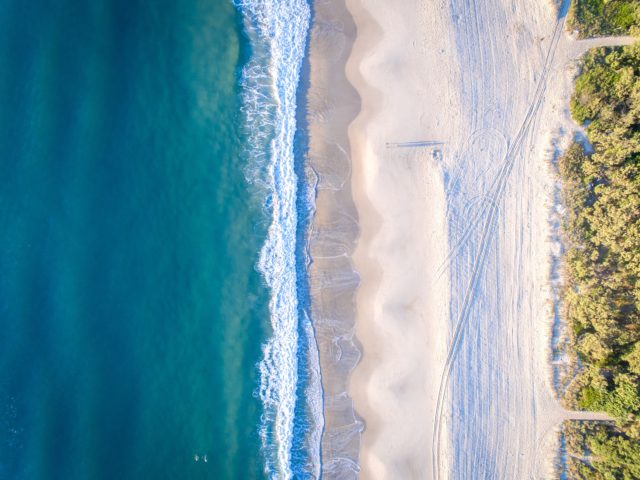 Spend a Year Backpacking
With its magnificent beaches, world-renowned reefs and unique environments, Australia is a country like no other. So it's no surprise that many overseas travellers choose Australia as their destination. Of course, there are traditional holidays, but Australia offers unique working holidays that allow you to stay for extended periods. Most jobs include fruit-picking and farmwork and will enable you to work for your keep while exploring this wonderful country. Check out this video below to see just how unique this experience can be!
Fun Fact:
Australia has the world's largest reef ecosystem. Over 3,000 individual reefs make up The Great Barrier Reef that sweeps along the Western shore of Australia!
Escape to Esperance
Whether you're kicking back with the kangaroos at Lucky Bay or testing the waters at Lake Hillier, the area surrounding Esperance is a one-of-a-kind location. Far from the hustle and bustle of life near Perth, it's no wonder this tiny town in Western Australia makes for a perfect getaway destination. So whether you choose to backpack for a year or camp out on Woody Island, find your freedom in Esperance.
---
By Skylar Grace