Located off the Greek coast in the Ionian Sea, the Zakynthos Islands are vibrant, warm and inviting. Almost too picturesque to believe, a vacation in Zakynthos is sure to leave your friends envious.
These Islands in the Ionian Sea are a cinematic paradise. The smooth sands and royal-blue waters make photos taken here look photoshopped, but that's not the case. Instead, everything here is as bright in person as they look in pictures, from the luscious green canopies to the pastel-hued condos! With a strong emphasis on music, food and community, the Greek islands of Zakynthos are a captivating utopia both visually and physically.
Perfect For…
A fun-filled family summer holiday or a romantic vacation for couples
Visit In…
The months between April and July for the best weather
---
Venture to Turtle Island
Inside the bay of Laganas outside Keri Beach is a small islet known as "Turtle Island". The island is encased with tropical beaches and sea caves for you to explore! Keri caves are the most popular due to their size. An extra fun fact is that the island not only gets its name due to its shape, but it's an important nesting location for loggerhead turtles! Many boat tours run to Turtle Island, but glass-bottom boat tours are THE way to travel. What's better than lounging on a boat while seeing the tropical fish and turtles swim by peacefully beneath you?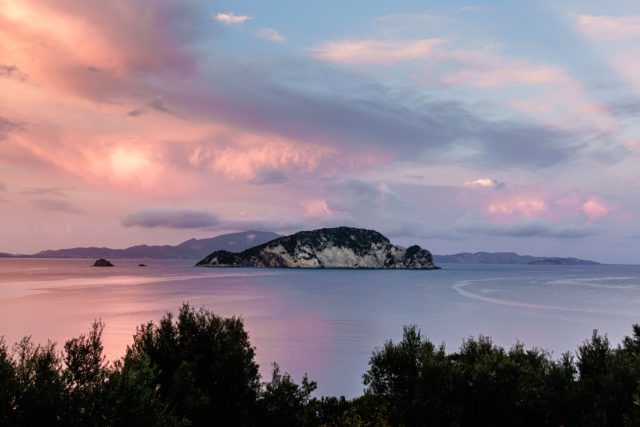 Enjoy the Greek Culture and Cuisine
As stated earlier in the article, music, food, and community are BIG in Greek culture. Unlike in the UK, many of the restaurants and cafes you'll find in Greece are family-run and owned. As such, when dining at a restaurant, you'll feel a sense of community, and the food is extremely comforting (not to mention mouth-watering). So, if you're headed to Tsivili, make sure to stop by the Elia Restaurant for some local seafood dishes. And, should you happen to sample any delicious Greek foods, make sure to snap a pic and tag Food Pocket Guide on Instagram!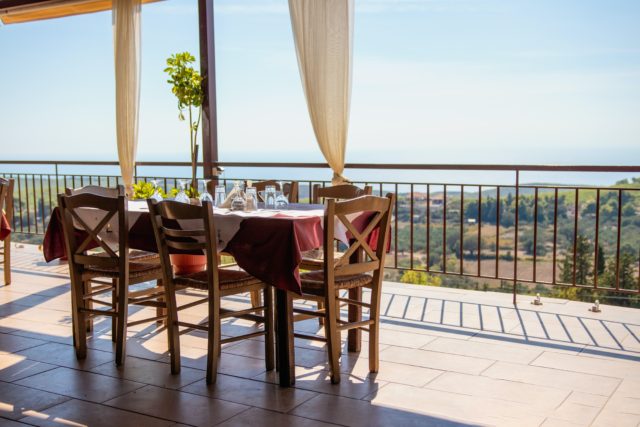 Fun Fact:
In the town square of Zakynthos (not to be confused with the island), you'll find a statue of Dionysios Solomos – a famous greek poet!
Sunbathe on Porto Limnionas Beach
There are ample beaches and fantastic coves around the Zakynthos islands, but Porto Limnionas Beach is arguably the best. The calm waters of this cove make it the perfect place to swim, and it's an excellent location to go snorkelling! While technically not a beach, the surrounding rocks make for great platforms to lay down towels and sunbathe. Those who are more daring could try cliff jumping or diving off one of the safer rocks! If you're looking for a more traditional beach, head to Kalamaki for golden sands and a spectacular marine sanctuary.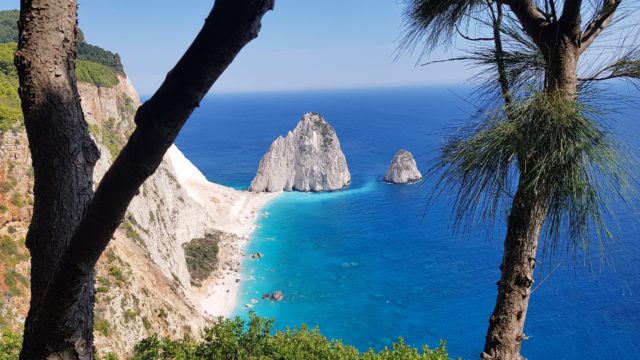 Navigate the Navagio Shipwreck
On Navagio Beach, sometimes referred to as Smugglers Cove, you'll find an old rusty shipwreck. It might be hard to believe, but this bronze wreckage is one of the most photographed locations in Greece! The ongoing mystery and debate behind the ship have put Zakynthos on the map as the place of one of the most famous shipwrecks in the world. Unfortunately, you'll need to take a boat if you're hoping to visit this famous beach, as there's no way down the several-hundred-meter-high cliffs. But, after multiple visits to this beach, we can promise that there are no views like it. It absolutely MUST be on your bucket list of activities to do while vacationing on the Zakynthos islands!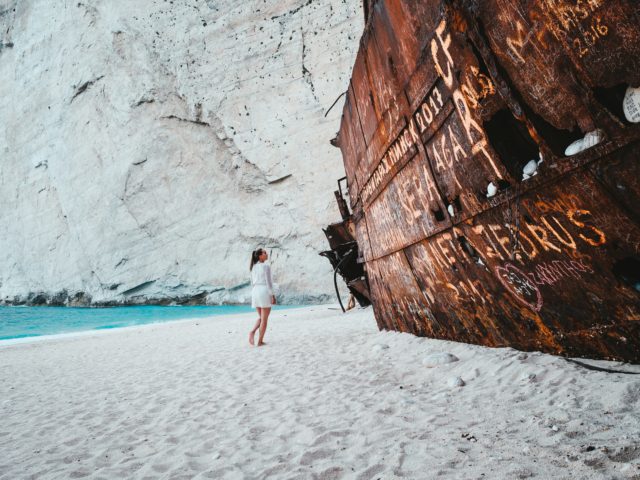 Fun Fact:
Before washing ashore sometime in the 1980s, Navagio's shipwrecked boat used to transport cigarettes and other illegal contraband across the Ionian Sea!
Make Sure to Pack a Swimsuit
A cinematic paradise indeed, the Zakynthos islands will have you feeling like a character from a Bond film. There will never be a dull moment during your adventure here, with so many fantastic foods and places to explore. So take the chance to relax, or indulge in one of the many activities the island offers. Whatever you decide to do, these Greek islands in the Ionian Sea are certain to leave a lasting impression.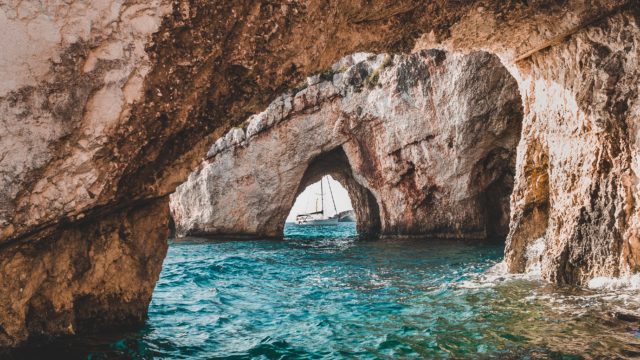 ---
By Skylar Grace