Europe, as a continent, is chock full of countries teeming with natural beauty. From mountainous to coastal landscapes, there is practically every kind of terrain you can imagine. One of the most prominent nations with famed beauty would be Italy. Its diverse lands beckon tourists to the country from near and far, all clambering to experience the Italian countryside. One of the best and most dramatic areas to experience would be Cinque Terre. Meaning 'Five Lands' in Italian, Cinque Terre is composed of 5 fishing villages, perched precariously on high cliffs above the sea. This proximity to such rugged nature means hiking in Cinque Terre is a must if you're in the area. It is recognised as one of the best places to go walking in Italy, being designated a World Heritage Site, ensuring its protection for years to come.
Here are some of the best paths for hiking in Cinque Terre…
---
High Path, Sentiero del Crinale
The terraced, seaside villages of Cinque Terre offer some of the best hiking in Italy. With extensive networks of paths connecting each village to one and other, and various difficulty levels for all hikers. The first route we'll discuss is the high path, the Sentiero del Crinale.
Taking at least ten hours to complete, it is recommended that this path be broken up into sections, lasting a couple of days. This high path is an old mule track, perhaps dating to Roman times, and runs along the ridge separating the coast from the hinterland.
The routes starts in Levanto, with its white sandy beaches, shops and good restaurants. A great starting point for hiking in Cinque Terre. The village is surrounded by dense pine forests, olive groves and vineyards. A truly Italian start!
As you make your way along the path, small settlement rest-stops along the way have refreshments available. Along with hotels and B&B's, should you fancy a longer rest. Hiking has become an institution in this area, so you'll be well looked after by the locals here. Following the coastline, you may notice the path dipping and climbing, giving various different viewpoints over the gorgeous cliffs into the sea.
After 40km's of walking, you'll finish your adventure in Portovenere. Its picturesque harbour dotted with various brightly coloured houses give the village a whimsical impression, all adding to the calming atmosphere in the 'Gulf of Poets'.
The route comprises of medium level difficulty inclines, so make sure you're dressed in cool, comfortable clothing. This route truly is a crowning jewel for walking in Italy.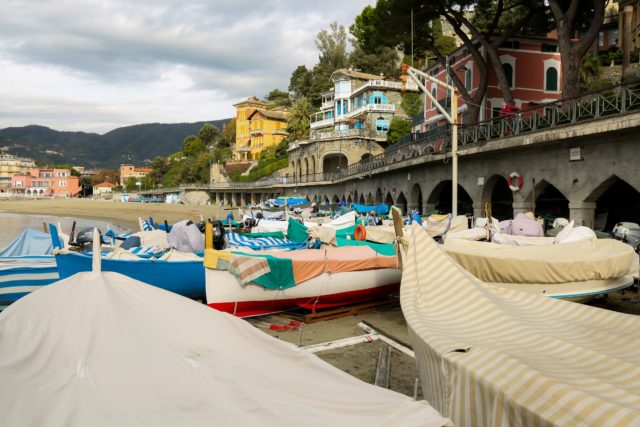 Lover's Lane, Via dell' Amore
The Lover's Lane is the most romantic of all the hiking in Cinque Terre. It connects the gorgeous villages of Riomaggiore and Manarola, and is only around 1km long. This is therefore the easiest and most accessible route in the area, so anyone can take advantage of the scenery.
Winding around the cliff face overhanging the sea, the Via dell' Amore has a magical atmosphere, as the trail is cut directly into hard rock. Originally a railroad footpath, it gets its name from its use as a meeting spot for lovers from the two separate towns.
Nowadays, the trail is paved, and boasts the most tourists of anywhere in Cinque Terre. Though not an intense hike, the path is a pleasant stroll affording spectacular views of the cliffs, vineyards, and the surf. With handrails and benches all along the way, the route is ideal for inexperienced hikers.
To traverse this path, a ticket must be paid for maintenance. This is available online, and includes access to other walking spots in the area. So for a stroll on one of the most well-known places for walking in Italy, the Via Dell' Amore could be for you.
Blue Path, Sentiero Azzurro
Last up is probably the most famous, popular and appreciated hiking path, the Sentiero Azzurro. Connecting all five villages of Cinque Terre, the route does not consist of any particular difficulties. In fact, the mostly flat path is great for hikers of all experience levels.
The Blue Path takes around 5 hours to walk, beginning in Monterosso and ending in Riomaggiore. Walking this way, you will discover backcountry as well as coastline. Cliff-clinging villages, tiny sand beaches and coves, as well as terraced fields and woodlands. In such a short amount of time, the sheer diversity in landscapes you can experience is astounding.
It is recommended that upon arrival in each village, time should be taken to explore thoroughly. There is always something new and exciting to discover around every corner in Cinque Terre. As far as walking in Italy goes, it doesn't get much better than this.
The Sentiero Azzurro is great for those wanting a general overview of the Five Lands, as you wind through each village as you go. This route would be good for those still wanting a good long walk of 12km, without too much effort involved.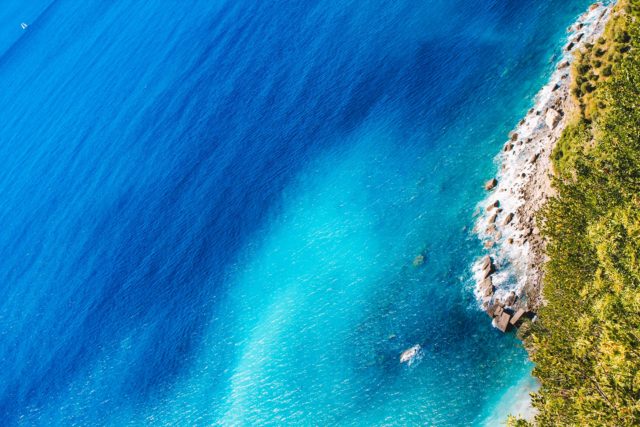 Walking In Italy Is For Everyone
Backpackers and hikers alike know Italy, and specifically Cinque Terre, as a haven for scenic trekking. Though, these trails and routes aren't just for them. Even casual holiday makers can get something out of hiking in Cinque Terre. It can often seem like hiking is the opposite of what people go on holiday for. Relaxation, cultural exchanging, a break from hectic lives. However, certain routes can offer all this and more. The views, the locals, and the exercise can all contribute to a successful holiday.
So don't discount hiking in Cinque Terre too quickly. You never know what you're going to miss out on.