Loud music. Bright laser lights. All-night parties.
Ibiza Town is well known for its vibrant, colourful nightlife. The clubs are legendary, with DJ's flocking from near and far to play for the enthusiastic audiences. It is the first port-of-call for travelling party lovers. But, there is another side to Ibiza Town. One steeped in the islands culture, heritage and history.
---
Dalt Vila
Sitting atop a hill above Ibiza Town-proper is Dalt Vila, translating to high-town. This walled old town is the most ancient section of Ibiza and gives an insight into the way of life for the islands residents over the years, and the present day.
With three official walking routes through the streets (classic route, Route of the Bastions, the "unknown" route), you will get the chance to experience all sides of old Ibiza. Perhaps the most curious street you will see is Calle de la Conquista, where handprints of celebrity guests are preserved in concrete. Almost like an Ibizan Hollywood Walk of Fame!
At the highest point in town, you will discover the Santa Maria d'Eivissa Cathedral dominating the stone skyline. Here, the best views of the town are on offer, giving a fantastic photo opportunity. Once the scenic views are taken in though, the Cathedral itself may the object of wonder. This quaint, simplistic church offers a tranquil spot to take in the beauty of Ibiza. Its classic Spanish style reflects the Dalt Vila perfectly. Here, there is no need to over-complicate matters, just sit back, enjoy the sun and surroundings, and soak in the relaxed atmosphere.
If you get a little peckish on your adventures through the old town, why not pay a visit to S'Escalinata. This convenient little eatery is nestled right next to the steps of Dalt Vila. Take a load off and pull up a beanbag, because here you can be treated to a refreshing cold sangria or refuel with their delicious tapas.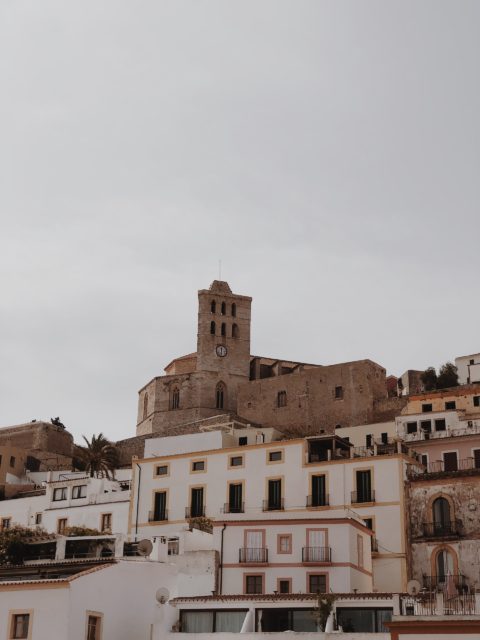 Natural Landmarks of Ibiza Town
Ibiza would not be the attraction it is today without its famously beautiful beaches and crystal clear waters.
A one-of-a-kind beach experience awaits you at Benirrás Beach. Known as the "hippie beach", Benirrás has a rather unusual tradition. Every Sunday at sunset, a group of hippy drummers descend on the beach. As they play their drums, the sun will set behind the strange rock formation just off the coastline. This tradition is to remember the now banned anti-war protests, which took place on the beach for over 10 years, ending in 2002. Though maybe not a peaceful, relaxed atmosphere for everyone, it is certainly an occasion not to be missed.
If a more serene beach day is needed, a trip to Cala d'Hort is definitely a good bet. This small, secluded beach allows for a chilled out day spent on a sun lounger. It is well-loved by tourists and locals alike, often earning the title of prettiest place in Ibiza. It also has a fantastic view of the island Es Vedrà, which rises dramatically out of the mill-pond sea, giving the beach a distinct uniqueness.
If the glorious heat of the Mediterranean does become a bit too intense though, a much-needed rest can be found at Can Marca Caves. These natural cave formations house stalactites and stalagmites, fossils, and even a subterranean waterfall. All this illuminated by installed colourful lights. Smugglers once hid the spoils of their ill-gotten gains here. So, even pirates used the isolation and protection of this wonder to their advantage!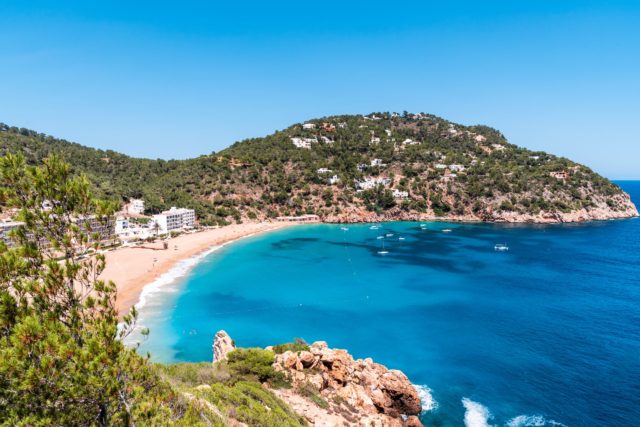 Ibizan Culture
As most islands in the area do, Ibiza has a rich cultural heritage that continues to evolve and change.
Art is a perfect way to explore the foundation of a location, and how it became what it is today. The Puget Museum is a former aristocratic residence in the Dalt Vila, popularly known as Can Comasema, named for the previous occupiers. The building is now home to 130 works by Narciso Puget Riquer and Narciso Puget Viñas. Mostly oil paintings and watercolours, the pieces portray landscapes and scenes from everyday life in Ibiza in the early-mid twentieth century. Perfect for those wanting to explore the less hectic side of the town.
If you have a more modern taste in art though, there is something for you too. The Lune Rouge is a gallery founded by eccentric billionaire Guy Laliberté, founder of Cirque du Soleil. With the mission of bringing more culture to the island, the Lune Rouge displays many modern works. Japanese artist Takashi Murakami helped debut this exhibition, with even more works scattered across the island at affiliated exhibition spaces.
It is clear Ibiza appreciates all tastes and mindsets, old and new. The ever-changing culture of the place, along with a large number of international tourists, means it is a hub for diverse thinking and idea-furthering.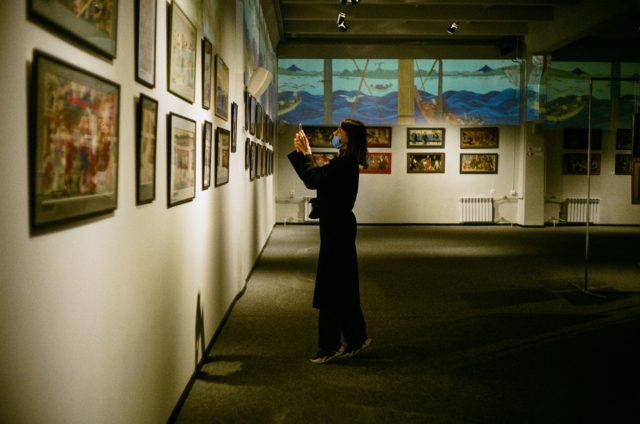 Ibiza's Unseen Side
Away from the countless clubs and bars, thumping dance music and hoards of partygoers, Ibiza Town is a truly special place. It is rare to find a spot with such a colourful nightlife scene, whilst still preserving an authentic way of life for tourists to enjoy. Many people wanting a more easy-going escape may not even consider Ibiza as an option, focusing on the wild scenes we see on social media. But hopefully, now people know Ibiza has something for everyone, regardless of age or expectation.