We all met at 05:00. A coach took us to Stansted. From there a two-hour flight took us to Kraków, Poland. Our hotel was pretty good and had a tram stop just outside, which was useful for getting to the Old Town and back quickly. We spent the afternoon at Oskar Schindler's Factory Museum, where a local guide led us through various rooms and informed us about Schindler, the formation and liquidation of the Ghetto, and the story of WWII. In the evening we ventured into the Old Town: a spectacular hub of architecture, food, drink and the people of Kraków. The wet cobbles seemed to glow with light, leading us towards a restaurant on the corner of the main square. Our group finished the long day there: under the outside canopy, eating, drinking, sharing stories, and listening to the soothing clip-clop of fabulous white horses leading people around the square.
A HATEFUL, INCREDIBLE EXPERIENCE
Another early start saw us prepped and ready for what was going to be an emotionally draining day. As we pulled into the car park at Auschwitz, the atmosphere suddenly changed. People became quieter and more reserved; jokes stopped and chatter died down. Leaving the coach and standing in the cold air, I realised one thing: we were coming here together but experiencing Auschwitz alone. The opening to the camp was a metal arch and on the top of it read: "Arbeit macht frei", which translates to: "Work sets you free". This made my stomach drop to the floor like a discarded shell casing and my heart bleed. Our tour guide brimmed with knowledge and delivered information to us in a slow, uninflected tone in which – even though she had done this countless times, with countless groups – you could still hear the emotion, the dull pain at the back of her throat. The terror of Auschwitz stays with you, forever.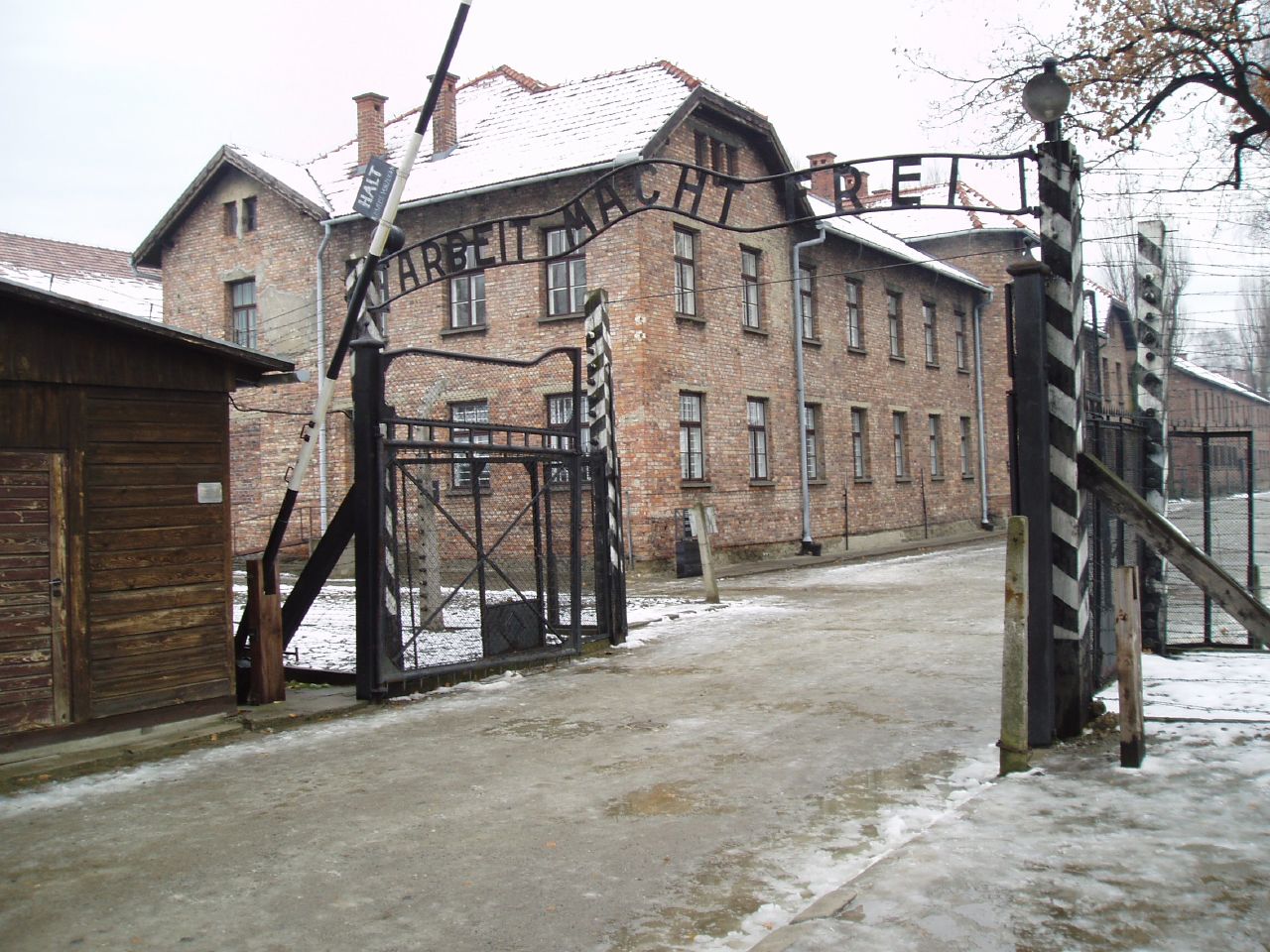 As we moved through the rooms of the barracks, we saw many things: human hair, which would have been used in the German textile industry, in such profuse quantity it filled half the room; mounds of shoes, including those of small children; bags, with names on them, showing that those coming in thought they would later be leaving with their case tucked under their arm, ready to sample the best of life. Seeing these things made you wonder how the Holocaust could have happened – any normal human reaction is to cry. However the Nazi's had systematically murdered 1.1 million humans here, and, we were told, without mercy – they had been brainwashed to such an extent that, when questioned after liberation, they said they regretted nothing.
We then took a short bus ride to Auschwitz-Birkenau, the second concentration camp and the one that can be seen in Steven Spielberg's 1993 film, Schindler's List. Whereas the first camp had exhibits and somewhat resembled a museum (one that would appear in your darkest and most terrible dreams), Birkenau was bare. This made for a much more raw experience. An atmosphere that makes you breathe slowly and become conscious of every bodily movement, like you're not supposed to be there. As I took in the vastness of Auschwitz-Birkenau, something caught my eye: a young boy holding an Israeli flag behind him. He was looking down the train tracks where men, women and children of his faith would have come to die. The flag seemed to writhe in the wind, almost like it knew of Birkenau's history – a history so devastating that it transcends human consciousness and sends a terrifying ripple through space and time, to be detected by all things.
Evening came and we took a tram into the Old Town. I could still noticeably feel the effects of Auschwitz within me. A couple of friends and I ate in a small, quirky restaurant; our waiter reinforcing how pleasant and amicable the Polish are. After that, we headed to two bars playing live music. The first was a Polish band. One of their fans, Lukas, chatted to us about what we were doing here, and how he had grown up in Southern Poland, "with the mountains". We walked down the brick steps into the next bar, which was below ground. The staircase was fairly small, yet it opened up into wide rooms where I saw many different faces and heard many different accents and languages. We met a group of Canadians who were visiting Kraków as part of their Masters of Business program and shared drinks and stories with them. They, too, had visited Auschwitz that day and we reflected on the hateful, incredible experience. I had fallen in love with everything about this city.
STILL IN AWE
A guide took us round Kazimierz, the pre-war Jewish area. We saw filming locations used in Schindler's List, fantastic Singing in the Rain street art, and visited a beautiful synagogue. For lunch I tried the well-loved Polish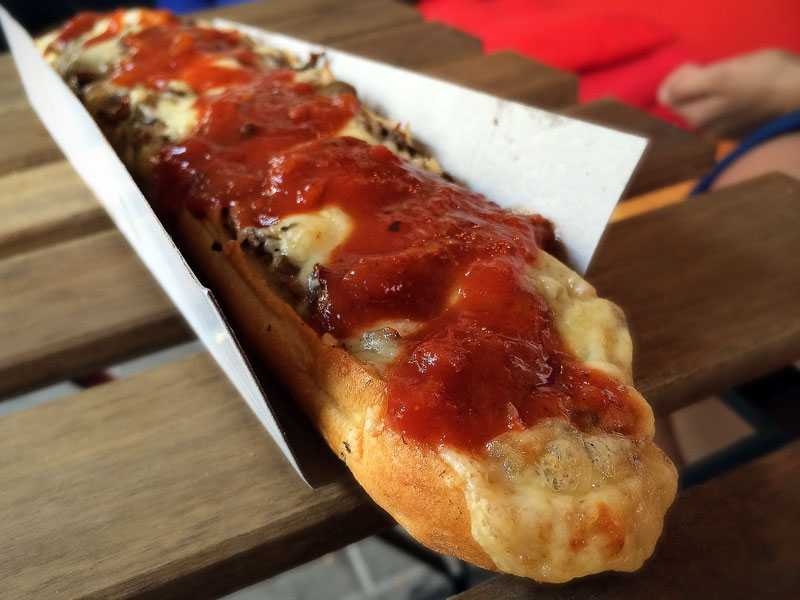 street food Zapiekanka – a mammoth baguette, grilledwith cheese and mushrooms and topped with tomato ketchup. Then, following this trend, I had Polish dumplings filled with cabbage and mushroom. Both foods were delightful. Next we visited the Galicja Museum and were guided through Chris Schwarz's Traces of Memory exhibition. It was comprised of many stunning photographs and had five sections ranging from 'Jewish Life in Ruins' to 'People Making Memory Today'. It showed the magnificent resilience of the Jewish people and their faith. It was, especially after our visit to Auschwitz, truly uplifting.
That evening we revisited the bar where we had met the Canadians, only to meet their neighbours: a group of remarkable young Americans from Yale University, studying on their year abroad. Through the setting of a dimly-lit Polish bar, we were exposed to a new people, their stories, their ideas, and what they thought of Kraków. The general consensus was that it was a place one never wished to leave. As the Irish musician in the bar played out with Pink Floyd's 'Wish You Were Here' and people finished their drinks, the night came to an end.
FAREWELL, KRAKÓW
I woke up with a sense of sadness and begrudgingly got out of bed and showered, knowing this would be our last morning in Kraków. We had breakfast and headed into the Old Town. We did a bit of shopping and had a bite to eat. But before we could immerse ourselves in this splendiferous city for the last time, we had to head back to the hotel and leave. The flight home went well and as the coach pushed along the road home, leading us back to our ordinary lives, it was impossible not to reflect on the life-long memories and experiences I had just discovered.
Written by Alex Caesari