Much is said for the vast and varied experiences one can have on the Emerald Isle. Outside of the culturally-rich Dublin, many pockets of Irish joy bring welcome uniqueness to those who are willing to go out there and explore. Such delights can be investigated only a few miles from the capital, with one such place being the town of Malahide, approximately 8 miles north of Dublin city centre. Here, a distinct seafood flavour sets the theme for the town's culinary offerings.
Whether staying in the town, for example at the Grand Hotel to the east, or making the 30 minutes, €7.00 trip by train from Dublin, there's plenty to keep the taste buds occupied for a few days all within the middle-to-high budget bracket that lends well to a special occasion, holiday visit or for those wanting quality from their evening menu.
Malahide is situated to the north of Howth, a popular fishing town sticking out to the east via a prominent peninsula. It is here where ultimately each outlet's dishes originate, with the vast majority of local menus proudly displaying the "all fish sourced from Howth" tag-line. Howth itself has Crabby Jo's, a restaurant in the harbour that serves up generously portioned Irish breakfasts and expertly crafted main meals. But it is Malahide's selection of eateries that makes more of the local resource to satisfy the seafood connoisseurs.
Beshoff Bros on New Street kicks things off nicely with a broad menu in the typical Chip Shop format, presented efficiently and well as either a significant lunchtime option or portable teatime fix. Hake, Cod and Calamari can all be boxed up with superb chips in exchange for a €10 note plus shrapnel and equals anything proclaimed to be better in deepest Devon or Cornwall. Duffy's, a welcoming and comfortable venue for a Guinness or two, also exports meals from the Irish Sea in the form of Chowder and Prawns to start, or Scampi and Mussels for the main meal. More will come out of your wallet as a result, but all in the name of a cosy, busy atmosphere and the services of a fully stocked bar and wine list.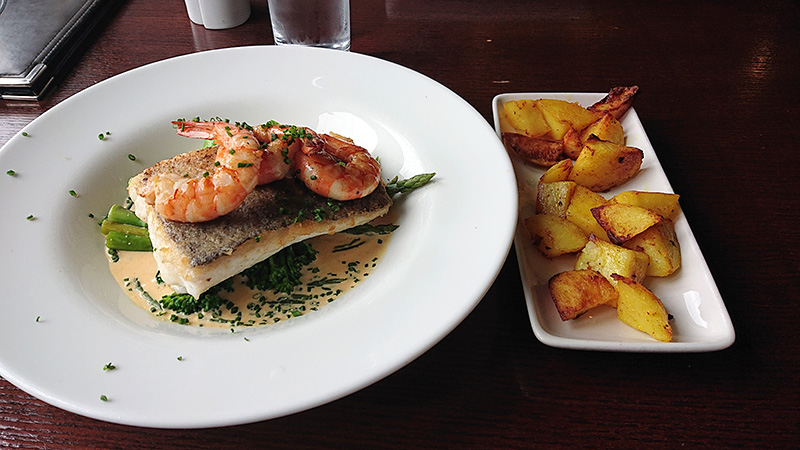 McGoverns, merely metres from both establishments, takes the quality of style to the next level for those happy to increase the budget for an exquisite meal. Still, as things approach the €20 mark, this certainly isn't a place to break the bank. The local Hake dish, served with Tiger Prawns, Asparagus and Garlic Roast Potatoes sits beautifully in a mild curry sauce and is presented in a fashion way beyond its contemporaries' efforts. This might surprise the onlookers from outside, who might be forgiven for walking past the darkly coated exterior on one corner of Malahide's Diamond road junction.
Old Street, down towards the bottom of town has hidden a  restaurant recommended by Michelin and which caters in some seclusion into the early hours. With Malahide within short distance of Dublin Airport and the Castle grounds hosting high-profile concerts by the likes of Prince, Snow Patrol and recently Noel Gallagher, its no wonder that the town includes a venue that showcases celebrated success in cuisine.
Malahide therefore succeeds in presenting a welcome, gentrified setting outside of the typical offerings within Dublin's urban, upmarket areas, whilst equally demonstrating the best of Ireland's maritime menus.