The formal title and breathtaking sites along this stretch of road almost make you forget it's humbler name: the A39. With awe-inspiring views and scenic villages dotted along the way, The Atlantic Highway sits between the border of Devon and the most north-eastern corner of Cornwall. A scenic road trip with plenty to see and do!
Atlantic Highway | Details:
The winding and sometimes narrow coastal path of this road trip can be tricky, but the seaside views make up for it. Perfect for adventure-seekers, turn the road trip into a weekend-away and make the most out of the destinations along the way! Here are just a few of the places you could visit.
Area: 
Devon to Cornwall
Length of Journey:
392km (approx. 8 hours)
Experience the sea at Bude
Laid-back and full of Cornish charm, Bude is a hotspot for surfing and watersports. Furthermore, with its golden beaches, craggy cliffside and colourful vintage beach-huts, Bude is an eye-catching stop along the Atlantic Highway. Featuring special natural attractions such as the Bude Sea Pool, and stunning views, this is the perfect place for any wanderers, with plenty of activities for adventurists.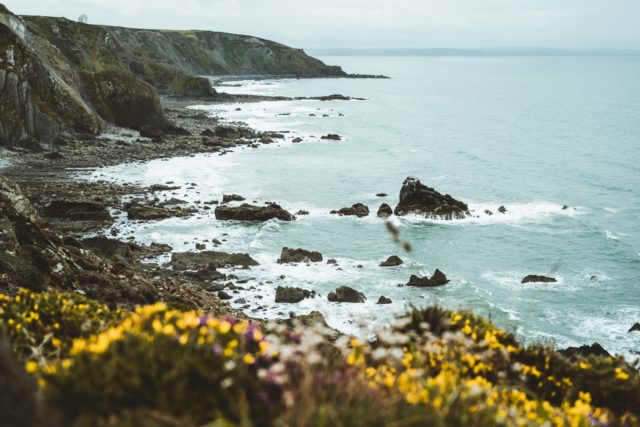 If you have the time (and are brave enough), you should definitely give one of Bude's surfing spots a go. Don't have the equipment? No worries, Bude Surfing Experience will allow you to hire out some of theirs! Conveniently, they also provide surf lessons on top of paddle-boarding experiences. If you're planning to stop in Bude for some water-sports, have a few towels packed ready in the car!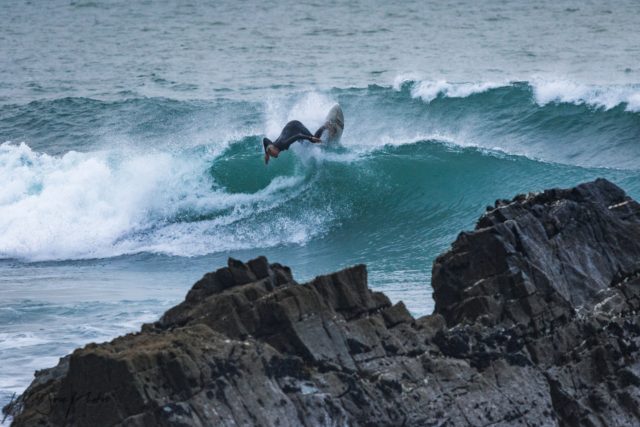 Not a fan of getting cold and wet? If that's the case, then consider a walk along the cliffside! Traversing on foot along Bude's coastline allows you to absorb the beauty of the area and appreciate its English beguile. For information on different trails and hikes in Bude, check out VisitBude! In conclusion, after a stop in this award-winning seaside town, you should be convinced that you don't need to look elsewhere for a sensational coastal experience.
Take in the views at Boscastle
If you're tired after the walking and surfing you did in Bude, Boscastle is the perfect place for a rest-stop. With scenic views of the sea, stop by the Boscastle Farm Shop and enjoy a bite to eat while you relish the Cornish countryside before you head into the town.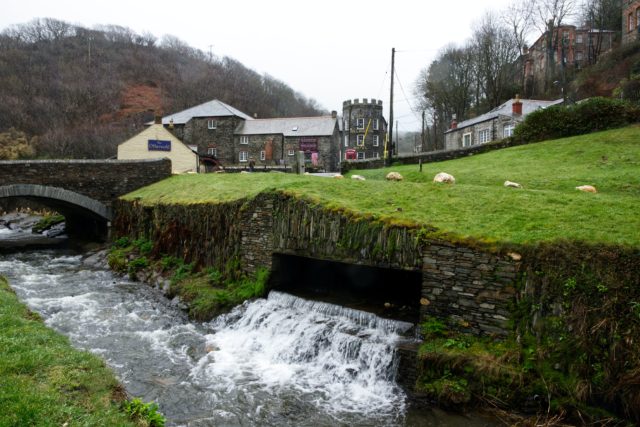 Situated in the beautiful Cornish countryside, Boscastle is a conservation area as one of the few remaining unchanged harbour villages of Cornwall. Owned by the National Trust, Boscastle and the surrounding coastline is well looked after and provides an excellent base for tourists. Moreover, if you're a fan of history, this little harbour is a charismatic destination with a lively past in trade!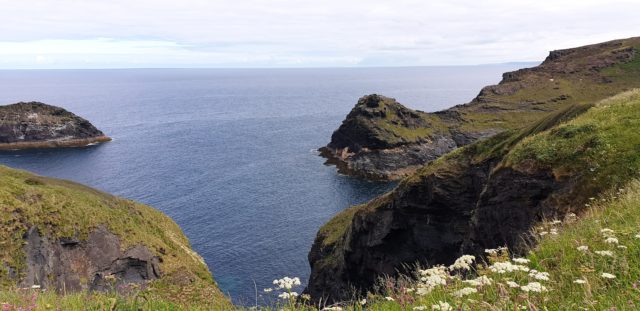 If the history of trade isn't your thing, how about the more fantastical tales of witches, piskies, and spriggans? A curious feature of Boscastle is their unique Museum of Witchcraft and Magic. This museum has featured exhibitions on The land of Bucca, Ritual Magic, as well as the Witch of Auldearn. If you have the time, make sure you stop by this strange and wonderful museum before you leave.
Pull over in Tintagel
If you're interested in mythology and fables, you should absolutely stop in Tintagel. In fact, even if you're not well-versed in mythology, a visit to Tintagel will definitely have you believing in the wonders of mythical history!
Said to be linked to the legend of King Arthur, Tintagel has some fantastic once-in-a-lifetime views, such as Tintagel Castle and Merlin's Well. In 2019, Tintagel's divided landscape was reconnected via Tintagel Bridge. This new bridge reinstated the original path that Tintagel's residents used to walk in the middle-ages.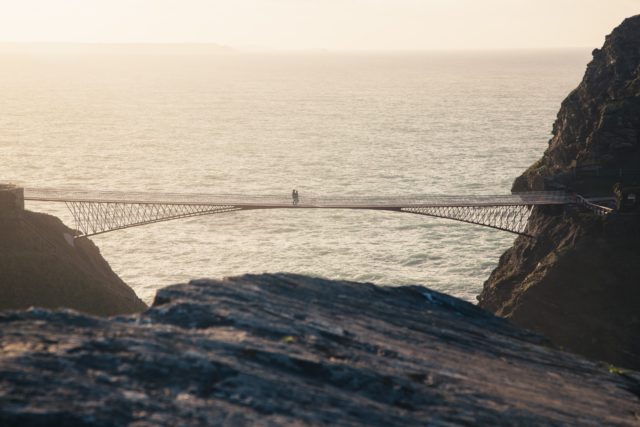 Tintagel Bridge allows for some spectacular views while saving your legs the challenge of climbing the steps that wind up towards the cliff-top. Although after all of the driving, maybe those steps are exactly what you'll need to stretch out your legs!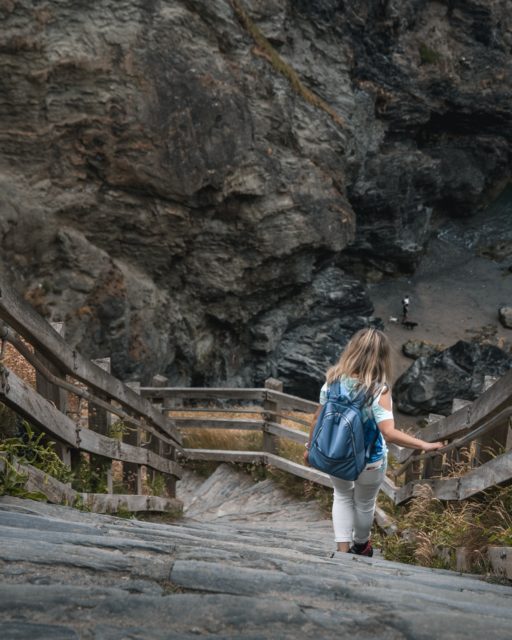 After viewing the ruins of Tintagel Castle, you ought to look for Merlin's Well, a cave situated beneath the island. Just be careful that the tide isn't coming in as it can leave you stranded!
Grab a drink at Port Isaac
Entering along Trewetha Lane, off the B3267, you will encounter Trewetha car park. It's recommended that you park here and follow the footpath from the car park toward the village. If you're planning on travelling during peak times, you can buy a parking ticket in advance on the Parkonomy website!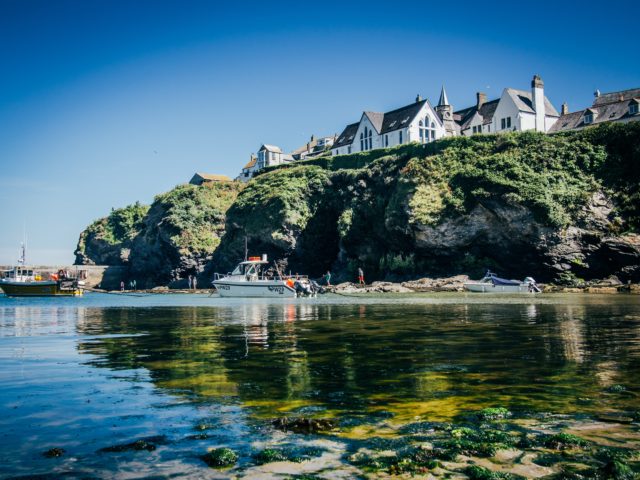 Famously known as the set for multiple TV series such as Poldark and Doc Martin, Port Isaac is a place of historical and architectural importance. Additionally, with its narrow alleyways and winding streets lined with traditional white-washed cottages, Port Isaac is a picturesque seaside town.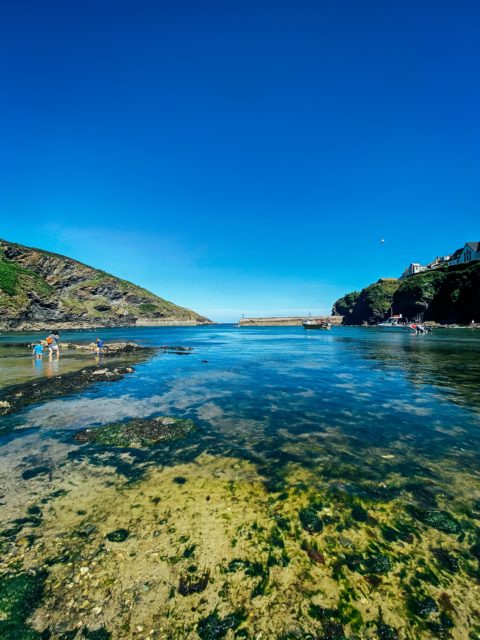 Finally, a quaint fishing village with a gorgeous harbour, Port Isaac is the perfect place to sit and enjoy a drink. Wander down to The Platt and soak in the fresh sea-air. Better yet, why not visit the Golden Lion Harbourside Pub for a drink (a soft-drink if you're driving) and enjoy a fresh seafood dish while overlooking the harbour!
Ending your Atlantic Highway road trip
Without a doubt, the honorific of Atlantic Highway is fitting and true of the A39, as this singular stretch of road is an Atlantic experience within itself. The places you may visit along the way will leave you with memories to last a lifetime. The best part? These towns are only a small section of this journey, meaning there are many more to explore and enjoy! Is it time to start making a road trip playlist?