If you're looking for a unique and exciting vacation experience, then look no further than the Yellow Submarine in Marton, New Zealand. This one-of-a-kind accommodation is sure to make your trip unforgettable.
The Yellow Submarine Airbnb Experience
---
The Yellow Submarine is an Airbnb rental located on a farm in Marton, Manawatu-Wanganui, New Zealand. It was created by Keith and Jen Lovelock out of an old grain silo and parts from a milking shed. The submarine is fully equipped with all the amenities you need for a comfortable stay including portholes, a bulkhead door and even a John Lennon mannequin! You can fit up to four people inside the submarine comfortably and it's perfect for those looking for something different from a typical hotel stay.
Keith and Jen's journey to building a yellow submarine was a long one – starting with a passing thought from Keith while he was outside a café in Wellington, New Zealand all the way to the old grain silo, which eventually became their beloved submarine. The couple worked hard for months and had so much fun during that time. It must have been such an accomplishment when they finally saw their handmade dream come to life.
A Unique and Quirky Accommodation
From the moment you arrive at Yellow Submarine Airbnb, you'll know that you're in for a fun and quirky experience. The exterior of the building is designed to look like a yellow submarine, complete with a periscope and portholes. As a guest at Yellow Submarine Airbnb in Marton, New Zealand, you will have exclusive access to this unique accommodation. The Yellow Submarine is spacious and comfortable, offering a variety of areas to relax and play in. To enter the submarine, you will need to use the ramp/jetty to access the front bulkhead door.
When you step inside the Yellow Submarine, you'll be transported back in time to the 1960s, a world of bright colours and psychedelic patterns, when The Beatles released their iconic song "Yellow Submarine". The interior of this unique accommodation has been decorated with Beatles memorabilia such as posters and records which will surely bring back fond memories of that era.
Once inside, you'll find yourself in a Victorian steampunk lounge and galley, complete with breakfast supplies. From there, you can head up the periscope to the control tower or mid-ships to the sleeping quarters/torpedoes. The Beatles-themed bathroom is located at the rear of the submarine. Recycled materials have been used to create a unique and environmentally friendly atmosphere.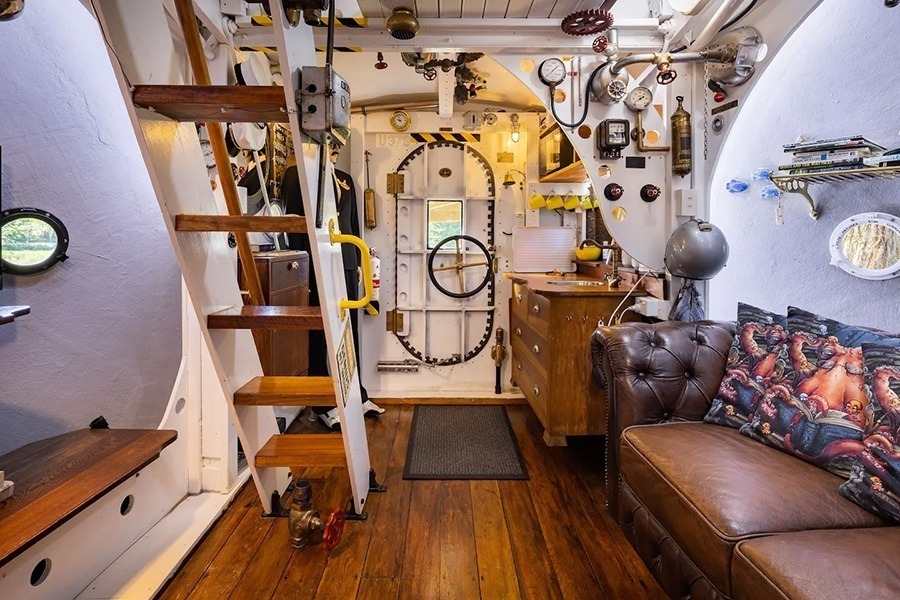 The accommodation is spacious and comfortable, with a cosy living room, a fully equipped kitchen, and two bedrooms that can accommodate up to four guests. The interior of the Airbnb is just as unique and colourful as the exterior. The walls are adorned with murals, statues, and neon lights, creating a fun and playful ambience.
An unforgettable experience that will transport you back in time while still providing modern amenities, let's keep exploring the Yellow Submarine in Marton, keep reading to find out more about this special accommodation.
Excellent Hosts
The hosts at Yellow Submarine Airbnb are excellent, friendly, and welcoming. They go above and beyond to ensure that their guests have a comfortable and enjoyable stay. They are happy to provide recommendations for local attractions and activities, and they are always available to answer any questions or concerns.
Lovelock never expected to become an Airbnb host, but since becoming one, he's found plenty of rewards. At first, he wasn't sure the venture would be worth the time and effort, but it's been surprisingly lucrative. Even so, Lovelock says that the best thing about being a host has nothing to do with money; it's all about meeting people from around the globe while being in his own home! He's had visitors from as far away as Europe, Asia and South America – something he never imagined possible before. So even if hosting doesn't turn a huge profit, it offers a unique way to get exposure to cultures he wouldn't otherwise experience.
A Commitment to Sustainability
Staying at Yellow Submarine Marton isn't just amazing – it's also great for the planet! In addition to being a fun and unique destination, Yellow Submarine Marton is also committed to sustainability. The attraction has implemented several eco-friendly initiatives, such as using recycling waste and using energy-efficient lighting. From using recycled spa bath basins to old radar domes, every part of this extraordinary getaway has been fashioned from pre-existing materials. The team at Yellow Submarine Marton is dedicated to preserving the natural beauty of the Manawatu-Wanganui region. So you can feel good knowing you're having a great stay while taking care of the planet.
About the area
The surrounding area of Marton is also full of things to do and explore. From hiking trails to wineries, there's something for everyone here. You can also take day trips to nearby cities such as Palmerston North or Wanganui where you can visit museums or take part in other activities like kayaking or fishing. The river that runs through Marton is also a great spot for swimming or boating.
It's important to note that cell phone and internet use is impossible onboard the submarine. This can be a refreshing break from the constant distractions of modern technology. And while children will love the fun and playful atmosphere of the Yellow Submarine, they will need 100% supervision at all times. Captain Nemo and his crew run a tight and tidy ship, so it's essential to keep things clean and organised.
Overall, the Yellow Submarine Airbnb in New Zealand is a great place to relax, play, and enjoy a unique and memorable experience. Captain Nemo and his crew have created an amazing accommodation that's full of fun and surprises. It's a fun-filled adventure that's perfect for visitors of all ages. Furthermore, it's committed to sustainability and preserving the natural beauty of the region. If you're looking for a truly unique and unforgettable vacation experience, the Yellow Submarine is definitely worth checking out.
So why not take a trip to Marton and explore the colourful world of Yellow Submarine Marton for yourself?