72 Hours in Belgium
Picturesque
Great food
Quirky
Expensive
A lot of walking
Busy (due to World Cup)
To celebrate finishing my studies, I decided to take the last of my student loan cash and spend it on a last-minute summer trip to Belgium. My sister was studying abroad in Rotterdam so the plan was to hang out there for a few weeks, but we decided to hop on a Flixbus (an absolute godsend for any budget-minded travellers) and head on over to Belgium for a few days.
We had been to Belgium before, so we decided that is where we would start. Driving through the Paris-esque streets, we were glad to be back in the land of waffles, chocolate and beer. Once we arrived, we navigated the French touch screens as best we could and hopped on a metro to our hostel for the night. We checked in, dropped off our things and headed in search of one of our favourite bars in Brussels. The walk took a little longer than we had planned, but walking through the beautiful streets at golden hour taking photographs is never a bad way to spend an evening.
We finally arrived at Café Kafka which was a little busier than last time considering the World Cup was on and not one indoor seat was to be found, so we perched on the little tables outside with our beers.  I'm sure you all know already, but beer in Belgium is a beautiful thing. Seriously, I don't think they know how to do a bad beer. We soon got chatting to some football fans and pretended to know anything about it to get in the spirit of the evening. After a drink (okay, a fair few) we decided to head off in search for food. We committed the travellers sin. We went to McDonalds. I know, I know, we were typical Brits abroad, but in our defence, it was past midnight and nowhere else was open nearby so please forgive us.
We quickly found a metro back to our hostel and crashed for the night. We woke the next morning with a hurried start to the day since we had a train to Ghent to catch later that afternoon. We decided to be dumb tourists and wondered into the Galeries Royales Saint-Hubert shopping arcade for an overpriced breakfast of croissants and Belgian waffles. Afterwards, we found ourselves strolling around the Parc de Bruxelles (trying to ignore my, by now, painful hay-fever) taking endless photos for Instagram, and eventually found the famous Maneken Pis. It's a weird moment standing in a crowd to watch a statue of a boy taking a wee, but hey apparently, it's the thing to do. Fortunately, one of our favourite bars in Brussels is conveniently located directly opposite him, so we ducked into Poechenellekelder. It's a slightly bizarre bar with puppets strung up in all directions, but they have an endless selection of beers and they leave free nibbles out for you to enjoy with your drink.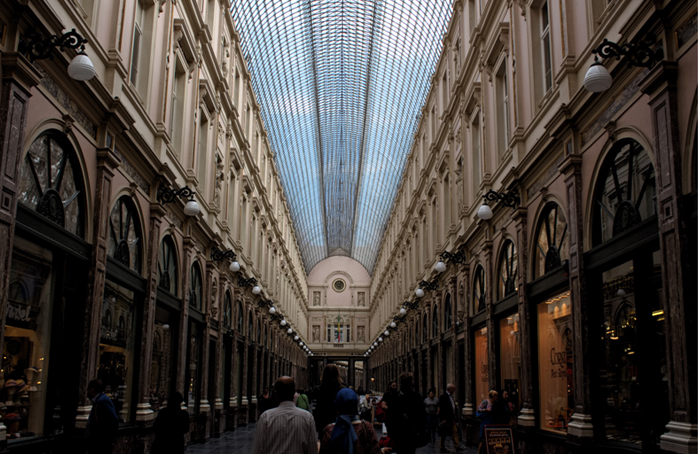 Before we knew it, our time in Brussels had come to an end and we were sat on the train to Ghent. When we arrived, we hopped on a tram to our hotel. The first thing we noticed is the language change, just when we felt like we'd remembered most of our high school French, we were back trying to decipher Dutch signs (although my sister had been living in the Netherlands for a year, so that was helpful). After a quick rest and a couple of beers at the hotel bar (ok, maybe more than a couple) we were exploring the centre of Ghent in search of a bar we'd been recommended. The city was breath-taking to explore in the sunset, and soon enough we'd found the bar. De Dulle Griet did not disappoint. The bar has a traditional old vibe, but the quirk of this place is that you pay for a yard of ale and donate your shoes into a basket hanging from the ceiling. The bar also has over five hundred types of beer available, so you've plenty to choose from! Needless to say, we left the bar slightly inebriated. We stumbled to a café for some frites on our way back to the hotel and crashed out hard.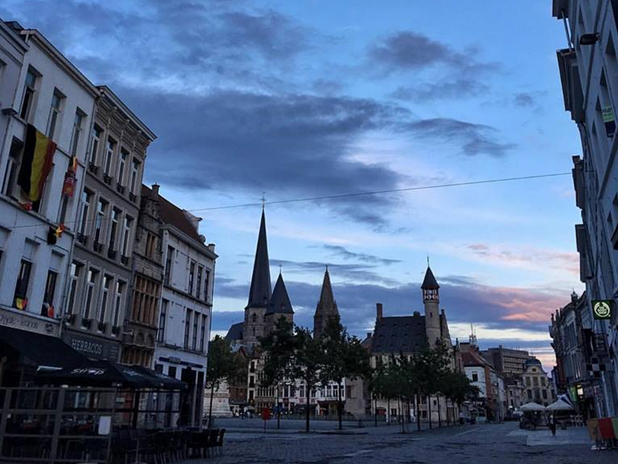 The next morning, we set off in search of a hangover cure. We found some lifesaving breakfast and smoothies over at Café Labath. Afterwards, we were ready for a long walk around the city but as soon as we turned the corner we were greeted by a huge castle from the Middle Ages right in the city centre, and you must explore the castles! We spent most of our afternoon there taking photos and learning about the old torture instruments they had on display (some seriously twisted stuff). Before long our time in Ghent was coming to an end, so after a quick stop in a local café to refuel we were back on a train headed towards Antwerp.
The heavens decided to truly open once we arrived,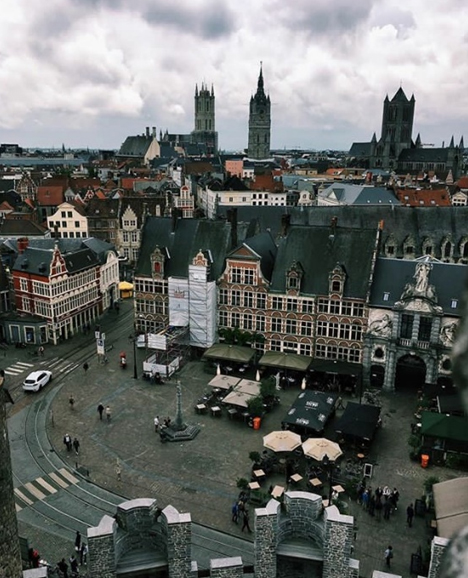 and we found ourselves ducking into cafes and awnings to keep dry. The city was beautiful despite the rain, and with our stomachs growling and the need for an ice-cold beer, we found Billie's Bier Kafetaria which was the cosy respite we needed. It had a chilled ambience, board games and a dog, what more do you need? We ended up sat in there for hours drinking, eating and playing the most gripping game of Scrabble. Eventually, the rain subsided and it was time to explore again.
The city was alive again and we let ourselves get lost through the tiny side streets with no real aim in mind, and suddenly stumbled upon a medieval fortress right in the city centre. We later found out that Het Steen was not a castle, but instead now functions as a performing arts centre. Who knew. Unfortunately, our time in Antwerp was short but sweet, as we had to catch a Flixbus back to Rotterdam.
I put my headphones in and let myself relax on the bus ride back, reflecting on the hectic 72 hours we'd just had. I will impart some wise advice to you all, next time you plan on spending three days trekking around some of the biggest cities in Belgium, DON'T choose to bring a flimsy pair of plimsoles like I did, you will feel very silly and very sore!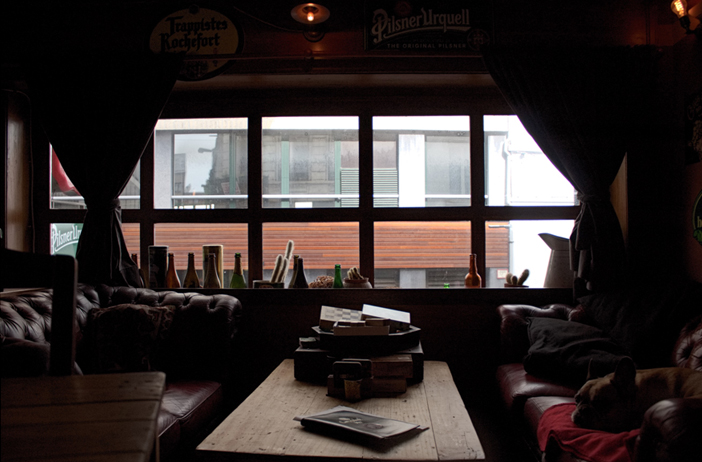 Written by Amy Jane Smith