We arrived in Ha Long Bay, located in northeast Vietnam, in late August. Upon arrival from Hanoi, the weather was a humid 30 degrees Celsius but the sun was shining and the clouds were non-existent despite August being the wettest month of the year for Vietnam.
The scenery was truly breathtaking with the green/turquoise waters and the impressive limestone karsts covered in rich jungle vegetation that stood proudly above Ha Long Bay. There were also various isles all different shapes and sizes, and large hollow islands with stupendous caves for tourist exploration. However, it was very saddening to see the levels of pollution and rubbish in the water – it became very clear to me that the intense levels of tourism in the area have negatively affected the bay. Plastic bags, bottles, food waste, and cigarette packs littered the shores which damaged the pristine look Ha Long Bay initially showcases on arrival. Environmental care is unfortunately lacking in this beautiful location.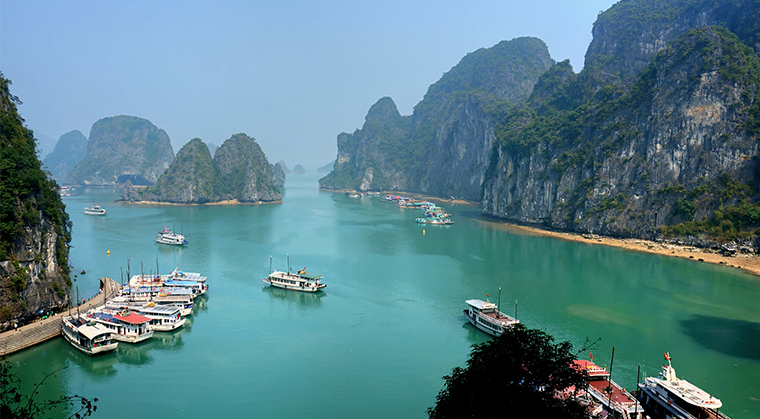 Despite this, we embarked on a boat tour of Ha Long Bay and our tour operator was keen on scooping up any floating rubbish he was able reach – as were many other locals which reassured me the residents of Ha Long Bay were also keen on improving the conditions. The sites were outstanding and the bay was rich with history and culture, however, in my opinion there were too many boats on the water at one time making it impossible for us to explore between rocks. Our tour operator stopped multiple times for 30 minutes of kayaking and access to some caves which allowed us to temporarily take the tour into our own hands.
We visited the Cua Van Floating Village which I can only describe as thought provoking but interesting – and somewhat beautiful. Seeing how the locals of the fishing village lived their day-to-day life stirred feelings of pity but they appeared content and at piece with their lives on the water – one family even had a dog sitting on the docks.
We were served traditional Vietnamese cuisine onboard our boat cooked fresh by the captain himself. The meal consisted of seafood, Pho dishes, spring rolls, and a variety of vegetables and drinks both alcoholic and soft – all wonderful tasting and I highly praise Vietnam for their wonderful dishes. We sailed back to shore after four hours of blissful boating for a questionably reasonable price (around £90) however, I feel that prices in Ha Long are currently on the rise. We booked in advance although we were told after that you are more likely to get a boat trip cheaper if you ask there on the day. We then proceeded to catch our bus back to the hustle and bustle of Hanoi.
If you are ever lucky enough to find yourself in Vietnam, I urge you to visit the magnificent bay for an experience like no other. The high levels of tourism and environmental carelessness can be looked over as the scenery, hospitality, culture, and cuisine here is the best Vietnam has to offer.