Hampton by Hilton London Stansted Airport
Quiet Room
Clean and Modern Hotel
Very nice Breakfast
On the Airport grounds
Slightly annoying experience with staff
We recently went on a holiday to Egypt, and usually, would drive home after landing as we're about 1 hour and a half away from Stansted Airport. However, on this occasion, we had a night flight and wanted to be able to relax before driving and get a good night's sleep and breakfast. We decided to stay at the Hampton by Hilton London Stansted Airport as it's just a few minutes' walk from the airport, plus the reviews were great.
Having previously spoken to someone directly at the hotel, we were advised we could check-out at 2pm rather than the usual 11am, due to the time we were due to arrive (gone midnight). The price of the room was around £96 for two people with breakfast included.
When we arrived, the immediate impression was fantastic! The reception/lobby area leads on to the bar and breakfast area, with comfy seats and a large screen, and the hotel was playing some cool music – an excellent start.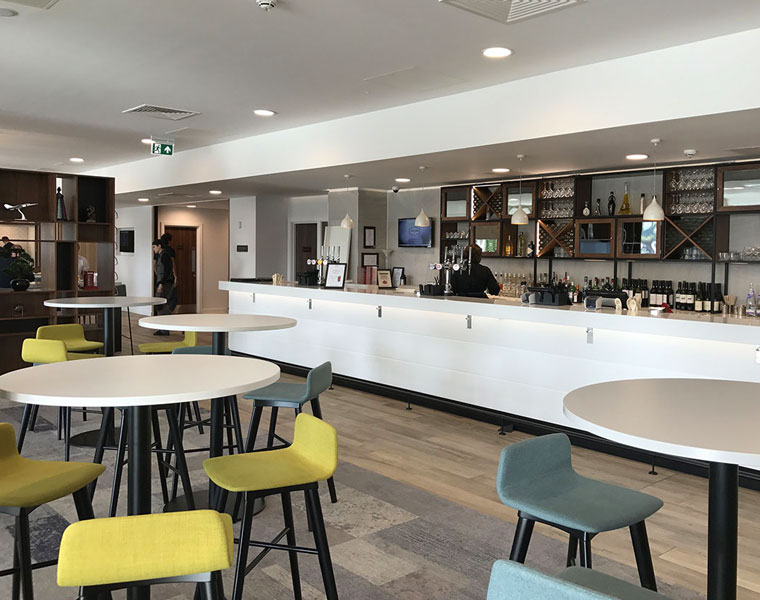 We were very tired after travelling for many hours through the night and were a little jet-lagged. When we spoke to the lady at reception, she told us we had to pay extra for each late hour check-out required. We explained we had already been told otherwise (it's worth noting that we were also up-sold via the telephone call prior, (and joined) the Hilton online membership programme). Annoyingly, the lady at the front desk was adamant we had to pay extra and asked us who we spoke to previously, as there were no notes on our booking. Half asleep and in desperate need for sleep, we couldn't remember and I quite firmly asked her to go and speak to her manager – because out of principle this was agreed previously. She then returned with another member of staff, both having discussed this in a back-office with their manager, and explained on this occasion, it was ok (as if they were doing us a favour). The lady then took payment, and within about 2 minutes later asked how we were going to pay! We said "we've just paid", she apologised and handed us the room card.
We made our way to the lift and stood helplessly, not knowing how to get to the room as the lift buttons did not work. After about a minute, we realised you have to use the card to get the lift to actually work. Maybe a daft moment on our behalf due to tiredness, but it would have been nice to have been told how to use the lift.
The hotel itself is very clean, and has high-spec furniture and fittings throughout – very high tech! The room was small but very nice. The bed was comfy, the room design was noticeably modern and for the price, well worth it in our opinion. What was extraordinary was how quiet the room was! Considering it's directly next to the airport the rooms are so well soundproofed, you can't hear a thing. We weren't facing the runway (apparently you have to pay more for this view) but regardless, the hotel was as quiet as a mouse.
We woke up feeling rested around 11am and headed to breakfast, which was superb – a self-service buffet with the usual: eggs, bacon, sausages, mushrooms, tomato, toast etc, with the option for cereal, pastries and more. It was a very nice breakfast and we left feeling happy having decided to stay here rather than travelling straight home after landing. It's really simple to get to the long stay car park from the Hampton by Hilton London Stansted hotel. Simply walk to the end where the busses are and take one of the buses to your specific long stay car park. These buses run every 15 minutes.
When we returned home a few days later we noticed the Hampton by Hilton London Stansted hotel had taken payment twice. I think the girl who served us at reception was new, so whilst our experience was not great most of the issues we had could simply be her lack of experience on the new job, so no harm done. The Hampton by Hilton London Stansted hotel returned the money and offered us a free drink if/when we return. It would have been nice to have been offered a bottle, but we'll enjoy a nice fresh glass of bubbly together next time with no hard feelings.