My partner and I decided to visit Machu Picchu during our travels across Peru earlier this year in Spring 2017. Machu Picchu had always had a significant place on our bucket lists so this was a particularly special travel experience to us.
We embarked on a four day trek which we booked through Alpaca Expeditions with three nights rest inbetween. This particular trek was moderate but challenging, but there were still many families with young children taking part. Not to mention an emergency horse for those who struggle as it was still psychically demanding even for experienced hikers. The trip cost us around £900 (£450 each) which included food, water, and 4-man tents for camping.
Although the aches and pains were intense as we approached the final hurdle, seeing Machu Picchu for the first time from Inti Punku instantly took my breath away. The pain we had put ourselves through was forgotten in an instance. Seeing pictures of Machu Picchu is nothing compared to the experience of witnessing the Incan citadel in person. Fortunately, we arrived at the famed site at approximately 8:15am thanks to a prior early start to the day. This meant the site was near empty with only a few tourists scattered about taking photos.
One thing I would like to point out is the location of the lavatories – toilet were located outside of the gated entrance to the site so I recommend you keep your ticket handy as it was sometimes difficult to re-enter. Also, just to the side of the gate is a stamp post where you can stamp your passport yourself – it isn't exactly required for entry but it makes for a great piece of memorabilia.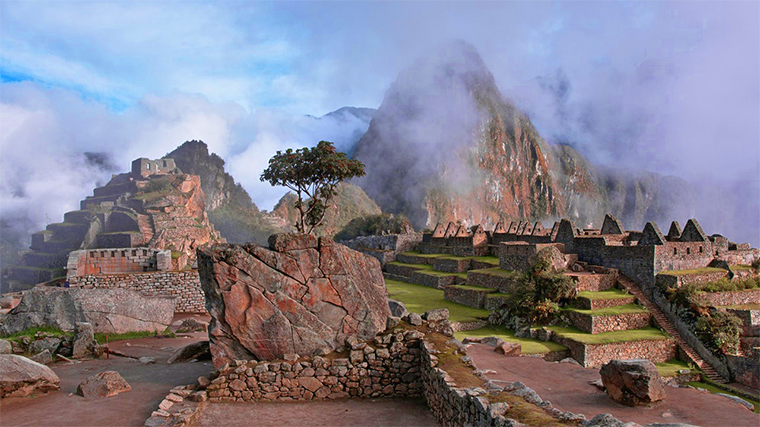 The greatest part of Machu Picchu is the mystery – with so many questions left unanswered and its previous use still unexplained, the site gives off an intense yet magical vibe that one can only experience in a place like this. I take my hat off to the Peruvian government for maintaining the site so well and preserving its history. Out of respect and cleanliness, we were not allowed to take any food or drink (other than water) into the site, however, there is a cafe you can purchase food and beverages from – but you will be forced to eat and drink in the bus stop/seating area before entering.
Over a two hour tour, we were able to see most of the main points of Machu Picchu including the Sun Temple, Temple of Condor, and the Mirror Temple – all with their own incredibly unique characteristics and architectural style. It is rather remarkable to see what people achieved almost 500 years ago in building such magnificent structures. Although difficult and challenging to get to, and not to mention rather expensive, the trip we made to these ancient ruins of Machu Picchu is possibly the highlight of my travels (and I have been travelling for over twenty years). Our visit was made even more so precious as we had previously hiked through smaller Inca sites where we absorbed the culture to its fullest.
Pictures do not do the site justice in my opinion, and a two hour guided tour, as wonderful and informative as it was, was nowhere near enough time to thoroughly explore the ruins. I hope to return some time in the near future where I can spend a few days exploring Machu Picchu at my own pace.