Ölüdeniz, Turkey All Inclusive
On June 30th, I arrived at the picturesque resort village on the southwest coast of Turkey; Ölüdeniz. Famous for its Blue Lagoon, white Belcezik Beach, and Babadağ Mountain from which paragliders soar. Our all inclusive holiday isn't something I will be forgetting anytime soon – it exceeded my expectations and it will remain a precious memory to me for all time.
Seven of us jetted off together to our all inclusive paradise; my brother, parents, partner, my auntie, and a close family friend. We booked through Thomas Cook and had initially planned a "relaxing" week away in the sun, but it soon turned into something of an adventure holiday.
The Accommodation
Our 3* hotel, Marcan Resort, was located at the top of the strip approximately 1km from Ölüdeniz beach. It was a stylish, modern hotel with tentative service, and a comfortable and friendly atmosphere. We arrived from Dalaman airport on our transfer bus at around 3am – the staff greeted us at reception and carried our bags to our rooms which were all located in different blocks around the resort – a nice change to being stuck in one giant building for the whole holiday.
Our room was situated on the ground floor – our door opening up to the resort's pool infront of us; a beautiful sight every morning. It was modern, equipped with a flat screen television, a marble shower room, mini fridge, and a large double bed plus plenty of room for your luggage. However, the first two days the room had a very stale smell; with drains being small and narrow in Turkey, this might have been the result of the room being empty meaning the drains had been sat for a while. However, after a few showers, the smell disappeared.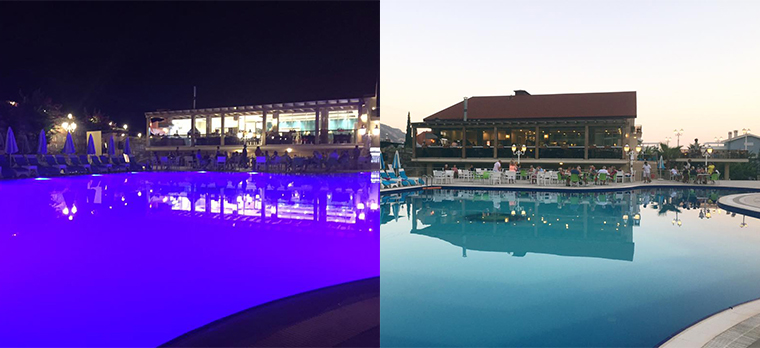 The pool was a decent size and was lit up a beautiful violet colour when darkness set in. There was a child's pool with large water slides. Although it seemed more grown adults were more excited about the slides than the children were… (Myself included). There was also a gorgeous pool bar with wonderful staff who worked long, intensive hours but were always polite and aimed to please. The restaurant was not my favourite part of the resort – food most days wasn't anything to brag about; meals were repetitive and lacked flavour, but it kept us all well fed. The times we did eat out were delicious and fantastically priced. A lovely young man who went by the nickname 'Speedy' was one of the waiters in the restaurant and made everyone feel at home, he worked all day everyday, and still had the energy and charisma to make you laugh every time you saw him; we're even friends on Facebook!
One thing that certainly came as a surprise was the Muslim Prayer ritual that is performed five times daily through a megaphone across the village. I actually enjoyed hearing it once I was used to it, and also loved that the local stray dogs would howl along too.
The Weather
I had never encountered heat like it – during our first two days,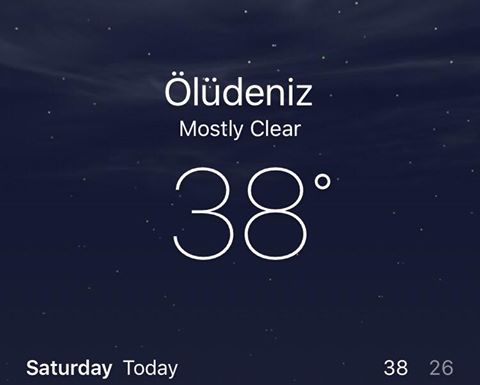 South of Turkey was suffering from an intense heatwave coming up from North Africa. When we arrived at the hotel on our first night at 3am, the temperature was already at 38 degrees celcius – it's safe to say I was dreading to feel the heat at midday. Over those two days, the temperature reached a staggering 50 degrees with not a single cloud in the sky. As a result, we didn't get up to much for the first 48 hours other than sitting under the air conditioning and remaining underwater in the pool.
Eventually, the weather "cooled down" to a slightly more bearable 40 degrees for the rest of the holiday, although hot, it wasn't humid like UK weather. We kept ourselves cool with regular dips in the pool and sea, and protected ourselves with hats and regular applications of factor 50 sunscreen. After a few days, we had adjusted to the heat and didn't let it ruin our time away…
The Holiday
Over looking Ölüdeniz and surrounding our hotel was Babadağ Mountain; standing 2000 meters tall and accommodating an array of wildlife and lush vegetation. Every day paragliders were launching themselves into the skies from it; at one time I counted 28 of them soaring across the resort. On one day we took a short excursion trip to Green Park Beach (approximately a 10 minute bus drive away). Green Park Beach is part of Ölüdeniz's Blue Lagoon – famous for its crystal turquoise waters and snorkeling spots. There we took out some pedalos and a canoe for only 50 Turkish Lira (equivalent to about £10). Enclosed by mountains and surrounded by the sound of crickets and wildlife as we cruised the lagoon; it was breathtaking, we even spotted a few sea turtles along the way. 

On the third day of our trip we hired out the Lider Bey private family sailing boat operated by the wonderful and welcoming Umit along with his wife and little boy. I can easily mark this day down as my favourite of the holiday and my family and I all agreed it is a day we will never forget. Umit took us to some of the most peaceful and scenic bays around Ölüdeniz where we had the whole day to dive and explore on our own terms. Him and his family cooked us a superb traditional Turkish lunch and even gave us control of the music we listened to. No request is too much for Umit and he treats you like royalty. I would love to return to Ölüdeniz just for this day alone.
Wet & Wild
On the fourth day of our trip we decided to sign up for the 'Wet & Wild' excursion with a guy called Animal; an absolute nutter with a heart of gold and a thrive to have as much fun as possible. Around 4o of us or so were all travelling in our very own open-back converted vans equipped with roll cages. 

The excursion felt like it mostly consisted of the jeeps pulling up alongside eachother on the motorways and mountain roads so we could drench our fellow travellers with super soakers – as you can imagine, road safety in Turkey is loosely enforced, but at no point did I feel unsafe; I was too focused on winning a non-winnable water fight against the other jeeps on our excursion.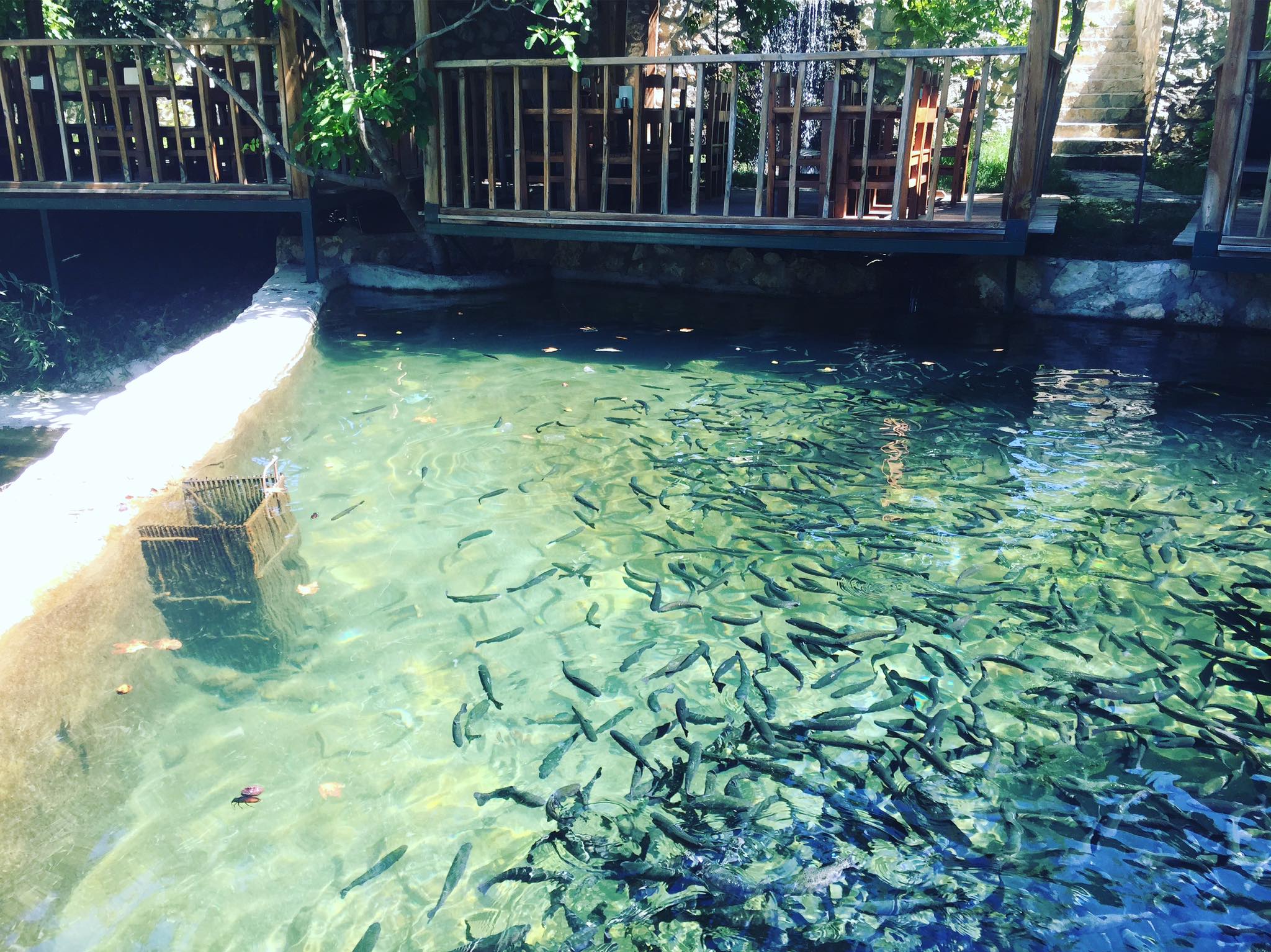 After 45 minutes of driving and water fights, we arrived at the first destination. Selale Yakapark Trout Farm; possibly the most tranquil place on earth I have had the pleasure to visit. The farm is man-made but superbly presented, here you can tickle the trout, grab yourself a drink, and chill out in the tree houses whilst enjoying the sounds of nature and admiring the beautiful water features. The water is beyond freezing, I wouldn't recommend a swim here but it's still beautiful to see.
The next part of the excursion took us to Saklıkent Gorge, at 300 meters deep and 18 km long, it is one of the deepest gorges in the world. There we got to explore the rapids and waterfalls and even take on some ringo rafting which felt like a hilarious real-life game of Wacky Races. 
Our last stop was the natural mud baths alongside the Karacoy river where Animal had us crying with laughter. We played games in the mud, threw it at each other, and generally had a fantastic and messy time rolling around in it… I won't lie, my skin felt wonderfully soft after showering.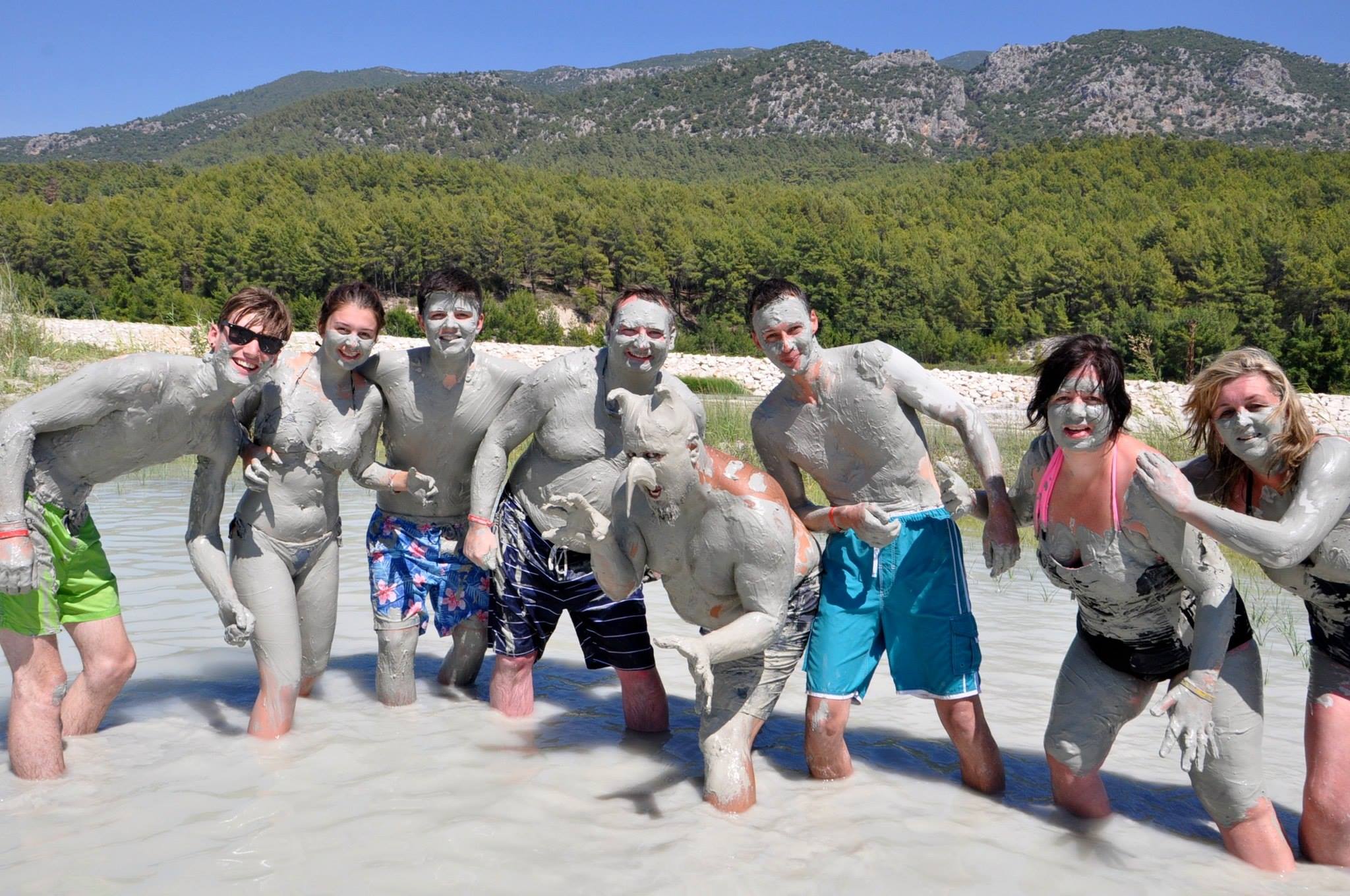 The Nightlife 
Being mostly an Islamic country, Turkey was seeing the end of Ramadan when we visited. This meant the nightlife was hardcore but not in a terrible and sweaty clubbing way, but in a dancing on the bar, lots of shisha (Hookah) and flame throwers kind of way… It was incredible and every member of bar staff was partying just as hard as the tourists. Your typical night out in Britain most likely ends in tears, drama, and cheesy chips, but in Turkey, it ends in hugs, sing-alongs, and hugging stray dogs who also come out for a good time.
Ölüdeniz was great to us and we'd love to visit again in the near future. I highly recommend a trip to this picturesque resort village, you'll feel like you're on the other side of the world whilst being only a short 4 hour flight away from home.