Travel plans on your mind this summer? Why not take a great vacation Down Under with your family? Australia is a superb choice for family travel. With a bit of research, you can select the destinations that appeal to all age groups.
Whether your kids are babies, toddlers or teens, plan your holiday with a mix of activities, leisure, learning, action-packed adventure, excitement, and fun, so that they enjoy their trip in the land of crocs and kangas. Involve them if they're old enough and let them choose a few things they'd like to see or do while in Oz.
Traveling to Australia with Kids | Necessary Things to Pack
What you pack is dictated by the weather and your travel itinerary. Australian summers (December – February) are hot, while the coldest months (June-August) are pleasant and the best time to visit. Pack plenty of lightweight, breathable, washable fabrics, hats, flip-flops, swimwear, and some formals for dress-up evenings.
A rain-proof hoodie is handy for sudden showers. Jeans, jackets, scarves, beanies, and dressy togs are good winter wear. Check ahead whether your kids' favourite brands are available.
Change-of-clothes, diapers, disposable bags for soiled items, children's sunscreen, motion-sickness meds, and insect repellent are essentials. Pack a bag with favourite snacks, board games, books, and crayons.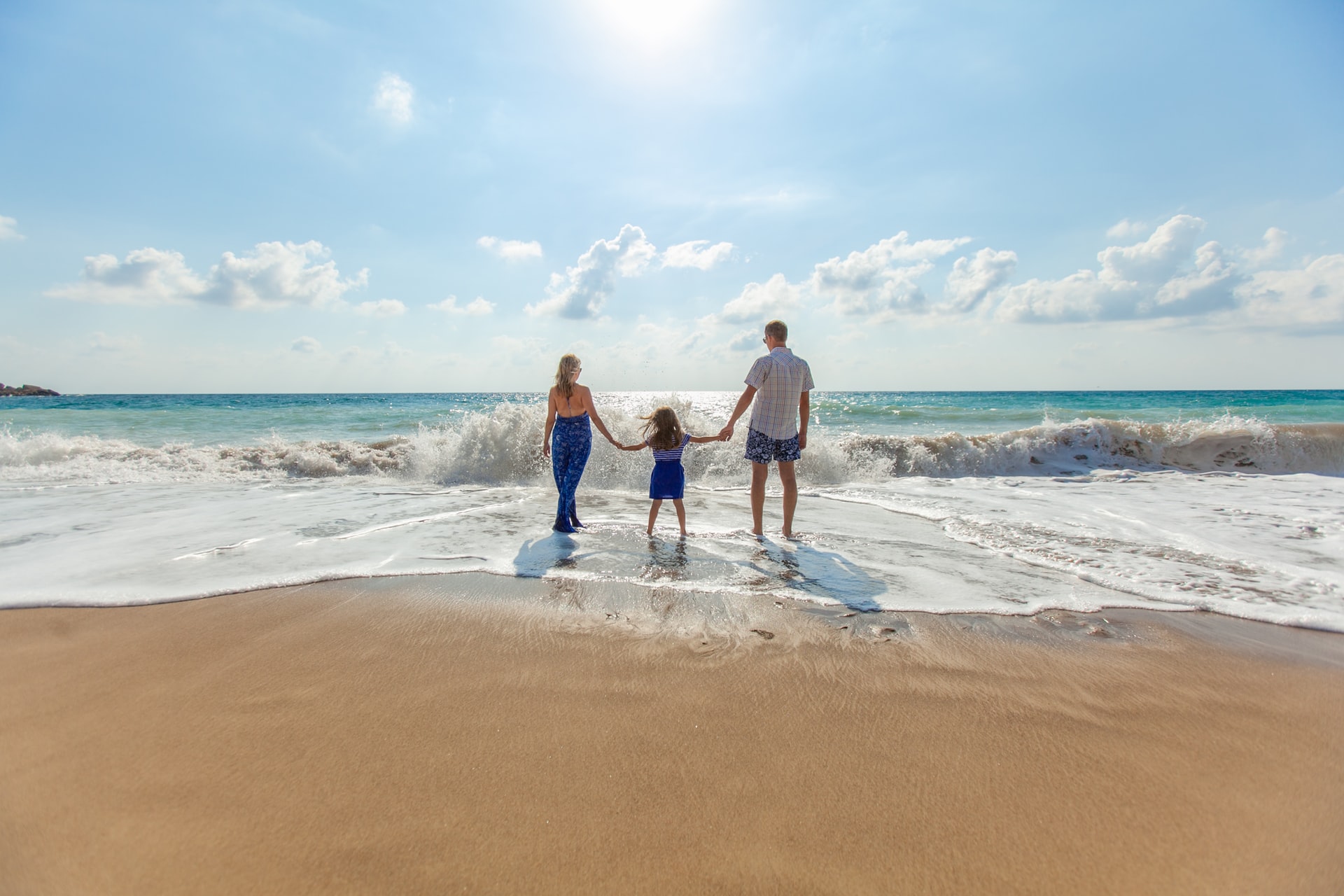 Pack Essential Foods
You can't bring fresh foods or meat products into Australia except for baby formula unless you declare them beforehand. Some states/territories prohibit fresh food from other Australian regions. You can pack essential foods for the flight for your kids instead of depending on airline food that they may not like.
You can carry snacks in clear zippered pouches into the aircraft. Other choices are yogurt tubes, pouches or fruit, or bite-sized sandwiches that can be eaten on the plane. Call the airline and your travel agent if your kid has special dietary needs. Pack snacks individually for each child, along with disposable cutlery.
Take Water Hydration Packs if Hiking with Kids
If hiking is part of your bucket list while on holiday with kids, they must stay safe and well. Water hydration packs are the perfect solution. They're specifically designed to transport and convey clean, fresh drinking water quickly, efficiently, and conveniently. Ensure that you get a purpose-designed pack for the activity you've planned.
Waist pack and back-pack types are available, and for hiking, you get specially designed ones with enough space for snacks, extra layers of clothes, flashlights, camping must-haves, and a first-aid kit. Get the right size pack for your kid, suited to their age and weight.
First Aid Kit
If possible, enrol the family in a basic first-aid course before travel. This helps you to pack right and use it correctly. If your child is on regular medication, that's the first thing to pack. Based on where you'll be going and how long you'll be traveling, ensure that you pack kid-friendly OTC meds.
Store things in separate zip locks and label them in permanent marker, along with your doctor's emergency contact number.
Must-haves in your kit:
Assorted gauze bandages
Prescription meds
Quality scissors, tweezers
Eye-wash cup
Antiseptic, Pain-relief sprays
Insect-sting medication
Band-aids
Instant ice-packs
For Long Time Traveling, Prepare Education on the Road
Road-schooling is the term that's commonly used. TAWK (Traveling to Australia With Kids) comes with its own questions if you're on an extended holiday. Try not to travel if important exams are coming up. Create a plan that involves the whole family.
Get clear commitments on time, schedules, break times, and duties. Routine and rules are essential. Be consistent yet slightly flexible. Factor in good and bad days, but keep mornings for school time.
Make use of the travel to enhance education and ensure that it's fun and not a chore. Travel expands the horizons and educates like nothing else.
Food Suggestion for Kids
Roast Dinner:Whether mid-week or Sunday, roast dinners are perennial favourites. Roast chicken, turkey, beef, lamb, duck, or vegan paired with crisp veg, gravy, relish, greens, and herbs are available all over Oz.
Fish-n-Chips:This iconic snack pack is available at most street corners across Oz, and there's an annual award for the best! Basa is the most common fish used, as also Hoki, flat-heads, hake, gem-fish. Idaho potatoes, sea salt, veg oil, or animal fat are the secrets behind great chips.
Vegemite:This Aussie spread is great on sandwiches, biscuits, crumpets, and pastry-filling. It is vegan, halal, and kosher.
Lamingtons: Yummy sponge/butter cake coated with chocolate and rolled in desiccated coconut is an anytime treat. This popular Australian cake is also a quick and easy dessert to make.
Wedges: Classic bar/club/pub snack. Skin-on potato chunks fried/baked served with sour cream or various dips and sauces. They're available freshly made or in vacuum packs in most stores/supermarkets.
Fresh Seafood: With 34,000km of coastline, seafood choices are amazing in Australia. World-famous choices include sardines, prawns, shrimp, lobster, shark, farmed salmon, tuna, trout, barramundi, oysters, and mussels. Available at gourmet restaurants or street-food carts, you can't miss the experience.
Bonus: Best Places to Stay with Kids in Australia
Paradise Resort Gold Coast
Voted consistently as the Best Family Resort in Australia, Paradise Resort Gold Coast is the perfect choice for family fun. You'll find enough to keep your kids entertained and active, no matter how old your kids are. Giant water parks, lagoons, water sports/cannons/slides/jets offer exciting times.
Supervised kiddy-club sessions from ages 0-12, ice-skating, rock-climbing, teen zone, playground, children's pool, babysitting, and children's menu, making it a fun place for the whole family.
Full-family shows, live music, and a schedule of kids' activities make it enjoyable and a self-contained space so you don't have to go elsewhere in search of good times for your kids. The resort is well-maintained, hygienic, and safe.
Snow Escape Holidays in Jindabyne
Located amid the Snowy Mountains, Snow Escape Holidays is a local family-run business. It offers easy access to national parks, the best skiing in NSW, endless stretches of wilderness trails, outdoor adventures/activities, and the serene beauty of Lake Jindabyne.
The tiny township provides amazing eateries and shopping experiences, apart from natural beauty. This resort provides fully-equipped kitchens in all villas, townhouses, and apartments. Kids enjoy horseback riding, snow-shoeing, and trips to the local cookie factory or the bowling club.
There are plenty of attractions in the vicinity if you'd like to explore, such as the Magic Mountain or Carey's Cave, the original Gold Rush Colony, etc.
Sea World Resort
For the ultimate Gold Coast holiday experience with kids, it's hard to beat Sea World Resort. Relaxation, fun, learning, discovery, adventure, and excitement are guaranteed. The daily evening LED light show at the SpongeBob Splash Bash with themed play, karaoke, and dancing.
The Kids Club movie theatre, games, activities, meeting their favourite Nickelodeon characters, the water park and dolphin discovery presentation, animal adventures, helicopter rides, and scenic cruises make this a once-in-a-lifetime experience.
Delicious, fresh and no-frills menus appeal to kids and parents alike. In-room dining is also an option. Sea World Resort also offers school programs in various subjects at all levels.