Lee Humphries is a 35 year old Adventurer, Explorer and Mountain climber from Wolverhampton. Lee is on a mission to stand on the highest point in 100 countries. The challenge includes the highest point of every European country along with the highest in Africa and South America. So far he's managed 62 out of 100 from the challenge and has 2020 as the target to complete his mission by. We caught up with Lee to discuss his determination, inspiration and future mammoth challenges he's hoping to take on…
Q1. What are your plans this year involving the mission?
I started off this year having already climbed 56 of my 100 country high points target, with the aim of hitting 75 by the end of the year. My first trip in January was a multi country high point one visiting several Caribbean countries. Unfortunately, due to a very poor airline, (it being the only one at the time flying from Curacao to Sint Maarten and having 5 cancelled flights in 5 days) I decided to call the rest of the trip off after climbing just 2 of the 5 I had planned; the highest points in Aruba and Curacao.
I headed back to the Caribbean in April and climbed to the highest point in Barbados, Saint Vincent and the Grenadines, Trinidad and Tobago and Grenada taking my high points tally to 62/100.
I have a multi high point trip planned – a trip to the Middle East over the coming months where I will head to the UAE, Kuwait and Lebanon. I'm also working on a big trip to the Caribbean towards the end of the year where I will climb 5 country high points along with several territorial high points.
---
Q2. What's the fulfillment you receive when stood on top of the highest mountain?
It is always a great feeling when you are standing on the highest point in a country, but now and then it is extra special. While in Sri Lanka recently the highest point is located inside a military facility. After many days of traveling to reach there, the time comes where I know I have to approach the military guards and politely yet firmly ask if I can enter their facility and stand on the highest point. It's a true gamble and totally out of my hands but the gratification when my request was finally granted and I was standing there on the highest point was euphoric. Depending on the conditions and my time frame I usually spend 10 to 20 minutes on the top taking the summit pictures and videos along with admiring the views.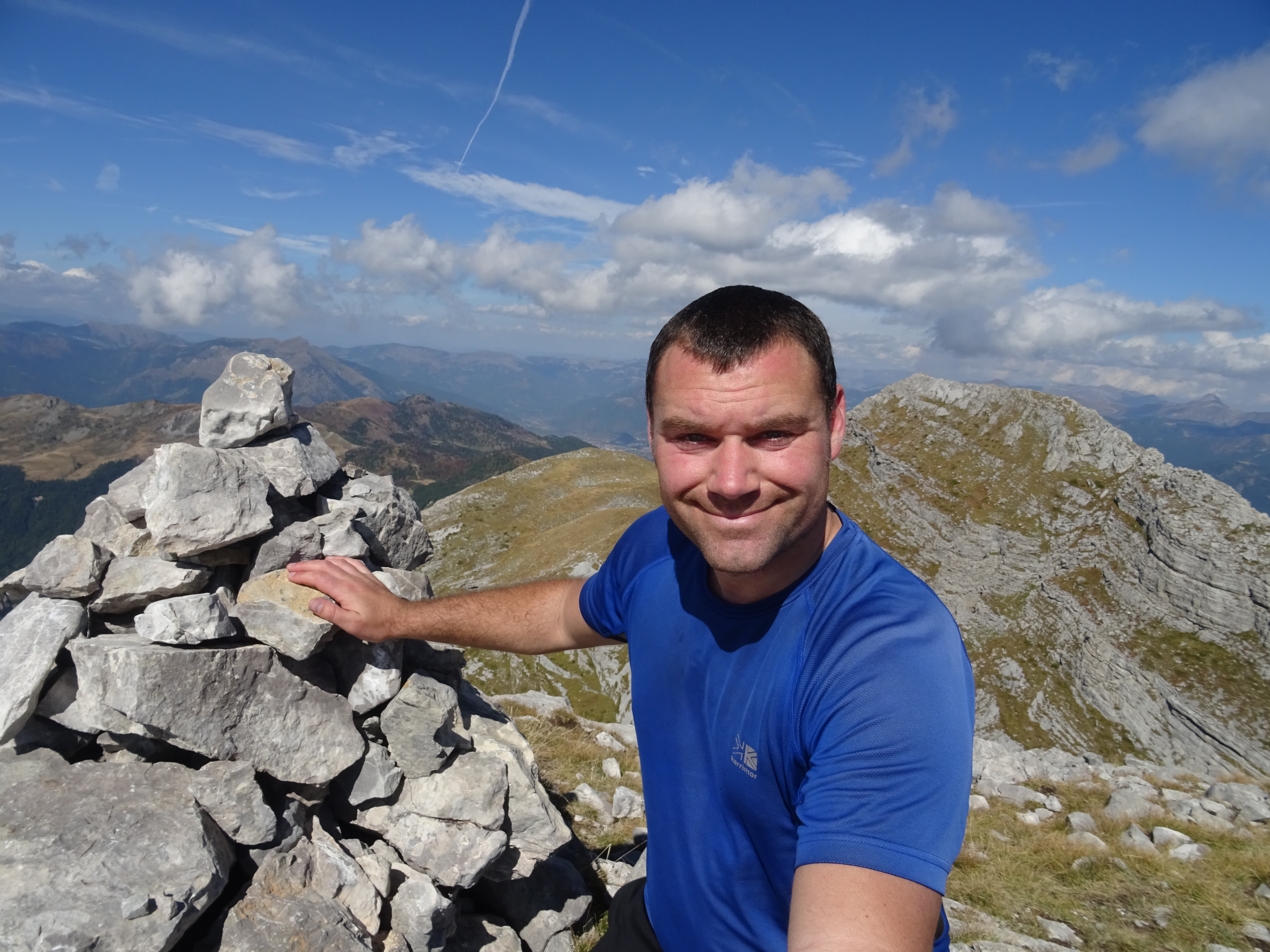 Lee at the top of number 55 of his 100 country high points – Zla Kolata in Montenegro (2534m)
---
Q3. What inspired you to take on this mission?
For as long as I can remember I have always had a fascination with extremes and records, whether it was the fastest, longest or highest. From the very first time I climbed a local hill called the Wrekin (407m) at 11 with my Dad I was hooked and wanted to climb higher, and so I did. With any free time, I used to head to the hills venturing further and further afield, taking in the highest points in England, Scotland and Wales before the natural progression of heading abroad to travel and climb mountains around the world.
It wasn't until I started planning a trip to climb Korab (2764m) – the highest point in both Macedonia and Albania – in 2015, when I first stopped and thought about how many country high points I had actually stood on to date. 13 was the answer, which soon became 14 with a successful climb of Mount Korab.
On my return home I researched several country high point lists along with joining a great website called Peakbagger. I noticed that a few people had already climbed to the highest point in every European country, and as I do like a challenge, I decided to go one step further and set myself the target of standing on the highest point in 100 different countries, notably including the highest point in every European country, the highest mountain in Africa (Kilimanjaro) and also South America (Aconcagua).
From that moment my 100 country high points project was born. To gain some perspective on the difficulty of my challenge, only one or two people have ever stood on the highest point in over 100 countries! Where as 12 people have walked on the moon.
---
Q4. After this mission is completed will you be taking on another?
I can't see myself stopping at 100 country high points. Nobody has ever climbed to the highest point in every country on earth, so that is something I will certainly continue to aim towards! Aside from the mountains, having already visited 91 countries to date I think it would be fantastic to have visited and experienced every country on earth. I have always wanted to stand on the North pole and cycle from Lands end to John O'Groats, so they will be projects I will be looking into and working towards in the near future too.
Regarding Mount Everest as the world's tallest country high point, it's certainly been in my thoughts ever since I first started climbing hills while still at school, and it's certainly one I will be aiming to climb in the future. An attempt on Everest would cost in excess of all of my 100 country high point trips all together. It therefore goes without saying that I would certainly need sponsorship beforehand. So for now, my focus is getting my 100 country high points challenge completed and I'm sure upon completion I will be in a far greater position to think about climbing Mount Everest.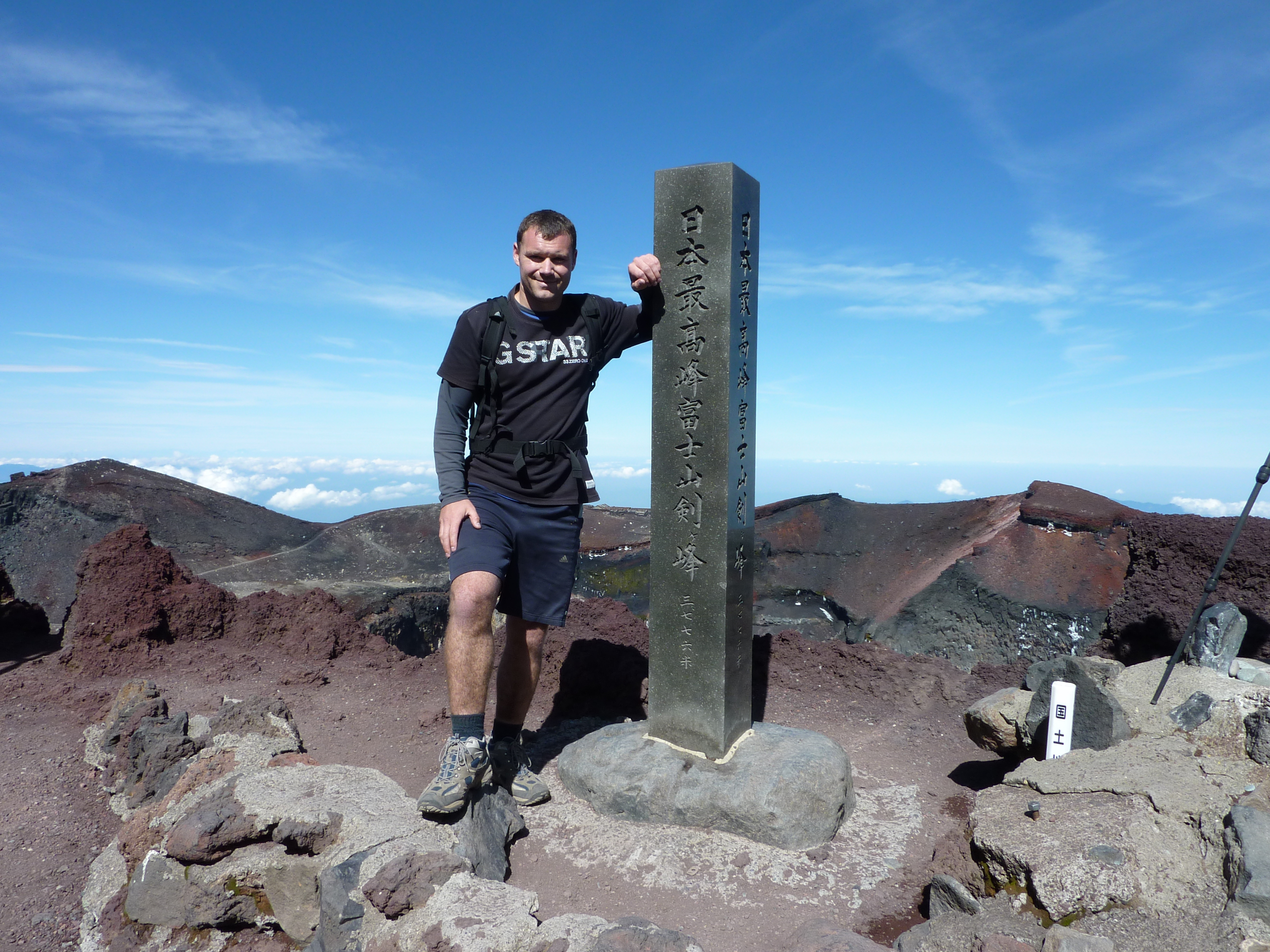 Lee at the top of number 10 of his 100 country high points – Mount Fuji in Japan (3776m)
---
Q5. What are the best and worst mountains you've climbed and why?
While climbing Grauspitz (2599m), the highest point in Liechtenstein, there is a steep boulder field that leads along a knife edge ridge to Hinter Grauspitz (2574m). I was just about to start climbing when I heard a loud noise above followed by a massive rock falling along the route I was aiming to take onto the ridge. I waited a while, and – as quickly as it's possible to do on a steep boulder field – ascended past the rockfall area onto the ridge and onto the summit of Grauspitz. My efforts were rewarded with fantastic panoramic views extending well into Switzerland.
I really enjoyed Triglav (2864m) – the highest mountain in Slovenia – as there was a great deal of climbing involved along with fixed ropes in place and a 50ft/15m vertical wall. My climb was made all the more 'exciting' as I climbed it without a harness, Meaning a slip or fall on certain sections would have certainly been fatal.
Being a 'low' country high point doesn't always mean that it's straight forward or easy though. The Vatican's is only 75m yet you need to go on a tour of the gardens to actually stand on the actual highest point. The highest point of Bahrain and Qatar are quite low also yet both within military zones which the public are prohibited from so each high point has its own challenges.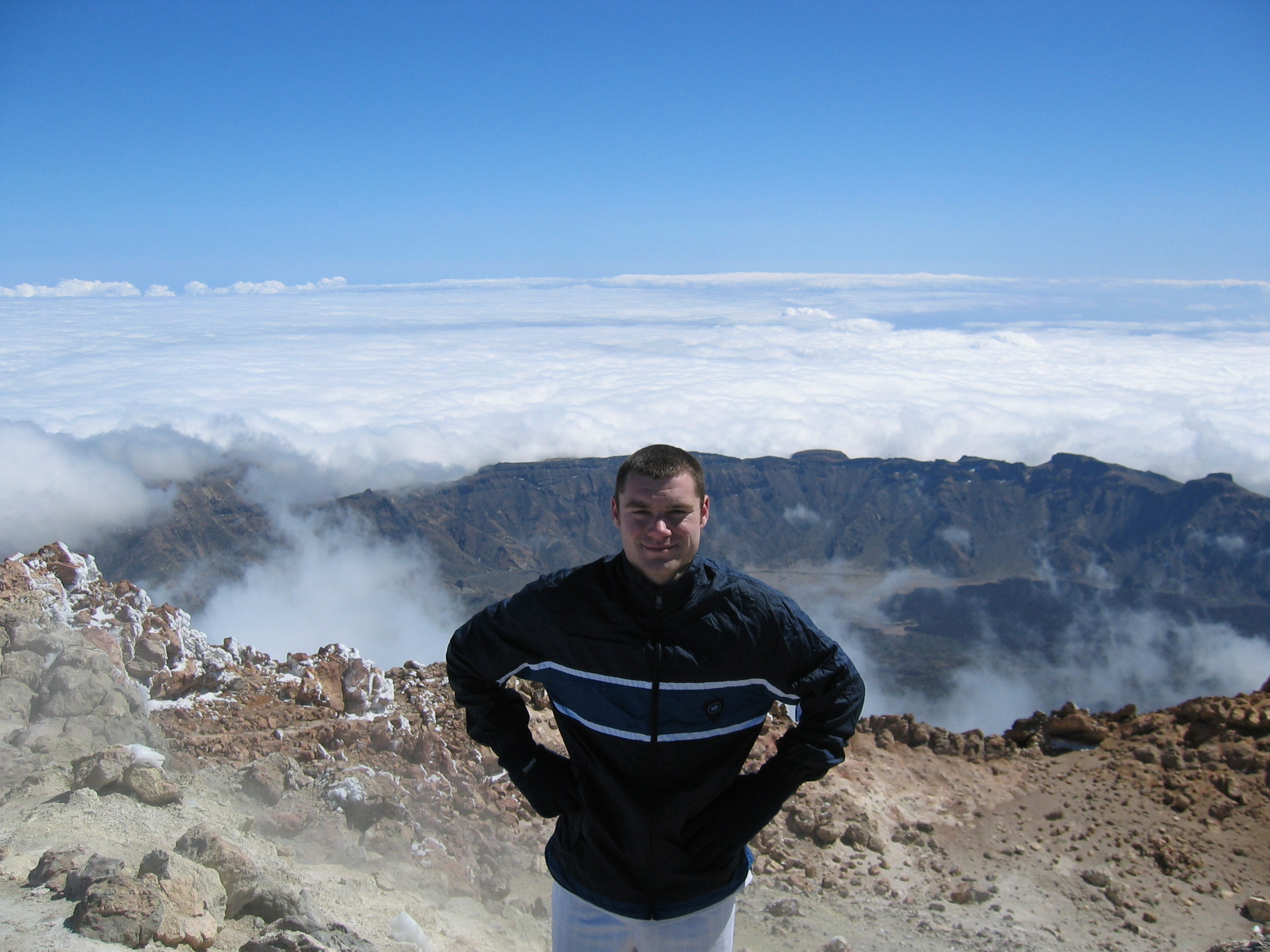 Lee at the top of number 4 of his 100 country high points – Mount Teide in Spain (3718m)
---
Q6. When do you plan on finishing this mission?
I'm currently on course to hit my target of between 15-20 high points per year which will see me on 75 country high points by the end of this year… pushing on to 90 by the end of next year, leaving 10 to do in 2020.
That final year will be spent climbing some of the higher mountains on my list. By this point having already climbed 90 high points it will put me in a stronger position to acquire sponsorship and support for these more expensive and technical climbs, by already having proved I have the required skills and determination over the course of my high point project to push on and get to 100.
I'm planning on climbing Aconcagua (6962m) as my 100th country high point as it's the tallest mountain on my list along with being one of the more difficult and expensive ones (I can potentially climb 15-20 high points for the same price).
---
Q7. Do you have any tips for people planning to climb one or more of the highest peaks?
High quality, comfortable footwear is always essential for any trip. But after spending a good 15 years climbing hills and mountains around the world relying on paper maps, a mobile phone is now certainly right up there as an essential piece of kit while traveling. From boarding your plane without the need of paper tickets, to translating, and booking hotels. I use an app to navigate my 100 country high points called OsmAnd; their offline maps are  perfect for areas where it's not otherwise possible to obtain a high resolution map (I do still take an old school map just in case).
Research is key, especially when visiting more obscure countries or places well away from the usual tourist areas where the highest points are often located. Being aware of the current weather and political activity is paramount.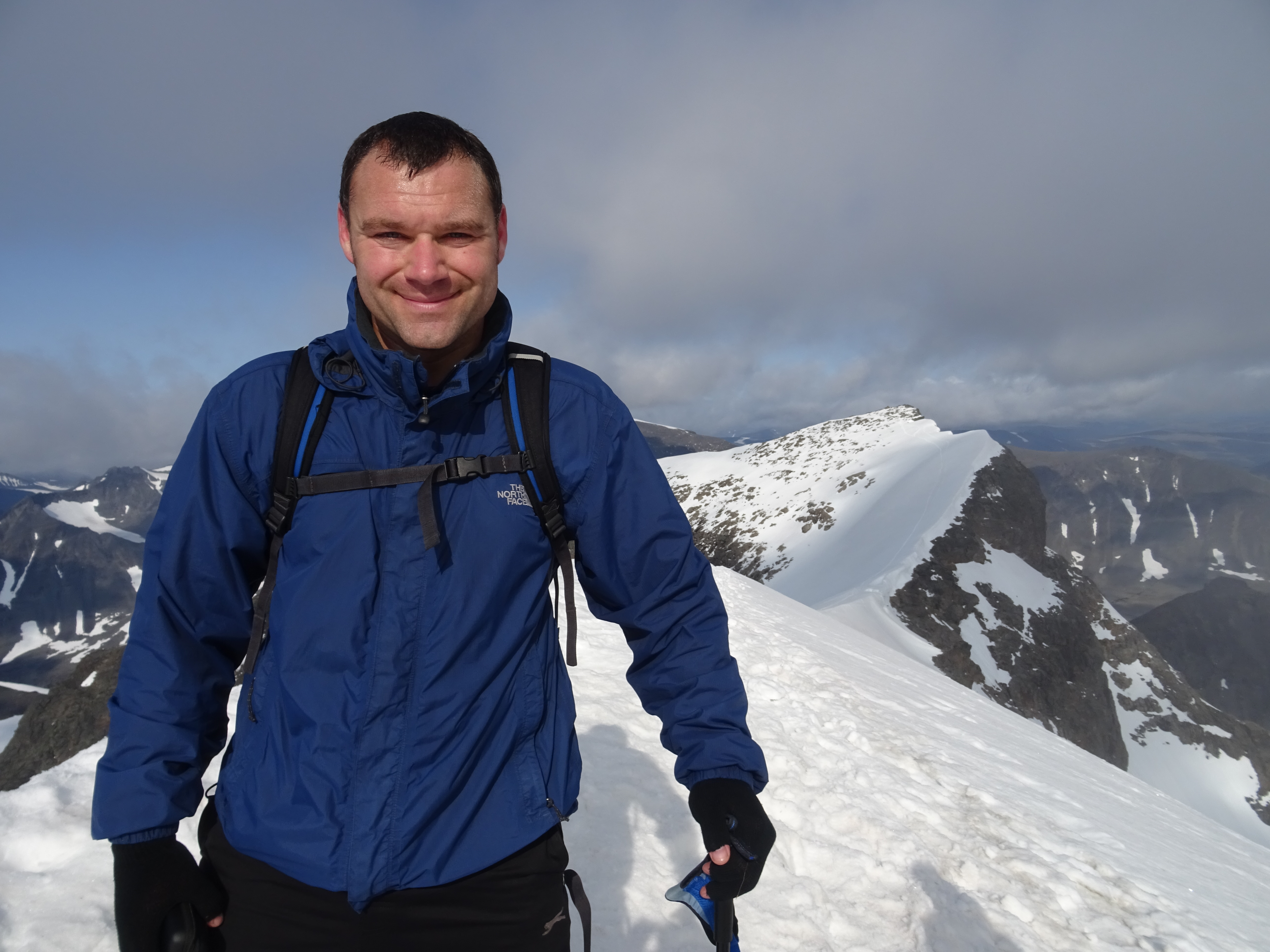 Lee at the top of number 53 of his 100 country high points – Kebnekaise in Sweden (2106m)
---
Q8. What's the weirdest or scariest thing you've come across when climbing a mountain?
While climbing Pidurutalagala, the highest point in Sri Lanka, there were many signs saying that wild Leopards were frequent in the area and to be on guard and vigilant. Also, crossing live military fire while in Croatia, including landmines left over from the war, made for an interesting day.
Usually it's something innocuous, but it takes you by surprise. I remember walking through a dense forest area at dusk many years ago; having been walking all day, I was in a world of my own. I walked around a tree stump and there was a large dead animal propped up against it. Certainly a surprise, but the positioning gave it a human look at first glance. Thankfully it turned out to be a large sheep!
---
Q9. Is there anything you've learnt while taking part in this challenge?
Certainly one big thing I have learnt which my previous tourist travels hadn't really touched upon is the unbelievable generosity of people in villages and hamlets, specifically in poorer countries. Many of the country high points are located near very rural areas where the local people don't see or need to interact with many tourists, yet they are very friendly and curious at times, but still willing to help. Whether it simply be a lift down the road, food or water, they expect nothing in return. Although I still find it difficult to comprehend and accept the levels of poverty which people are still subjected to in 21st century Europe. This challenge has also taught me that if you have an aim or a goal, there is no time like the present to go and do it. I hear many people make plans or have grand ideas which never materialise. A book or video is no comparison to actually experiencing the world for yourself.
---
Follow Lee's on his mission to climb 100 country high points:
Twitter: @leehumphries100 | 
Instagram: @100countryhighpoints | Facebook: @leehumphries100
Website: http://100countryhighpoints.com/
Interview by Lucy Rix