The UK Government has been under criticism for its slow and broken policies failing to deliver and get Ukrainian people out of the war-zone, to safety. Having first-hand experience in this process with family members still stuck in Ukraine 21 days after the war started, I aim to draw attention to the bureaucracy and challenges we have faced. From delays, poor policy, uncertainty, and multiple unsuccessful VISA applications to unacceptable messages from Ryanair, we are still far from getting our family out of Ukraine, which is under constant attack.
By Ben Farrin
---
Unable to sit back and do nothing, with family in Ukraine (Lviv), and watching the war unfold whilst the UK government did very little (especially when the war first broke out), I decided to take action. I created a petition on Change.org for a relaxed VISA application process, for people with immediate family in the UK. The petition gained huge traction and was the "most popular" petition on the platform. It currently has 206,190 signatures – it's had 3,028,357 views and 58,637 shares.
Shortly after creating the petition, the UK government started to make promises about relaxing VISA applications for family members of UK citizens, but it quickly fell short of these promises, and having tried ourselves to apply for 4 VISAs, for 4 eligible Ukrainian people (twice), both occasions were unsuccessful and we are waiting to hear back about the third attempt.
The systems are poor, broken and staff at the Home Office have very little to say. When the form first went live we filled it in straight away, desperate for our family to get to safety as soon as possible. Being an organised person, my wife tested the document upload button, which needs to be pressed to send further supporting evidence as part 2 of the application. The button simply didn't work and the Home Office had no explanation. They told us that the system was new and not working properly yet, and to keep checking back.
According to the first application we made, the form asked to list the individual members applying for VISA in the one application, which of course we did, only then to be told that we had to start again, this time completing one form per person. So we spent many hours completing, scanning and submitting new applications for each family member on Friday, for them to go to a VISA centre on Monday.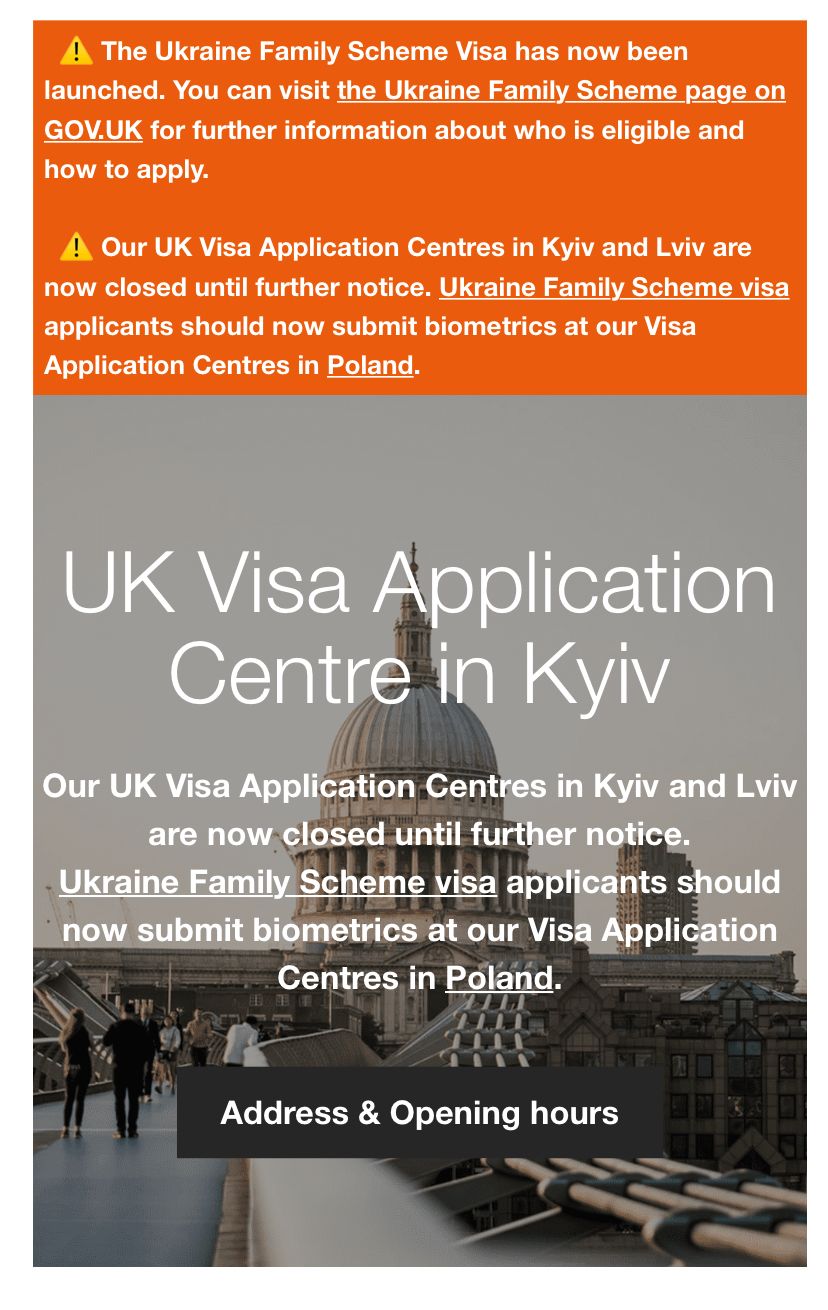 When applying for VISA, you have to list the VISA centre you wish to apply for to complete the biometrics – in our case the only centre available being Lviv, which is fortunate as that's where the family are. The next day it was announced the VISA centre was closed and that we had to start the application process again and that we had to visit a VISA centre in Poland. I thought the VISA application process was supposed to have been improved and working? Nice one Priti Patel.
Our situation is not so easy, because of the 4 people traveling, one is an elderly 69 year old lady, the other a newborn baby, who doesn't have a passport yet. There's also a 14 year old boy who's passport expired a couple of months ago. With border wait times being days, the weather below zero degrees, the chaos and with vulnerable people needing to travel this is a huge problem, and not only for us but for millions of people stuck in Ukraine. The UK were telling everyone that they had made improvements to the VISA application process but it was simply not true.
Later the UK government announced the Ukraine Family Scheme and further VISA application process improvements, whereby you could apply digitally without the need to visit a physical VISA centre. Whilst we've waited almost 3 weeks for this, during a war, it was positive news.
We waited in anticipation again for the new VISA form to be released which went live yesterday. A further half-day spent completing the applications, scanning and submitting them. It's worth mentioning that separately to this, we have had official documents such as birth certificates professionally translated, we've got written letters from the fathers allowing the children to leave Ukraine, and we've spoken to the Ukraine Immigration Office who have extended the 14 year olds passport and placed a photo in the mothers passport as ID confirmation of the baby who doesn't have a passport yet. Notes have been written in the mothers and teenagers passports to allow them to travel. Getting back to the new digital UK VISA application form, 3 got submitted fine, but the 4th application for the baby encountered problems because she doesn't have her own passport. Instead, we've used the mothers passport number, and are keeping everything crossed this is accepted.
Trying to be as organised as possible, we then reached out to Ryanair to explain and make sure the family would not encounter problems boarding the plane. You'd think this would be the easiest task of them all, simply explaining the situation and getting clarification that our family would be allowed onto the plane. See below how the conversation went with a Ryanair "customer support" representative, before they abruptly ended the chat: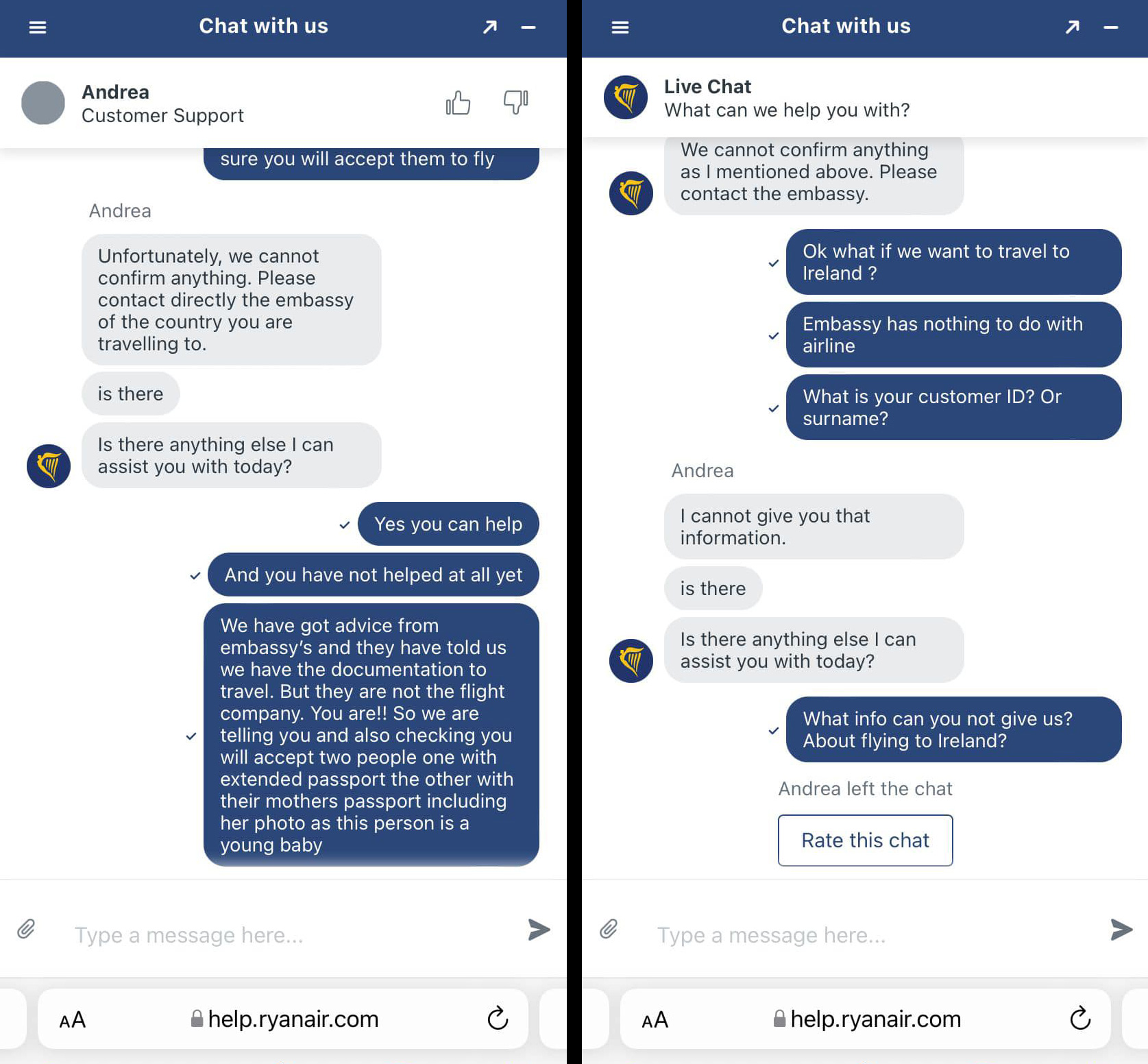 I posted this on my Support Ukraine Facebook group, and received some interesting comments. One person who works in the aviation industry explained "generally an airline won't comment on these types of matters". I understand in general circumstances this might be the case. However, this is by no means a general situation. We later contacted Wizz Air who clarified on the telephone in seconds, that our family would be allowed to board the plane. Never again will we ever travel or associate ourselves with Ryanair.
Meanwhile, the killings continue, the attack on Ukraine advances deeper into cities and even the western part of the country has been bombed. Nowhere in Ukraine is safe. As of this morning a 35 hour curfew has been introduced in Kyiv amid fresh Russian attacks. In my entire life I have never been so worried and stressed. The UK government are simply not doing enough, it's embarrassing how they have dealt with everything regarding VISA, whilst lying to the public. And whilst they lie, whilst my wife and I struggle to sleep, innocent people are being killed. I dread to think how many lives have been taken and could have been avoided if there was no bureaucracy.
People have been sent on a wild goose chase and some forced to return to their homes in war zones because they are unable to leave. This is unacceptable. It's wrong on every level. As humans we all deserve the right to live. Sadly that humanitarian right is being taken away, whilst people in suits discuss policy.
---
---
---