Canterbury – Made famous by Chaucer's Tales and site of the demise of Thomas a Becket, this cathedral city in the heart of Kent is a must visit. This pocket guide gives you tips to make the most of a whistle stop tour.
Where to stay
The jewel in Canterbury's hostelry crown is Abode, part of the Brownsword Hotel group. Voted the AA's Hotel Group of the Year 2017/18, its rooms and suites categories range from Comfortable to Fabulous. The hotel runs seasonal offers and packages, to help you find something to suit your budget.
Top tip: Canterbury has a busy night life, so when booking ask for a room that doesn't overlook the main high street.
For the "best located hotel accommodation in the city", stay at Cathedral Lodge within the cathedral grounds and opt for a room with a cathedral view. Guests benefit from free entry to the cathedral.
Where to eat
Canterbury is not short of eateries, with many popular chains in the centre of the city. For something different, head to Pork & Co on Sun Street with its made-from-scratch menu featuring delicious Free Range Pulled Pork.
For a quirky and satisfying breakfast or lunch, we recommend Kitch in St Peter's Street, where you can join the #eatrealfood movement. They serve fresh, homemade food made with all natural and wholegrain, seasonal ingredients, and guarantee there's something for everyone on their menu.
The Goods Shed, next door to Canterbury West Station, is a farmers' market and food hall. It's championing British Cottage industries and stocks a plethora of local produce. For sensational soups and sandwiches, we recommend Johnny Sandwich – likened to Eeyore, Johnny rarely cracks a smile, but this is a taste treat you simply can't miss.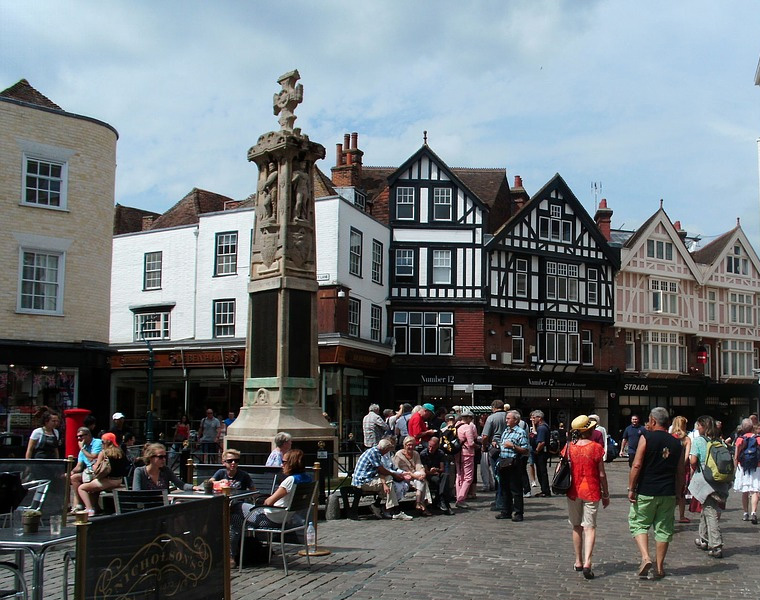 Where to shop
You'll find high street names from Accessorise to Zara centred in and around Whitefriars, but explore the historical lanes for independent boutiques and unique treasures. Take a stroll down The King's Mile and be sure to browse the length of the main high street.
Top tip: Canterbury's precincts are mainly pedestrianised, although vehicles do pass through occasionally, so keep your wits about you.
Where to relax
As with most cities, Canterbury has its fair share of green spaces. Dane John Gardens on Watling Street is a Grade II listed civic park with its history in the Roman era. You'll find a number of memorials and monuments, a bandstand and central fountain and a children's maze, and is a short distance from Whitefriars and close to Canterbury East Station.
Westgate Gardens, close to Canterbury West Station, is beside the River Stour and has a 200 year old plane tree in its grounds. Either walk through the gardens, or catch a punt from Westgate Grove (outside Cafe Des Amis) and choose from a town or country river tour, luxuriating in the peace of the river and seeing history you won't find on the city streets.
For a bit of pampering, Five Elements Beauty on Upper Bridge Street or the Rose Garden Spa in Wincheap are both excellent options, with reasonable prices, although we recommend you book in advance.
What to do
Canterbury oozes history: it's in its very fabric, and there are many attractions to help you learn more.
The Roman Museum in Butchery Lane is Kent's only roman museum, and is great for children. Step underground and see how life was for inhabitants of Durovernum Cantiacorum.
Canterbury Cathedral is a must for any visitor to the city. The Mother Church of the Anglican Communion, it is the seat of the Archbishop of Canterbury and a world heritage site. Follow in the footsteps of pilgrims and take some time to enjoy this beautiful building. The Martyrdom (where Thomas a Becket was murdered), St Gabriel's Chapel (to view the oldest Christian murals in the country) and The Miracle Windows in Trinity Chapel are just three of cathedral's attractions.
Top tip: Attend a service to hear the famous Cathedral Choir: entry is free to experience this 1400-year tradition.
The Beaney House of Art & Knowledge on St Peter's Street is proud to be a building for everyone. With permanent and temporary exhibitions that are free to visitors, make time to visit The Garden Room to see stunning works of art by local Thomas Sidney Cooper, who is buried at St Martin's Church, the oldest parish church in use in England.
For a unique history of Canterbury's spookier side, join the Canterbury Ghost Tour with award-winning ghost hunter, author and local historian John Hippisley. Trip Advisor Award Winner John will treat you to tales of a darker history of Canterbury, with panache and humour. Don't miss the chance to find out more!
How to get there
Despite being a little more than 300m2, Canterbury boasts two mainline railway stations – East and West. Both are a short walk from the city centre and take around 90 minutes from London Victoria. Parking can be expensive in the city centre, but concessional parking may be available if you're staying in city hotel.
Written by Kelly Regan-Mears
&nbsp