Combining sustainability with luxury, the new ADLER spa resort SICILIA offers the ultimate island escape.
A contemporary and sustainable design that subtly conveys a sense of laid-back luxury. The new ADLER Spa Resort SICILIA celebrates the region's unique natural environment, enchanting coastal setting, and its vibrant local culture.
---
Here, General Manager of ADLER Spa Resort SICILIA – Sami Aglietti shares his passion for this remarkable new resort where luxury goes hand-in-hand with sustainability…
---
What has impressed you most about the original concept and design of the new resort?
Our new resort has been built with the intention to be fully connected to sustainability. The concept itself is to create small masterpieces of bio architecture interspersed within botanical gardens and fruit orchards, just a step away from one of Sicily's most unspoilt coastlines. Everything at ADLER Spa Resort SICILIA taps into the power of the Mediterranean and the stunning nature that surrounds us. 
The resort needed to blend seamlessly within the landscape without altering its natural balance and beauty. For this reason, Bio architecture was the only way forward. We opted for a dispersive layout of single-storey buildings alternating with botanical oases where we grow only indigenous plants. The typical local building materials used – such as tuff, unbaked clay, opus signinum and natural stone cladding – create a pleasant indoor environment that promotes a sense of well-being while also respecting the aesthetics of the surroundings.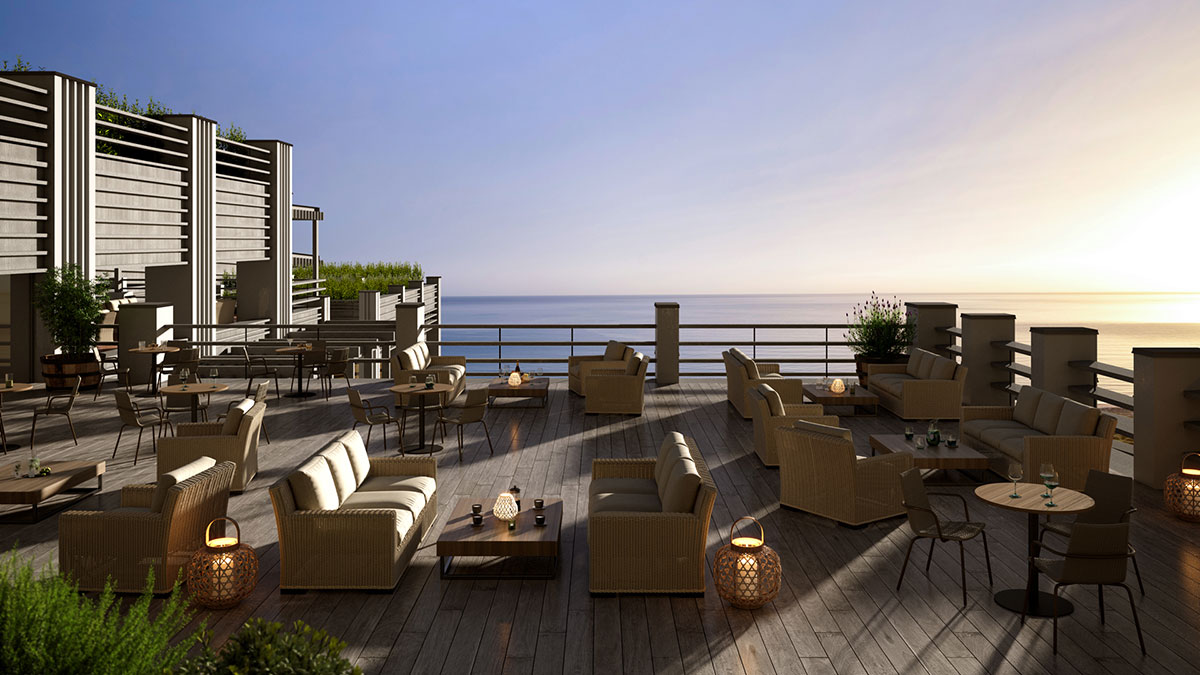 What is it about the location that makes it so special?
With Sicily, it was love at first sight. Like all ADLER Resorts, this, our first coastal resort was born out of our love for nature and our deep-rooted sense of awe for its beauty. To respect and preserve the amazing environment that hosts ADLER Spa Resort SICILIA, and the incredible biodiversity it is home to, is not just an option. It's a duty and a privilege because we are all part of this nature. It is our mission and duty to preserve the environment and the natural landscape of this unspoilt coastal area.
Which areas of the resort do you think guests will be particularly drawn to?
The Landscape without any doubt. From its gentle, macchia-enveloped hillside overlooking the sea, it rubs shoulders with the Torre Salsa Nature Reserve, a 760-hectare reserve protected by WWF. Its golden beaches and coastal dunes stretch for 6 kilometres and are framed by white limestone marl cliffs. Together, the turquoise and emerald hues of the sea, coupled with the evergreen macchia and the gently manicured agricultural landscape create a canvass of breath-taking contrasts.
What will an average week look like for guests? What activities will they partake in? Can you give me an example of a weekly programme?
Visits to world-famous historical sites, impressive landmarks and unexpected gems. Immersion in the wonders of nature and the ancient ruins of past glory. Heavenly seasonal food and a vibrant culture where hospitality is a point of pride. Sicily's reputation as one of the world's best holiday destinations magically combines all these elements.
Guests at ADLER Spa Resort SICILIA can enjoy an unforgettable discovery tour and see for themselves why the finest minds of all times, from Dante Alighieri to Shakespeare, fell under the spell of the mythical land of Sicily.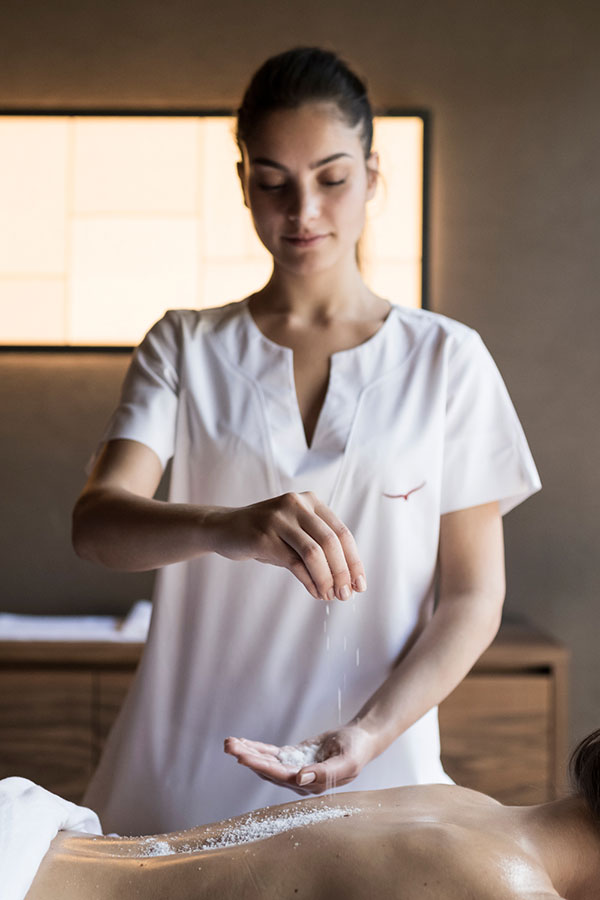 With the spa being at the heart of the Adler experience, which therapies/treatments do you think will prove most popular? Also, what unique/signature treatments will be on offer?
Anyone who has ever visited one of the ADLER resorts knows that our wellness and spa facilities are the proverbial feather in our cap. It is no coincidence that our wellness oases in South Tyrol and Tuscany are among the most coveted by discerning guests seeking to spend a relaxing getaway in natural, yet exclusive surroundings. At a resort such as this, where everything is about nature, the spa treatments and programmes on offer are bound to reflect the territory's richness and natural resources. For all its long stretches of unspoilt coastline, crystal-clear sea and amazingly varied and scented flora, Sicily offers more than just Europe's largest volcano and landscapes of unparalleled beauty. This island is also a treasure trove of natural active ingredients, which are used in the ADLER Spa to enhance beauty, vitality and well-being. On the sunny plains of Sicily, citrus fruits and aromatic herbs with countless health properties thrive. Their essences and extracts form the basis of many products in the ADLER active cosmetic lines and are used in a range of exclusive beauty treatment and wellness rituals. From the depths of the earth come the black volcanic rock sands and dusts used for peels and packs with detoxifying, mineralising, and body-reshaping properties. Sitting atop a gentle slope only 300 metres from the sea, ADLER Spa Resort SICILIA is naturally oriented towards thalassotherapy – an ancient, effective healing method that exploits the combined effects of marine resources: sea water, weather, fangos and algae.
Which dishes from the restaurant menu do you think capture the essence of the resort and its unique location? Also, which Sicilian wines in particular compliment the restaurant's style of cuisine.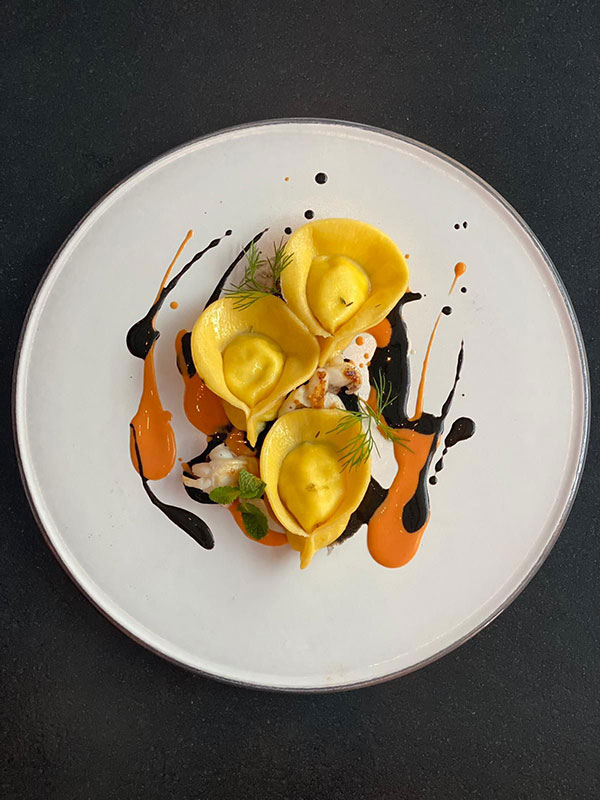 Our "tortello" is the result of the local products from the Torre Salsa Nature Reserve. Its dough is made from ancient "Senatore Cappelli" wheat, grown within the reserve, and then filled with goat's cheese ricotta. The goat's milk is sourced from the free-range goats who graze the wild pastures of the Torre Salsa. Finally, it is accompanied by a sauce of seared cuttlefish ink and a reduction of "Siccagno" tomatoes.
Honoring the coastal location, we have swordfish back wrapped in "colonnata" lard, on "sparacelli" cream, flavored with lemon and mint and accompanied by bottarga powder a red "Tropea onion", cooked by osmosis with "nero d'avola", balsamic vinegar, sugar, and aromatic herbs.
The wine cellar was created following in-depth research into the Sicilian viticultural aeras as well as collating the finest wines from the rest of Italy and France. Starting from our excellent cuisine, we have curated over 150 labels made up of great Sicilian icons as well as artisanal producers who work in a more sustainable way both in the vineyard and the cellar. Our selection have been chosen to enhance and create the perfect symbiosis our authentic cuisine. 
Sicilian wine producers we feel have a particular synergy with the ADLER philosophy include:  
Nino Barraco, a small producer bringing together the connection between the vine and the marsala terroir using traditional viticulture methods and a biodynamic approach. We recommend the Nino Barraco , Grillo, Marsala 2018 – A deep golden colour, lovely saltiness, finishing Almond nuances and toasted hazelnut, a great pairing with Sarde alla beccafico – Macco di fave.
Donnafugato is an iconic Sicilian producer with historic cellars built in 1851 they preserve the typical Mediterranean excellence in classic wines. We suggest the Donnafugata -Nero d'avola Mille una Notte 2018 – Intense ruby colour, black and red fruit combined with balsamic notes and delicate finishing vanilla, on the palate is soft a perfect pairing with rack of lamb or beef filet.
Regarding activities both on and offsite, which key experiences, and excursions would you suggest to guests that truly embody the spirit of the Adler brand?
Sicily itself is a land of beauty, passion, and imagination. Its reputation as one of the world's best holiday destinations comes from all this.  We have devised an all-round programme of immersive experiences, from land to sea, that will bring our guests into the heart of Sicily's unsurpassed historical, cultural, natural, and culinary heritage.  Suitable for all ages and interests, activities have a strong sensory focus that create emotions and forge unforgettable memories. 
The first – and perhaps the greatest – outdoor experience waiting our guests at Adler Spa Resort SICILIA leads into the heart of the Torre Salsa Nature Reserve. Directly adjoining the resort, the nature reserve, draws visitors into a dreamlike dimension with its stunning cliffs and golden dunes, its turquoise bay and lush vegetation. They can walk along narrow paths that wind through a sanctuary of flora and fauna all the way from panoramic natural terraces down to the sea.
Our guests can borrow one of our electric bikes and explore Sicily on their own for a more personal slant. From guided tours to unscripted adventures, they can tailor them as they wish. The south-west coastline of Sicily is home to truly magical spots, such as the Enchanted Castle of Sciacca, Borgo Cusenza, Scala dei Turchi and the historical ruins of Monte Suso, as well as a wealth of highly scenic paths and itineraries. Cycling through Sicily's marvels is a fantastic experience anyone can enjoy without effort, thanks to the electric bikes our guests are welcome to borrow free of charge. 
Otherwise, for sea lovers we promote the use of paddleboards, which allow guests the chance to paddle their way on limpid waters, from the golden beach of Giallonardo to the natural pools of Le Pergole – the Siculiana coastline is worth admiring from the opposite perspective, too.
Adler guests have the opportunity to enjoy canoeing, kayaking and stand-up paddling experiences in the vicinity of our resort. Horse riding is another great experience our guests can enjoy. Riding on the beach as the setting sun paints the sky orange is truly an unforgettable experience. Our activity programme includes horse riding tours in the Torre Salsa Nature reserve and horse riding on the beach at sunrise and sunset.  For our golf our partner golf club is situated in Sciacca, 32 km north-west of the resort. It features two 18-hole courses and one 9-hole course, as well as a practice course, chipping green and putting green. Guests of ADLER Spa Resort SICILIA enjoy special rates.  
In your words how would you describe this exciting new destination?
I would describe it as an authentic sustainable gem in one of the most attractive coastlines of Sicily. And I will explain to you why… Our mission is to make luxury truly and genuinely sustainable and our vision is to create rare experiences for our guests. Everything we do has an impact, and every single choice can make a difference. Within the resort, we use electric club cars to cover the longer distances, and guests are encouraged to hire electric bikes and cars for their tours and outings.

In our ecological lido, we have kept the infrastructure to a minimum and only used natural materials such as wood for the few beach facilities provided, to preserve the delicate natural ecosystem that is home to a diverse flora and fauna.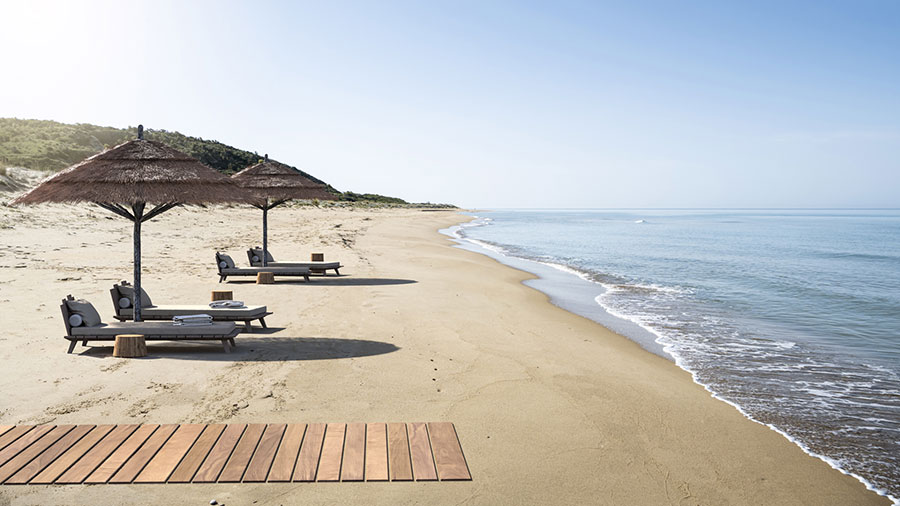 We put a lot of effort into minimising and separating waste (especially plastic waste), digitalising all processes to reduce paper, and optimising consumption of laundry materials. We aim to have a plastic free resort.
We also use cutting-edge heat pumps to recover energy, and avoid fossil fuels for the air conditioning system, to promote the use of renewable sources. 
Sustainability and wellness are hallmarks of something luxury guests rarely experience in their daily city life. More often is rare to enjoy oneself while doing something beneficiary for the environment too. Sometimes the most sustainable option is also the most luxurious one.
At ADLER Spa Resort SICILIA, you don't have to compromise on comfort to achieve sustainability. You can enjoy Sicily's natural paradise safe in the knowledge that it will still be here, unchanged, the next time you return.
---
ADLER Spa Resort SICILIA | Contrada Salsa 92010 Siculiana (Agrigento) | +39 0471 1551607
www.adler-resorts.com