Are you looking for an experience that's both classic and chic? Look no further than the Barbie-themed hotel for your next staycation. This unique hotel takes you back in time. Offering guests glamorous rooms with beautiful décor inspired by the beloved Barbie dolls. From pink furniture to pearl-studded accents. This hotel combines nostalgia with modern luxury. Perfect for any traveller wanting to explore one of the most iconic toy brands of all time! With features like a themed dining area and themed rooms, anyone can enjoy staying at this luxurious dollhouse on their next adventure.
The Barbie-themed hotel has been a dream come true for many girls and women around the world who grew up playing with Barbie dolls.
The Grand Hyatt Kuala Lumpur Hotel and Mattel have collaborated to offer the amazing Barbie Ultimate Staycation. With 14 incredible rooms on the 33rd floor of the Kuala Lumpur hotel, you can now experience life as a Barbie princess in Malaysia!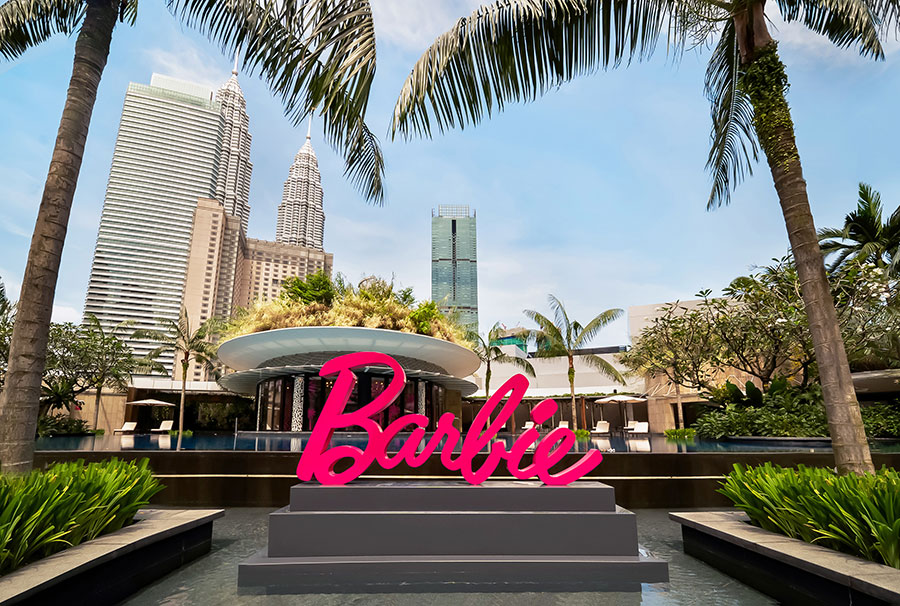 Location
Get ready for glamorous pink and purple décor, special Barbie bedding, branded amenities plus exclusive Barbie products waiting for you. The Barbie-themed hotel is a unique and memorable experience that appeals to travellers of all ages who have a passion for the iconic doll. The hotel's attention to detail, range of experiences and activities, and fun atmosphere make it a must-visit for any Barbie fan. Let's explore the Barbie-themed hotel and all it has to offer.
Basic Information
The decor and design of the hotel are inspired by Barbie's signature style, with pink and purple hues, glittery accents, and oversized accessories. A visit to Kuala Lumpur, Malaysia is made all the more whimsical with a stay at the Barbie hotel. Every inch of the rooms and suites is decked out in Barbie pink, from toys, accessories, sweets, dress-up items, and even a coffee shop. It's like a Barbie wonderland complete with a rose-coloured toilet seat!
You can experience the glam of life-sized fashion while trying on colourful clothes and bubblegum-coloured wigs. Even watching TV gets a blast of Barbie vibes with themes that reflect the iconic style. The walls are awash in bright pink and blues, and even the rugs match with classic Barbie movies.
Whether you're looking for toy tea sets or toothbrushes fit for a fashionista, this one-of-a-kind spot showcases every detail offered by five-star hotels wrapped in the charm of the quintessential role model that is Barbie!
Barbie Hotel Room Options
The hotel offers different room options to suit the needs and preferences of its guests. The rooms are designed with a modern and playful touch and are fully equipped with modern amenities. The suites feature pink and white striped walls, bright pink furniture, and fun Barbie-themed accents, such as giant sunglasses, hairbrushes, and purses.
You can choose between an impressive 47 square metre room starting price of $750 (RM2,320) for two adults to stay in a Barbie Room. For an even bigger and better experience, you can opt for the Barbie Suite. Where two adults can enjoy a luxurious staycation night at just $1432 (RM4,408), a 105 square metre suite. Both room options have been carefully decorated in one of the signature themes: Barbie Room and Barbie Suite. Each room is sure to make Barbie fans swoon!
Everything in sight captures the essence of Barbie like never before – with its iconic pink palette and celebration of diverse careers. These rooms give guests the ultimate Barbie experience and allow them to live out their life-size pink dreams right there in the plush room.
Barbie Cafe
Who says all barbies eat is plastic? If you're looking for a unique and memorable experience, look no further than the Barbie Cafe. An exciting experience is full of real-life goodies and treats, inspired by everyone's favourite dolls.
Located on the second floor of this five-star luxury hotel, this glasshouse restaurant is truly one-of-a-kind. You can stop by for breakfast, afternoon tea, or evening cocktails – The Barbie Cafe has something for everyone. And what's more, it won't break the bank! You can snap unique Instagram pictures with Barbies that date back 50 years while having a great time in this fabulous setting.
The menus are filled with colourful and playful dishes inspired by the iconic doll. The towers of sweets and scones, trays of savoury treats, ice cream buffet and even a chocolate fountain – all with barbie themes – offer something unique and delicious to indulge in. Plus, it's affordable too: kids under 11 spend around $61 (RM188) and get their very own Barbie doll included! So why not treat yourself to an amazing night at the Barbie Cafe?
Barbie Hotel Reviews and Ratings
For those who are curious about what the Barbie-themed hotel has to offer, there are plenty of reviews and ratings available online from past guests. Many have shared their experiences and photos of the hotel on social media, giving others a sneak peek into what they can expect when they stay there.
The Barbie hotel has received positive reviews and high ratings from travellers who have stayed there. Many have praised the hotel's attention to detail, unique experience, and overall fun atmosphere. Some guests have commented that the hotel is a bit pricey, but most have found that the experience is worth the cost.
The Best Vacation Destination
Overall, the Barbie hotel is a unique and playful vacation destination that is sure to bring out your inner child. If you're a lifelong Barbie fan or just looking for a fun and memorable vacation spot, this hotel is definitely worth considering for your next trip.
Whether you're looking for a fun vacation spot with your friends, a different getaway with a partner, or a family-friendly destination. The Barbie-themed hotel offers something for everyone. From the unique decor and design of the rooms to the range of activities and experiences on offer, this hotel is truly one of a kind.
So why not add a touch of Barbie to your next vacation and treat yourself to a fun experience at the Barbie-themed hotel. After all, things are better in pink!