We all love a city escape around this time of year. Festive lights, great shopping, and top-notch food and drink all contribute to this. Manchester happens to be one of the best UK cities to visit for all these reasons. With their dazzling festivities, famous Arndale Centre, and many Michelin star restaurants, there's no wonder. Though, the hustle and bustle of the city can often become tiring and stressful. Especially when you're surrounded by other determined shoppers. So, to unwind after a busy day out, the various Manchester hotels with spas could be ideal. What better home-base for a city trip, than one where you can relax and take-a-load-off? I certainly can't think of much better!
So, here are some of the best Manchester hotels with spas to boost your self-care during your stay…
---
The Lowry Hotel
For 20 years, the Lowry Hotel has been the benchmark for Manchester hotels with spas. Primely located in the city centre, the Lowry is just a short walk from Manchester's many main attractions. So, walking here after some much-needed retail therapy shouldn't be too much of an issue!
Art runs through the very fabric of the Hotel. Meaning unique interiors and beautiful imagery is consistent throughout. Rooms included! Suites here range from the affordable Deluxe King Rooms (around £120 per night) to the proudly sumptuous Presidential Suite (around £2000 per night). The former including features like a 'giant' bed, comfy leather sofa, luxury toiletries, SMART TV, and complimentary Wi-Fi. Whereas the latter being a penthouse suite, has many additional features. Such as a mini grand piano, walk-in dressing room, steam showers, eight-person dining area, kitchen, and complimentary valet. Just to name a few! All rooms have floor-to-ceiling windows, to really watch the city come to life at night. Plus, their well-stocked Lowry Bar & Lounge, along with their newly refurbished River restaurant, will take care of all your drink and culinary needs. However, it's the tranquillity of the spa that really takes the cake on this one…
Peace and serenity are the bywords in The Lowry's Spa. Trust me, it more than lives up to this. In their 6 spacious treatment rooms, highly skilled beauty experts deliver world-class treatments. Specialising in luxury skincare, you'll leave here feeling rejuvenated, and ready to take on the busy city outside. Should a less hands-on, more meditative treatment be more your style, why not book in for their five-star aromatherapy session? Take your mind off the shopping, work, and other general stresses here. Zoning out to the soothing scents and music.
Staying at The Lowry is sure to chill out your stylish city escape.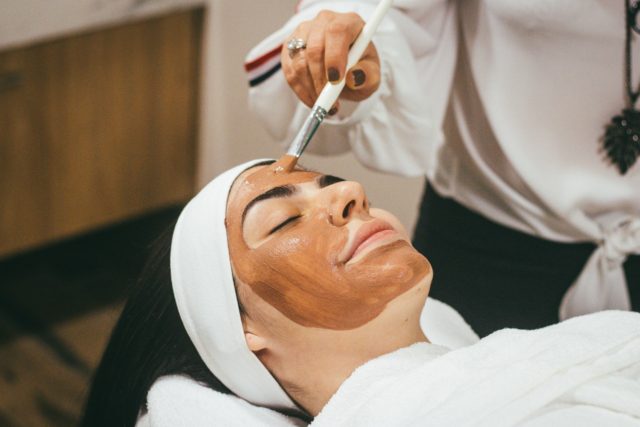 ---
The Edwardian Manchester, A Radisson Collection Hotel
With its confident arched and columned exterior, the grade II listed Edwardian Manchester Hotel won the 'Leading Hotel of the Year 2019' award. Redefining luxury for Manchester hotels with spas everywhere…
Conveniently located next to the city's Springfield business district, you have unparalleled access to nightlife and shopping. Making the Edwardian a great location to jump into the city from. As their recent redesign project has finished, the transformed hotel is a lifestyle destination. It provides above standard service, spacious suites, city views, and entertaining and outdoor areas to all who stay here. The rooms themselves are a blessing after a jam-packed day. With handcrafted Vispring mattresses, Egyptian cotton bedding, generous contemporary bathrooms, and eco/bio-friendly toiletries, the Edwardians rooms are a real treat. Bespoke extras such as separate dining and lounging areas, coffee machines, and balconies can also be requested for a higher price. It just depends on what you're fancying! For a standard suite without extras, prices can begin at around £130. Very reasonable for such a luxurious stay!
From small Japanese and Mexican plates, to Parisian-inspired feasts. The Edwardian's restaurant in the gorgeous Free Trade Hall serves up delectable banquets for all tastes. Though, the crowning glory of this hotel would definitely have to be the spa.
The Edwardian has dedicated an entire floor to their spa experience. This allows guests to seamlessly move between the spa itself, the gym, and the pool. Distinct treatments and massages are provided by highly trained therapists. Bringing a tailor-made spa trip directly to you. Along with this, other beauty features like skin and haircare make the Edwardian's spa a one-stop-shop for all your treatment needs.
Here, you can get everything you need for a calming detour on your city trip. From the comfort of your own hotel!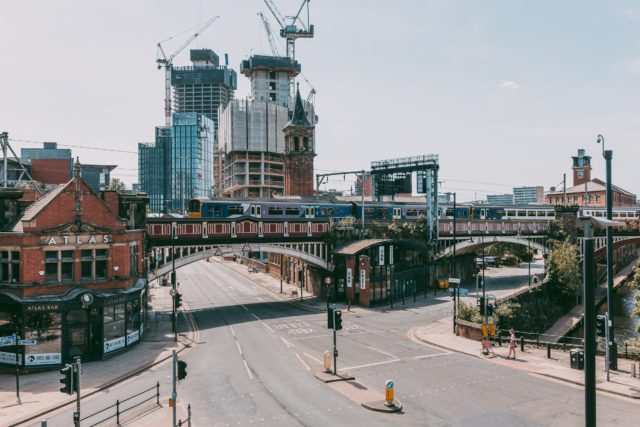 ---
The Midland Hotel, and Rena Spa
Another spot with a central Manchester location, the Midland Hotel and Rena Spa provide modern treatments, with a classic twist. Making it one of the more historical Manchester hotels with spas. Lets dive in…
Delighting guests since 1903, The Midland charms all who are lucky enough to stay there. High ceilings, modern-classic combination décor, and sterling service all add to the allure here.
Their elegant rooms serve as a perfect sanctuary from the cold city air, allowing guests to chill out after long days. Basic rooms include Wi-Fi, air conditioning, ironing facilities, tea and coffee stations, TV's and hair dryers. However, should a more opulent suite be more your style. Suites with additions such as larger spaces, bathrobes and slippers, skyline views, bespoke newspaper selection and ESPA spa toiletries are also available.
If you wind up feeling peckish during your stay, The Midland doesn't disappoint in that area either. Described as 'edible art', the hotels culinary finesse is displayed in every meal. Their Mount Street Dining Area and Bar serve up good old British meals, with Northern hospitality. For a more refined foodie experience, The French rustles up a more classy course of dishes. After gorging yourself on these treats, a wellness check could be great to centre your mind and body. Here's where the Rena Spa comes in handy.
Melt away your troubles over at the award winning Rena Spa. Indulge in sleep rooms, massages, steam rooms and heated pools in this urban paradise. Whether you're there for a few fleeting hours, or a few days, you'll leave the spa feeling like a new person. Thermal treatments along with classic spa experiences make the Rena Spa a hub for self-care.
Combine historical beauty with modern sensibilities, over at The Midland, and Rena Spa.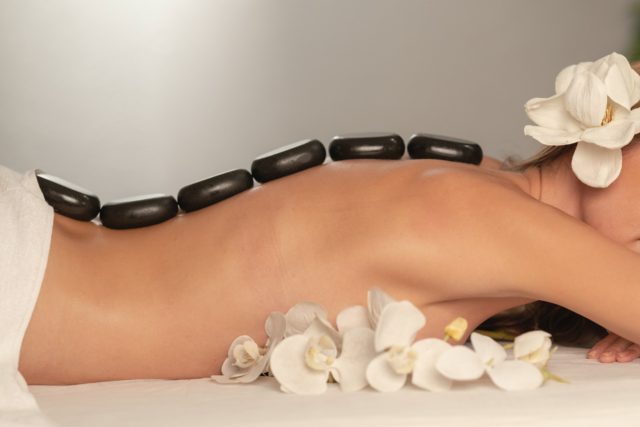 ---
INNSIDE Manchester
Just a short walk from Manchester Central lies the newly built INNSIDE Manchester. Though far from being the institution that The Midland has become, INNSIDE brings a fresh approach to service and hospitality. Often not seen in Manchester hotels with spas.
Modern-yet-cosy interiors and unique dining characterise the hotel as a new take on a classic idea. Contemporary rooms and suites are sure to keep you comfortable during your stay. Their basic 'INNSIDE' rooms contain all you'd expect from a classy hotel. Flat-screen TV, city views, air conditioning and wake-up services are all here. Only costing around £60 for a night! If you're celebrating, or just fancying a more decadent hotel experience, the 'Townhouse' suites are sure to impress. They include plenty of extras. An espresso maker, fully stocked complimentary mini fridge, fluffy bathrobe and slippers, eco-friendly toiletries, and a walk-in rain shower to-boot. Imagine coming back after a long Manchester day, stepping into the shower and soothing your sore bones.
It isn't just the hotel that really makes a splash though. First Street Bar and Kitchen, in collaboration with Italian chef Gino D'Acampo, beckons guests into a relaxed, open plan restaurant. Tuck in to classic Mediterranean dishes, with internationally inspired cocktails as pallet cleansers. Though to really rejuvenate after hectic city life, the spa ought to be your next stop.
Explore this wellness and spa hideaway, while laying back to enjoy all the treatments available. You can even request treatments in your own room! Delivered by Escape Spa's professional therapists, treatments include a fantastic range of massages and skin care for the body. All this combined with post-treatment facilities, like their Finnish sauna and steam room, make the INNSIDE spa a prime example of Manchester hotels with spas.
A new relaxation hotspot, just begging for a visit.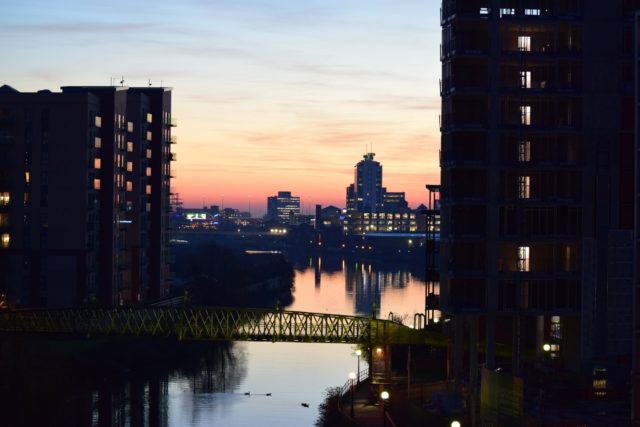 ---
Exploring a More Relaxed Manchester
Of course, part of the draw of city breaks is the busy, cosmopolitan streets and shops. After all, cities like Manchester rely heavily on tourists and visitors. Often times though, a few days can become tiring or tedious. So being able to slip into comfy clothes, and focus on yourself is more-than-valuable in this situation. Whether you're in Manchester for work, pleasure, or a celebration. It doesn't matter. Something can be gained for taking a break to unwind.
So, if you're looking to explore a more relaxed side of the city, these Manchester hotels with spas could be just the thing for you!