I hope by my lengthy title you all got that today I will be talking about my trip to Australia and how I managed to go to so many places in just 3 days (Bondi Beach, Opera House, Blue Mountains, and more)! But buckle up kids, this will be a long one.
Australia has long been a place that has always called to me. Be it the hot weather, beautiful beaches, fuzzy, sometimes terrifying, animals, but earlier this year I finally got the opportunity to go. However, like most, I have a job to, you know, pay bills and stuff, and after already using 7 days of my annual leave, that left me with 3 weeks to play with. Now, I was not sure that 3 weeks would be long enough to see a good portion of Australia, and it wasn't. I also wasn't particularly thrilled about the 24-hour flight (honestly why isn't teleportation a thing yet, c'mon people). But that doesn't mean I didn't try to get to as many places as possible in that amount of time! So here is what you can do in Australia for 3 weeks…
First stop, Sydney! I had three days in Sydney alone (gah scary) and had planned something for every second I was there. I landed at 6 in the morning and thanks to good old jetlag, was wide awake. I dropped my bags off at my hostel, applied 14 layers of suncream and off I went! I was staying by Bondi beach and the first thing I wanted to do was go explore the city. Getting into the city itself was easy, they have little transport cards (cannot for the life of me remember what they are called) that you put some money on which can be used for the bus, train or ferry. The bus into the city was around half an hour, and before I knew it, there I was in a city I never dreamed of getting to! The first place on my list, as is the case with many cities, were the Botanical Gardens and boy were they big! The Botanical Gardens were slightly different to what I am used to, being in that is was pretty much entirely a garden – wait isn't that what they're supposed to be? But what I mean is they didn't really have any greenhouses which are usually my favourite part. Not that it mattered in this case, because what they did have was a stunning view of the Sydney harbour with the iconic Opera House guiding me straight to it. So yup, that is where I ended up next. It was as amazing as everyone makes it out to be. It also provided me with some much-needed free water by that point. I didn't have the opportunity to go in, however I have been told by many that you really should…next time. I then went on a nice stroll around The Rocks, home to some very cool, probably too cool for me, markets to wander at beautiful art and eat some yummy food. It was a good place to find some shade too as the Australian heat is no joke. Onward I went until I reached the harbour bridge, made iconic to me in one of the best films of all time – you guessed it, Mary-Kate and Ashley's Our Lips are Sealed. Now, of course you'll be told to do the harbour bridge climb, but then if you're like me you will look at the price, shed a tear, and close the website. Sure, if you have the money go for it, but I got some pretty stunning views from the footpath on the bridge itself and I believe there is a little tower that you can also climb up for free and get similar views right next to the bridge. But with that and my very happy bank account, I headed back to Bondi for some food and bed. The jetlag had kicked in just as expected.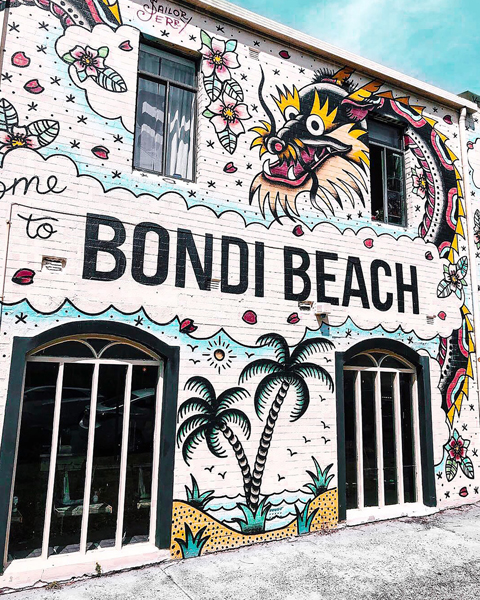 After my city day, I decided I wanted to spend some time at some of Sydney's famous beaches. I didn't make it to Manly beach but Bondi took my heart. There is a 6km coastal walk from Bondi to Coogee beach which I couldn't recommend enough. It starts right by the Bondi Icebergs (a good spot for a drink) and winds you all the way down to Coogee. You pass baths and beaches and you can stop at your leisure. Although this can be done relatively quickly, I made the whole day out of it and probably tried too hard to work on my tan. Did it work? Don't make me laugh. However, I met some very friendly locals along the way and got some fantastic pictures. For a second night I hit the sack pretty early, but then again I was alone and although I am sure the Sydney nightlife is fab, I really enjoyed my hostel bed. Bondi is also a good spot for some very tasty food.
My third and last day in Sydney was taken up by a day trip to the Blue Mountains. I would highly recommend if you only have a short time in Sydney to take a day trip there. Although you can spend way more time exploring, I felt I got a lot out of this quick trip which started with a lovely stop to the Featherdale Wildlife Park. Here I got to see some of Australia's well known and endemic animals, including Koalas, Dingoes, Cassowaries, Kangaroos, Tasmanian Devils, and cutest of all the Quokka. This tickled the zoologist inside me and it was amazing to get so close to the animals as well as learn about the organisation's conservation initiatives. After a couple of hours here we headed into a little mountain town for lunch before landing at one of the most iconic views in the mountains: The Three Sisters. Unfortunately, being a day trip you have little opportunity to actually hike in the mountains, but if you had more time in Sydney I am sure the hikes really worth doing. For us though we were headed to our final destination in the park and that was Scenic World! Here you get more breathtaking views of the national park whilst enjoying three different "amusement style" rides. Luckily we had the opportunity to do all three and see various landscapes across the mountains. Again, there are opportunities for a variety of walks here as well. This, however, concluded our time in the Blue Mountains and we hopped back on the bus to be taken to a ferry which would bring us back into the Sydney Harbour – just in time to see the sunset over Sydney Harbour. 
There are so many other things that Sydney has to offer and I would go back in a heartbeat and spend twice as long there, but this is just an idea of what you can squeeze in, in just three days.
Although that doesn't bring my time in Australia to an end, I realise this article is far too long, but I hope you will join me next time when I discuss waterfalls, beaches, and crocs up in Queensland!