The most spectacular place to host a celebration, everyone knows the famous French Quarter street consumed by music, alcohol, and culture. Bourbon street is home to the best Burlesque clubs, bars, and DJs, but that's not all, there is another side to Bourbon, rich in history, architectural beauty dating back to the early 18th century, and traditional folklore.
History
Bourbon Street, being one of the oldest cities in America, has some of the most incredible historic venues and buildings. The significant streets stretches 13 blocks from Esplanade Avenue all the way to Canal St. It is situated at the heart of the French Quartet, the oldest neighbourhood in the city, and dates back to 1798 when Jean-Baptiste Le Moyne de Bienville discovered the monumental city of New Orleans.
Where to go
The Royal Sonesta Hotel is one of the most luxurious hot spots on Bourbon Street. The site dates all the way back to 1721 but the hotel itself opened in 1969. Unique to New Orleans is its architectural style; the hotel has been designed to appear as a typical row of houses from the 1800s.
Bourbon Street is also brimming with bars and clubs all with their own unique style and feel. The lower stretch of the street is home to Bourbon's thriving gay community – the bars and clubs welcome all genders. The oldest and most popular gay bar in the country is located here and was frequently visited by Tennessee Williams.
Bourbon is also home to Tropical Isle, owners of the famous Hand Grenade Drinks, known as "the world's most powerful mixed drink". Customers are not advised to NOT have more than one of these fatal concoctions. The bar also offers some other particular popular Bourbon drinks including Tropical Itch and Horny Gator…
Entertainment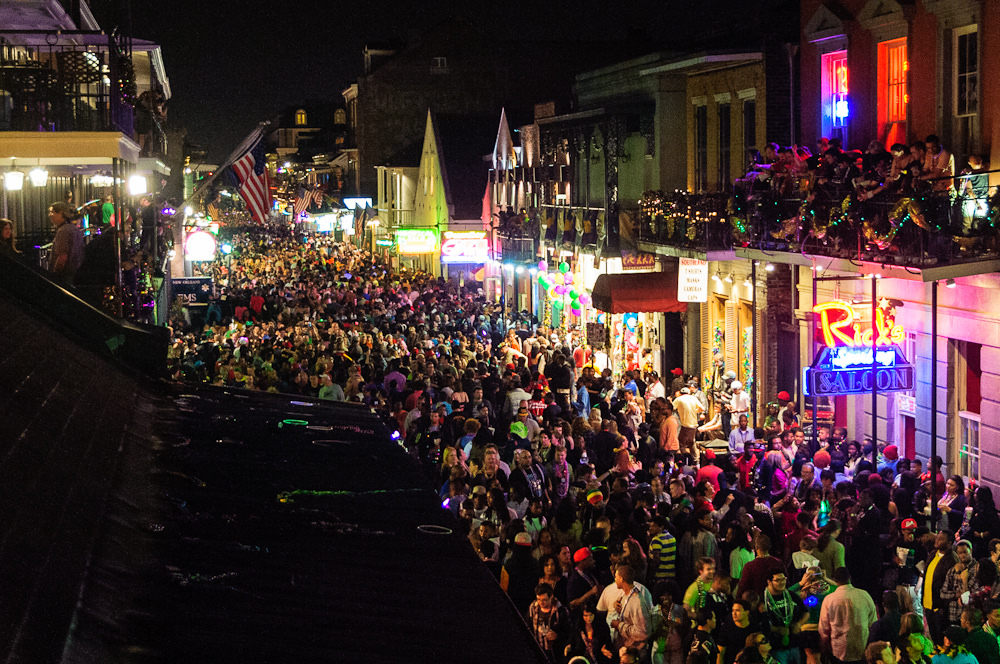 Bourbon Street is the home to Soul and Jazz, it is played on every corner and has crowds surrounding the musicians dancing and cheering. Talented buskers can be found populating Royal Street and an array musical entertainment options including quirky and risky street performers can be found along Frenchmen street.
Whilst New Orleans is a wonderful city for people of all ages, Bourbon Street is adults only. Although only slightly tamer during daytime, night time sees the street comes to life with Burlesque dancers, exotic dances, and twadry advertisement from the copious amounts of strip clubs. Women even flash their breasts for the beads that are thrown from balconies! A very flamboyant, colourful street filled with adult behaviour and an atmosphere not suited to young children or the faint-hearted. However, Bourbon Street is a must-see for lovers of history who like to embrace their inner party animal.