It goes without saying that Norfolk has some of the nicest beaches and coastal towns in the UK. And there are various types of destinations to suit any UK staycation! So whether you're looking for clean beaches, cliffside walks or are hungry for the taste of classic coastal fish and chips, look no farther than Norfolk!
You'll be spoilt for choice in Norfolk. Not only is this coastal county lined with beautiful coastal hot spots, but there are plenty of in-land locations to enjoy, too. Take a break from the coast and explore the Broads at Acle or visit the animals at Hillside Sanctuary. There are so many fascinating areas and coastal towns unique to Norfolk that it's no wonder it attracts high profile famous people – such as Jamie Oliver! Even the royals are close by often at their owned estate in Sandringham. This coastal county is a wonderfully unspoilt part of England and makes for a perfect UK staycation.
Perfect For…
Older couples and families with younger children
Visit In…
The Spring and Summer months for calmer seas, or between November and December to see the newborn seal pups
---
5. Walcott
Taking our 5th spot is Walcott. This part of Norfolk's coastline sees the ongoing battle between man and sea. With the stretch of coastline between Trimingham and Happisburgh losing metres of land to the sea each year, you'll often find many beach defences on these shores. However, these constructions only make for unique points of interest, and Walcott is no exception! The sands here are divided by wooden groynes, backed by a sloping concrete sea wall. Somewhat of a rarity in Norfolk is the coastal road that runs right along the beach, making fantastic roadside views and easy beach access. You'll find cute cafés and plenty of ice-cream shops that serve traditional seaside refreshments along the wide sea-front. And the unspoilt sands and nearby facilities make Walcott an excellent beach for families with younger children that may rely on quick trips back to the car!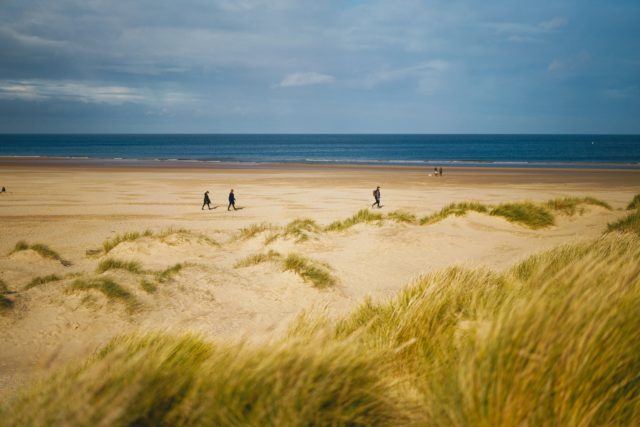 4. Blakeney
Spot #4 sees shingle beaches and dunes hugging the marshes and lagoons beyond North Norfolk at Blakeney. Now a registered National Trust Site, Blakeney Point is a protected area of Norfolk. If you're looking to visit here, pack your walking boots instead of your flip-flops and get ready for adventure. While most beach activities include sunbathing and building sandcastles, here at Blakeney Point, it's a haven for walkers and wildlife enthusiasts. Designated as a Site of Special Scientific Interest (SSSI), this beautiful nature reserve is a fantastic location for site-seeing. The area is home to many species of birds, and in November, the beaches are alive with newborn seal pups! While Blakeney is lower on the list regarding being a coastal town, it'd rank number one for the most interesting beaches in Norfolk. We were lucky enough to capture a glimpse of these adorable seals; look at them all!
Fun Fact:
The building that's now the Visitor Centre was once an interesting wooden lifeboat station!
3. Sea Palling
Are you surprised by contender #3? Sea Palling is popular in Norfolk for its wide sandy beaches and shallow bays. Designated an Area of Outstanding Beauty, Sea Palling's coastline was formed by artificial offshore reefs created as part of a flood defence scheme. As well as the fantastic beaches, the town is dotted with seaside shops, cafés, arcades and a stall that sells fresh, locally-caught fish! A perfect place for families, RNLI Lifeguards patrol the beaches between May and September. On top of this, the water here is usually calmer than the majority of Norfolk's coastline, and it's surprisingly clear as far as English seas go. If you're hoping for a BBQ beach party, though, you'll have to receive written permission from the North Norfolk District Council!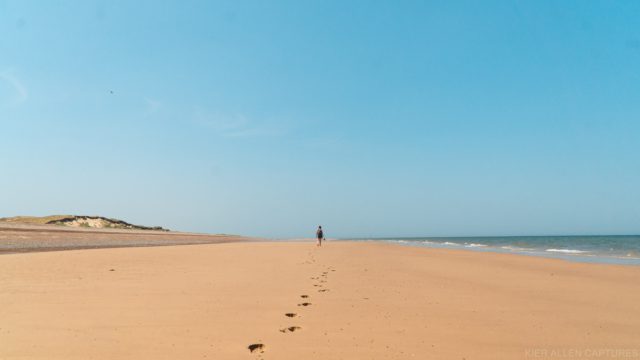 Fun Fact:
This little coastal gem has a history linked to the Domesday Book.
2. Cromer
Coming in at #2 is Cromer, and as far as coastal towns go, this quaint town is one of the best. Not too small, but certainly not too big. With just a little bit of money pumped into it, Cromer could very well be the next Harrogate. There's a nice stretch of beach with a large pier you can wander along. As well as the obvious sea views, there's so much to enjoy in Cromer. Find unique souvenirs in the pier gift shops or enjoy an ice-cold beer from the bar, which offers well-known acts in the evenings! The town itself has plenty of wonderful seaside shops, amusement parades and ice cream parlours, as well as classic fish and chip shops. To top off your visit, we thoroughly recommend visiting the RNLI Henry Blogg Museum while you're here!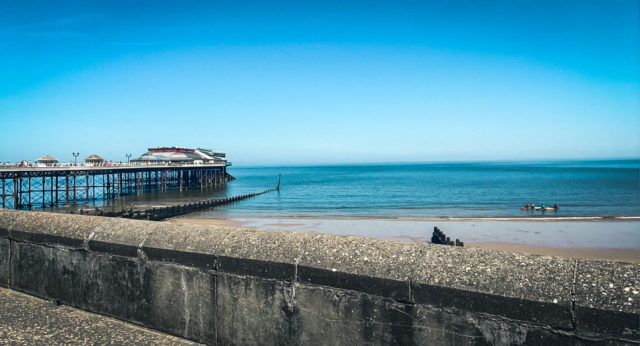 Fun Fact:
The RNLI Cromer Lifeboat Station is the oldest in the UK!
1. Sheringham
Our top spot goes to the stone beaches of Sheringham! This tiny town has plenty of character, an abundance of delicious foods and gorgeous stony beaches as far as the eye can see. When the tide is low, there are swathes of golden sands, and the boulders make fantastic rock pools. Sheringham's promenade is patrolled by lifeguards that ensure your safety, making it one of the most family-friendly beaches on this list. And, the blue-flag status means the environment is clean and safe to enjoy! For rainy days, take a ride through history and hop aboard The Poppy Line, East Anglia's premier heritage railway. And, while there are plenty of ice cream places to try, our favourite has to be Ellie's! Serving unique flavours such as Christmas pudding, honeycomb and monster cookie, you'll find this humble ice cream parlour as you head towards the promenade from the high street. What more could you want from a UK staycation?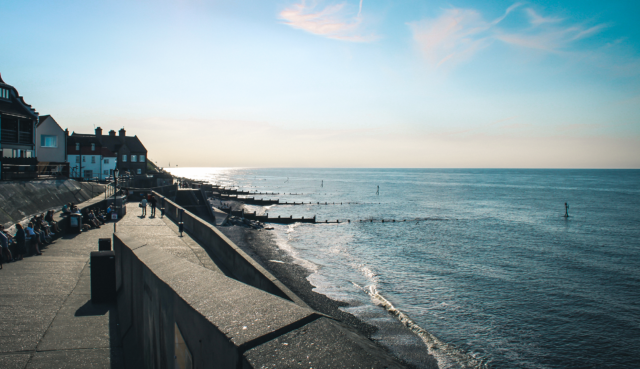 Norfolk's Fantastic Beaches
Let's be honest, when it comes to beaches, the whole of the Norfolk coastline could be on this list! This absolutely gorgeous county is practically a celebrity when searching for a UK staycation, rivalling even the sunny coastline of Cornwall. From classic seaside amusements to fresh coastal walks, Norfolk has it all. Especially during the pandemic, a UK staycation is the way to spend your summer holidays. These were our top 5 coastal towns and beaches, but what do you think? Do you agree with our list of top coastal towns and beaches for a UK staycation? Let us know what your list would be below!
---
By Skylar Grace & Ben Farrin