A visit to Florida isn't complete without an outing to The Dry Tortugas National Park. Situated in the Gulf of Mexico, west of Key West, it's known for natural beauty, wildlife, beaches, coral reefs and activities both in and out of the water.
It was discovered in 1513 and named aptly due to the abundance of sea turtles Juan Ponce de Leon caught whilst visiting. Its remoteness makes it a little more difficult to visit than other National Parks and is often overlooked – but a large part of the adventure with this park is the journey.
Your choices for getting here are by boat or seaplane – both out of Key West. The ferry leaves in the morning and you'll arrive at The Tortugas two hours later. Seaplanes leave from the airport in Key West and take passengers on half-day or full-day excursions to the park.
The plane ride is recommended, however. It may cost you more, but the trip is forty minutes as opposed to the two hour ferry. Also, the views are unparalleled; you'll fly past old shipwrecks, reefs, underwater sand dunes and water so clear, sea turtles are easy to spot from the window.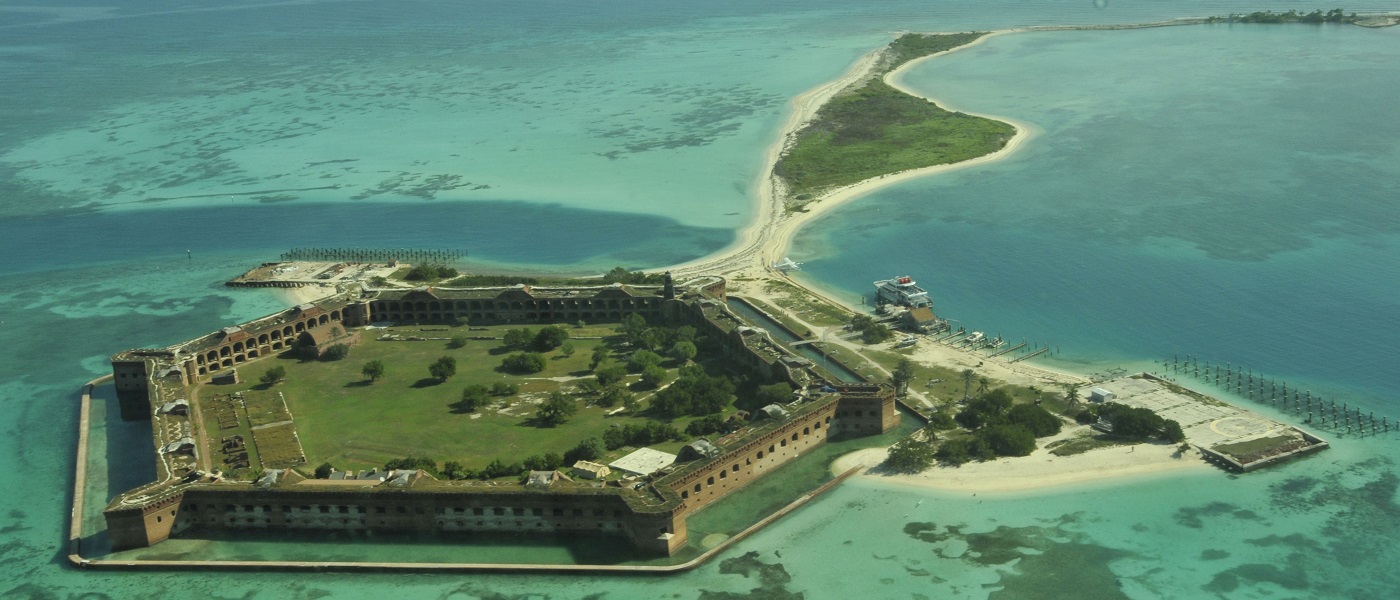 First things first, when you get there make sure you head to the visitor centre for a map and to get your park passport stamped, then go explore.
When you arrive at the National Park, the main feature is Fort Jefferson; its 16 million bricks tower above everything else, making it the largest 19th century fort and the largest brick masonry building in the America's.
Shade is hard to come by in The Dry Tortugas so it's likely you'll be ready for a dip in the water pretty soon. The snorkelling here is arguably some of the best compared to anywhere. Snorkelling equipment is included with the seaplane trip so one you get changed, head to one of the beaches on Garden Key.
You're spoilt for choice with where you can snorkel but one of the easiest is along the moat wall. Here you can see all kinds of aquatic life and the protected area makes it easy for you to do. The water surrounding the fort is open for swimming and snorkelling so make sure to take advantage of that. The Dry Tortugas National Park is only 1% land, so the best way to experience it is by water.
The tropical climate and desert setting makes this national park great for anyone looking for the next excursion. Next time you're in Florida, make sure you set a day aside to visit this park – you won't regret it.