The Exuma Cays, a district of the Bahamas, is a superb paradise-like location consisting of over 365 islands with the largest being 37 miles in length. With such serenity and peace surrounding you might even convince yourself you are the first to discover the cays.
Celebrities such as Johnny Depp and Nicolas Cage have been spotted frolicking along the white sand beaches and paddling in the pristine waters. But it's not the celebrity associations that are attracting global travellers, it's Exuma's famous swimming pigs – some friendly inhabitants of the Big Major Cay, also known as 'Pig Beach' for obvious reasons. The island is about 82 miles southeast of Nassau and is utterly untouched by humans.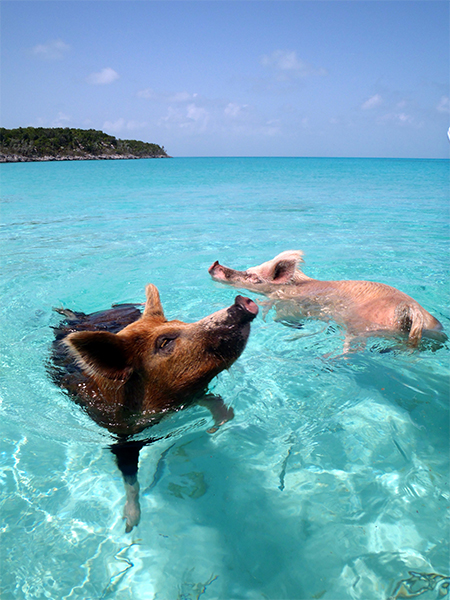 The increase in visitors to the cays has meant many of the pigs have abandoned foraging in the forests to come out and eat the food thrown to them from approaching boats. Boat is the only way to reach Pig Beach and there are a number of guided tours who can take you there. The most popular being 4C's Adventures which offers full day tours which not only include some time swimming with Exuma's pigs, but also coming face-to-face with the islands' iguanas, snorkelling, and swimming with the nurse sharks. 
Can You Feed The Pigs?
This is important, back in Febraury seven of the pigs were found dead as a result of tourists throwing food onto the sand which resulted in sand ingestion. So visitors who choose to feed the pigs are advised to only feed the pigs pitted fruits and vegetables and throw it into the water for them. Some of the pigs are prone to chase anyone they suspect of carrying snacks, and some of these pigs can be pretty large. So to avoid a chase, make sure you roam the beaches without food lining your pockets; these pigs have some powerful noses.
Best Time to Visit
Tours typically run between 9am til late in the evening, but if you really want to get up close and personal with the pigs you should go as early as possible while the pigs are still hungry for attention and your food.
Weather is consistently beautiful all year round but June through until November is hurricane season and if there happens to be an impending storm a local water sports company will take the pigs to shelter.