Central to celebrities of the four-legged variety, the Bahamas is renowned for its azure waters and ivory beaches.
Nature outnumbers its inhabitants in the Bahamas. Built-up of over 700 islands, much of the wildlife and landscape here is flawless and footprint-free. Among the Bahamas' top destinations is the distinguished Exuma Islands. Their popularity is primarily due to the abundance of immaculate beaches, secluded cays, tame sharks, and Instagram superstars! The so-called "pig island" is one of the Bahamas top points of interest, intriguing many to visit for a chance to swim with the snuffly-nosed celebs. However, for the most part, much of Great Exuma remains unseen and unspoken about. In this article, we'll try and change that. Because, after all, the pigs are just the cherry on top of a gorgeous cake!
---
Experiencing the Sand, Sun and Sea
One of the most romantic destinations on Earth, the Bahamas has long been on many people's bucket lists when it comes to travel. Often overlooked by other exotic destinations like the Maldives, the Bahamas rivals even the likes of Fiji when it comes to tropical locations. In the Bahamas, the warm sea takes on a luminous cyan shade that Astronauts can see from outer space. Many people compare the colour of the water to the popular alcohol, Bombay-Sapphire Gin. As well as being a vivid blue, the waters are crystal-clear and contrast beautifully to the snow-white sands. It's no wonder why films like Pirates of the Caribbean took place here.
Popular activities in the Bahamas include making the most of the translucent sea, with watersports being trendy amongst tourists. But head inland on Great Exuma, and you'll find plenty of island-based activities to enjoy, too. Sandpiper Arts & Crafts has an excellent selection of intriguing and colourful items that appeal to tourists. Another fantastic place to visit is Straw Market, which boasts an exciting array of homemade souvenirs that support the locals. There are also always plenty of gorgeous shores to laze on, such as traveller favourited Coco Plum Beach. But if you're interested in more unique activities, keep reading!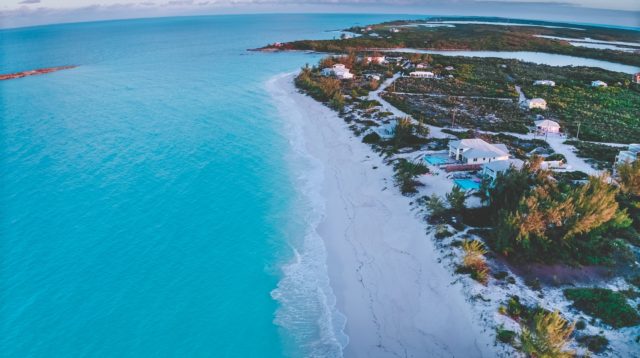 Fun Fact:
Great Exuma is the biggest island in the Bahamas at only 37 miles long!
The Instagram-Famous Pig Island
Pig Island (also known as Big Major Cay) may be the most famous of the over three hundred islets that make up Exuma. In 2018, over 6 MILLION visitors flocked to the island to see the pigs. And who can blame them? Swimming with these curly-tailed celebs in a tropical ocean is a once-in-a-lifetime opportunity! Activities on Pig Island include sunbathing, petting and feeding the pigs or taking the opportunity for a unique photo op. When it comes to feeding the pigs, there are a few rules. You're only allowed to feed them certain pig-approved foods, and you shouldn't feed them by hand. It's also advised you feed them from the water to protect their natural survival instincts. Many stories and legends tell a different tale of how the pigs ended up on Pig Beach, but no one is certain how the 20-25 pigs got there!
Swimming with Sharks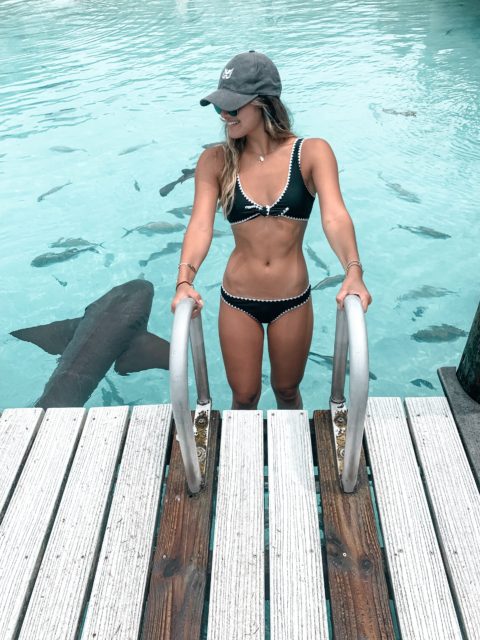 If for some reason swimming with pigs isn't your thing, maybe you'll prefer celebrities of the aquatic variety? Don't worry – it doesn't involve reenacting scenes from JAWS. At Compass Cay Marina, you'll find another rare activity that involves nurse sharks. Slow-moving and docile, nurse sharks are mostly harmless to humans.
These particular sharks are actually pets and have always lived with their owners at Compass Cay Marina! A little jetty has been built off the pier so that visitors have a platform to sit and pet the "domesticated" creatures. However, there is also an experience that features swimming with them!
Guided by experienced staff, you'll be educated on swimming and interacting safely with these gentle creatures before climbing in the sea with them. Swimming with these beautiful creatures is a breathtaking experience and will undoubtedly make for an incredible Instagram moment!
Fun Fact:
Great Exuma's neighbour is called "Little Exuma", and a bridge connects the two!
Great Exuma – A Meditteranean Haven
When it comes to staying in Great Exuma, one thing you'll need to make sure you have plenty of is time (and sun-cream). A long weekend won't be enough time to experience the islands, so we recommend spending a week to two weeks here instead. As for WHEN you should travel, there isn't a terrible time of year to visit the Bahamas – the beautiful waters remain a vibrant turquoise all year round! However, it's not uncommon for the Caribbean to take a sudden turn, with winds reaching over 20mph.
Our recommendation would be to go anytime between mid-April to early July – make sure to avoid August as this is peak Hurricane Season! As we said, though, outside of August, it doesn't matter what time of year you choose to travel. After all, the most attractive features of the Bahamas are the consistently clear skies, warm sun and tropical oceans. So don't just dream; grab your laptop and make your vacation to Great Exuma a reality. You'll be lazing on those ivory beaches in no time!
---
By Skylar Grace