You will be in for a culinary surprise if you're heading to Jamaica. The island is bursting with flavour with fresh tropical fruits and vegetables and an array of spices. Here you will find jerked meats, particularly chicken, in abundance on this island and everything has it's own destinct flavour which is uniquely Jamaican.
Zimbali's Mountain Cooking Studio
Located on Canaan Mountain in Negril is the five star* fine dining restaurant, Zimbali's Mountain Cooking Studio. This cooking tour is more than just a meal – it's a real experience! This mountain retreat has it's own 7 acre organic farm where you can come tour, eat, and pick the fruits of the season. The cooking studio shows its guests an authentic demonstration of Jamaican cooking. The restaurant is open seven days a week and offers lunch and dinner tours Monday through until Saturday. A four course lunch will cost you around $50 per person, and the five course dinner is $60 per person. They also offer round trip transport from anywhere in Negril for a respectable $15 per person. Although pricey, the restaurant is incredibly popular and has tourists from all over the world come to visit every day. On Wednesday you can enjoy a performance from their African drummers as you enjoy your freshly prepared meal. The courses mostly consist of shrimp, chicken, fish, or a vegan/vegetarian option. Even gluten free is welcomed as this place certainly caters for all. The pickup times are 10:30am for the lunch time tour and 4:00pm for the dinner time tour. Despite the price, the tours, and the fancy dining – Zimabli welcomes a casual dress code to make you feel as comfortable and relaxed as you can.
Scotchie's
For a more relaxed and "cheap eat" experience, try Scotchie's – located on Falmouth Road on Montego Bay. With prices averaging at $20 for a meal, you can enjoy some of the best local jerked pork and chicken in Jamaica. Don't worry, it's not a tourist trap either; many locals eat here every day. With outside seating, a relaxed atmosphere, fantastic food, and a bottle of Redstripe beer – you'll probably find yourself making a return at some point during your holiday. You haven't experienced true Jamaican cuisine until you've tried Scotchie's jerked chicken.
BUSHBAR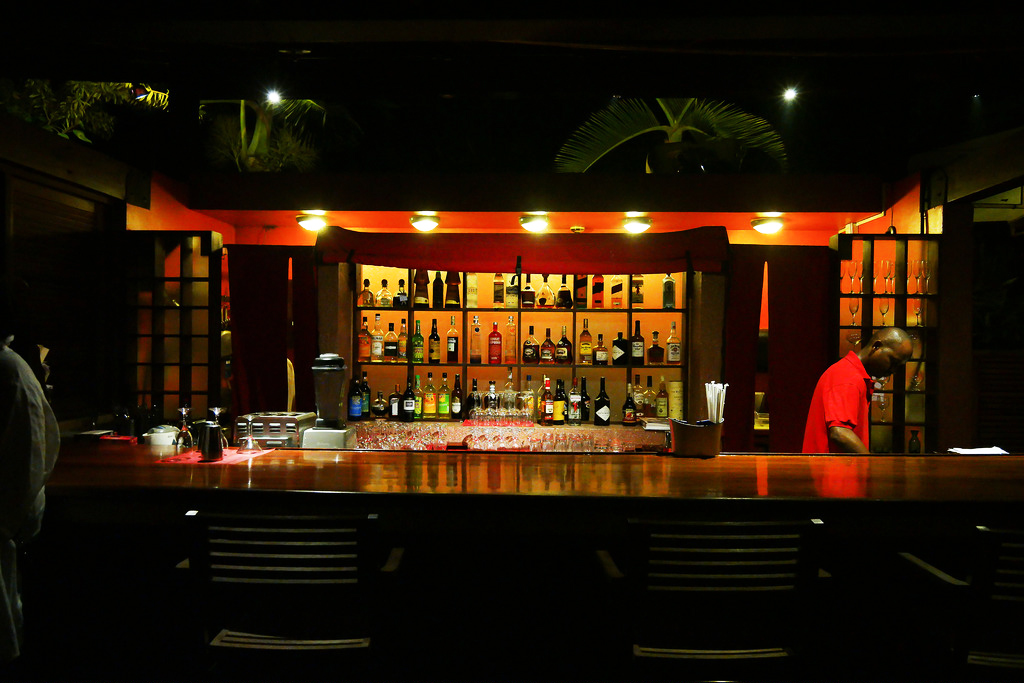 Located a the Geejam Hotel, San San, Port Antonia in Jamaica is the renowned BUSHBAR. With a romantic atmosphere, a great bar scene, and fantastic local cuisine – it makes for the perfect special occasion dinner. Open from  7 til 11, you can enjoy breakfast, brunch, lunch, and dinner or simply indulge in their famously outstanding Piña Coladas for the day. Take a stroll along the white sand beaches or lounge in their stylish cabin balcony overlooking the coast. Although prices can be steep (around $40) you can choose from lobster, jerked chicken, curried shrimp and an array of succulent meats and vegetables. At BUSHBAR you are catered for by some of the best chefs in Jamaica!
Just Natural
Located by the lighthouse on Hylton Avenue in Negril is the picturesque family owned restaurant. Here you can enjoy a variety of Jamaica's most excellent vegetarian dishes all home cooked by the owners. Enjoy your vegetarian and seafood dishes (Rastafarian friendly) whilst surrounded by lush tropical gardens where the plants have been planted by their father when the restaurant opened. Light jazz is also played throughout the restaurant to create an atmosphere of total tranquility. For incredibly affordable prices (around £4 – £8) you can indulge yourself in the house specialties which include traditional Jamaican breakfasts, veggie lasagna, grilled lobster, and a variety of veggie burgers. So if you're looking for a quick bite in a beautiful, peaceful environment for fantastic value for money, Just Natural is ideal.
Bamboo Blu
Hidden away on a private beach is the Bamboo Blu located in Saint Ann Parish in Ocho Rios. Here you can make your night as expensive as you want it to be with prices averaging anywhere between $15 and $40. Here you can have your go at drinking a BIG BAMBOO drink in your own to keep Bamboo Chalice. After an evening of feasting on traditional Jamaican cuisine including a variety of seafood, jerked meats, vegetarian/vegan, and gluten free dishes, you can enjoy some relaxation time surrounding their nightly beach bonfire. During your evening you can mellow out with their pre Reggae tunes when their local Rastafarian guistarist, Jah Happystone takes a well deserved break from charming customers with his musical talents.
Here's Austin Delin's mesmerizing montage video from his trip to Jamaica, giving us a snapshot into the beautiful Jamaican coast, waterfalls, cliffs, wildlife and culture.