Greece is a country that offers so much art and culture. Being the cradle of Western civilization, we can find magical places where culture and history come together in a unique environment.
The Greeks brought theatre, democracy, philosophy, mathematics, and history to the Western world. The civilization of Ancient Greece received other civilizations, such as the Roman, Byzantine, and Ottoman. For this reason, we can find traces of these important civilizations anywhere in Greece.
Greece Tourism
Greece lives intensely on tourism. Its coast, its mosaic of islands, and archipelagos planted with turquoise water beaches, its friendly people, its gastronomy on horseback from the East and the West, and its history are a magnet for people who arrive on vacation from anywhere in the world.
Some of the must-see places in Greece are the Acropolis of Athens, the ancient Temple of Delphi, the settlements of Crete and Thrace, and of course, the capital of Greece, Athens. However, not everything in Greece is ancient history. Greece enjoys incredible islands and beaches. In addition, the country has a lot of nightlife, so it is not a country where one can get bored.
It is a conglomerate of numerous islands and the mainland that is a continuation of the Balkans and the south of the Peloponnese peninsula. It is located in the southern European region and is surrounded by the Aegean Sea and the Ionian Sea. Its coasts are endless, becoming the tenth longest in the world. Most of the terrain is hilly and rugged, except Thessaly, Central Macedonia, and Thrace, which have a very flat surface. The Republic of Macedonia, Bulgaria, Albania, and Turkey are the neighboring countries.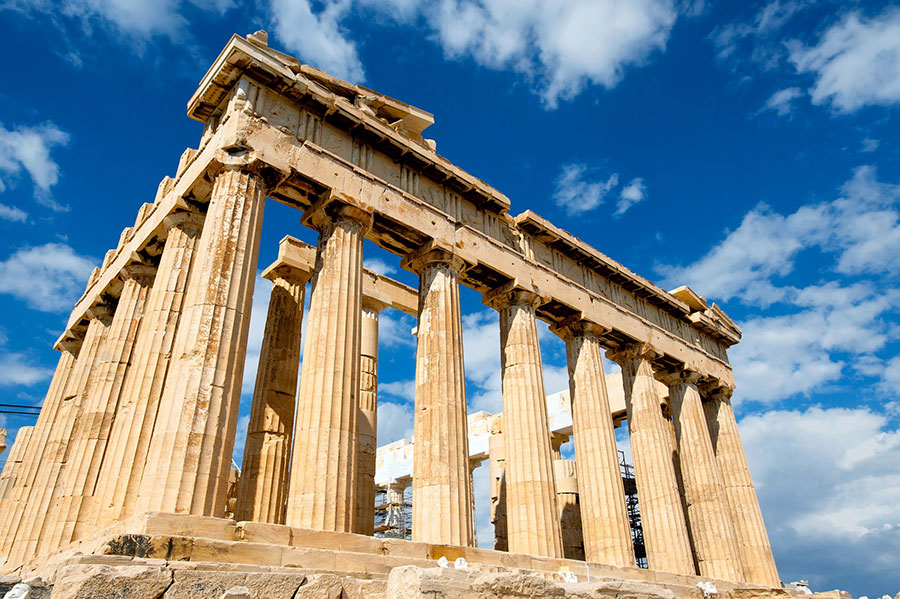 Visa and Documentation
The citizens of the European Union do not need any visa to enter Greece, as it belongs to the Schengen region.
For non-citizens, you need to contact t, the Greek Embassy in your country to be informed of the necessary entry requirements in Greece.
Prices and expenses to travel to Greece
Is it expensive to travel to Greece? Well, this is all dependent on the time of year you travel and what places you decide to visit.
The currency is the euro, so if you arrive from any European Union country, you don't have to worry about changing money. Otherwise, you will have to change, either at the airport or in the different exchange houses around the country.
Another option, if you have to change money to euros, is to get money directly from the ATMs.
The high season is the summer months, especially July and August. Since Greece is a fairly popular destination, prices can skyrocket, especially in the area of ​​the islands. In addition, temperatures can be very high in places like Athens.
However, the end of spring and the beginning of autumn are two good times where you can find some great accommodation at a lower price. And the country is not so full of tourists either.
Travel insurance
Traveling with good travel insurance is important. In the case of Greece, if you have the European Health Card, it covers medical expenses like the Greeks.
Accommodation
Depending on your tastes or your budget, you can find accommodation that suits what you are looking for. The best way that saves you the most money is to book through Airbnb. The people are very welcoming, and there is a lot of residence in the country, making it easy and affordable to find accommodation. The hotels, otherwise, are way too expensive.
Transport
Transport is an essential factor that needs to be taken into account, since being a country where the islands are numerous and the purpose of visits, getting around by ferry is one of the options.
We recommend using ferries and planes. In the end, this will depend on the time you have and your budget. But keep in mind that there are low-cost airlines like Ryanair where you can get good prices on routes such as Athens – Mykonos or Santorini – Athens.
There are some islands, such as Naxos, where due to their size, a good option is to rent a car. In fact, this is the way most tourists visit the island, and we can assure you that we reached beaches where it would have been impossible to reach otherwise.
Language
Greek may not be your forte, but in the Hellenic country, this is the language that everyone speaks. In any case, speaking English at a fairly acceptable level is quite widespread, both in young and older people.
In any place of tourist interest, people speak English very well. In addition, they usually have leaflets or brochures with information in Spanish, since Spanish tourism is abundant.
Flights to Greece
If you fly from the UK, depending on the time of the year, flights can range from 200 euros at the lowest time, to 400 or 500 euros at the highest time. As always, being a forecaster will save you good money, so if you look at air travel a few months in advance, it will be cheaper.
Important: Once you have purchased your flight, do not forget to check online 48 hours before, even if you are going to check-in. If you have done your checking online before, you make sure to fly on the day and time you have chosen.
Greece travel insurance
Don't forget your travel insurance if you go to Greece. As a traveler, you are not exempt from any accident, however minor. Even a slip, a sprained ankle, a medical transfer, other such accidents need you to be covered with medical insurance.
So, pack your bags, saddle up, and try your luck on going on a journey to relive every single video game you've played. Perhaps you may just bump into Zeus or Poseidon. May the Gods Be With You!