Choosing the right Greek island for your holiday is tricky, especially when there are so many to pick from; Santorini, Crete, Mykonos, Naxos, Paros – plus many more! How do you know you're making the right choice and that it will truly accommodate your needs and requirements?
Nightlife: Mykonos
If it's an atmospheric nightlife you're seeking, then Mykonos would suit you best; it's essentially Greece's Ibiza! Out of the summer season, Mykonos is your typical low-key beach holiday, but between July and August, party-goers from across the world arrive in the thousands and swamp the main streets of Mykonos Town. The narrow streets become so packed with sweaty bodies that you'll find yourself moving as a crowd in singular motion! Super Paradise beach is a popular daytime party destination – but typically things kick off a little later in the day in Mykonos. Sunset drinks at the Sea Breeze Cocktail Bar in Little Venice is also a must.
Traditional Greek Ways: Naxos
Naxos, the largest island in the Cyclades, has a beautiful Venetian castle in its town, plus a variety of unfussy beaches along its west coast. Holiday makers can visit some unique ruins plus great local dairy and produce. But what makes it different from the other islands are its traditional villages; there are 46 of them on the island of Naxos – some very small, but they all offer a window into traditional Greek life. Each has its own quirky cafe and bakery, immaculately preserved church, plus beautiful cobblestone streets that are lined with local musicians. Some villages are cut off from civilisation, but the surrounding areas make for great hikes. However, be warned, the villages have resorted to many-grabbing scams because tourists are unlikely to head inland.
Scenery & Couples Destination: Santorini
Santorini is without a doubt the most beautiful of the Greek islands; the island formed after a volcano erupted in 1600 BC and its centre collapsed into the ocean. The sheer rock faces, the clear deep blue turquoise waters, and the whitewashed structures offer simply sublime views. The sunsets at Oia are iconic as it sets over the churches and hotels that decorate the rocky cliffs. Every evening tourists gather to watch this natural display over the Aegean sea. Don't worry, the views are just as beautiful at sea level.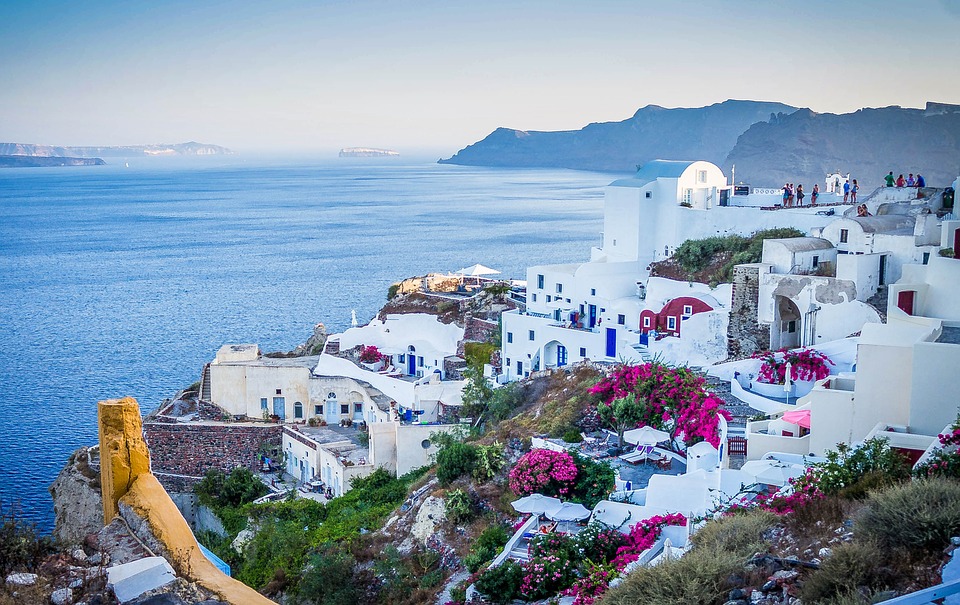 Watersports: Paros
The wind on the island of Paros is constant, and it's evident as you arrive by ferry. This makes it great for watersports such as kiteboarding and windsurfing. During the summer months, winds from the Aegean sweep through the beaches which creates conditions perfect for wind-related sports on the water. The winds are their strongest during July and August, and the channel between Paros and its neighbouring island Naxos is prime for activities. The best beaches for sports are Santa Maria and (New) Golden Beach on the east of the island, and Pounda on the west. New Golden Beach is so popular that The Professional Windsurfers Association held their World Cup there during the 90s for six years.
Food: Crete
The island of Crete is blessed with rich fertile soil that grows cucumbers, tomatoes, eggplants, watermelon, strawberries, and many other fruits and vegetables. Crete is also a popular hub for cheese, wine production, and olive oil. You can eat at a traditional taverna, or a Greek cafe (kafenio) – the raw ingredients are so delicious and mostly organic that you'd struggle to have a bad meal on this island. You'll find traditional Greek restaurants in abundance on the island, and the northeast coast houses some of Crete's greatest agricultural areas such as Lasithi plateau.