Catalonia's political struggles have made moderate headlines in recent years, given the comparative relevance to the situation between Scotland and the rest of the UK. For those not familiar with it, Catalonia is an autonomous community in Spain and like Scotland seeks independence from the rest of the country to make further progress as an recognised sovereign state. Barcelona is the capital of Catalonia and so would become the capital of the newly-formed nation if such an independence vote was successful. Also like in Scotland, there is a native tongue in the form of Catalan which distinguishes itself on road signs and finger posts along with more popular Spanish counterparts. In Granollers, a small city 15 miles north of Barcelona, the distinction from the rest of Spain becomes a little more apparent.
Getting to Granollers is relatively easy. Trains run regularly from Barcelona Airport on route R2 Nord, through the centre of the capital before heading out in the direction of Cerbére on the Spanish-French border. On arrival, bare platforms and a multitude of sidings exist suggesting that the rail route is used to ship freight to and from Barcelona and no doubt beyond. The station itself however is quite small, but clean and well kept with a presentable water feature outside introducin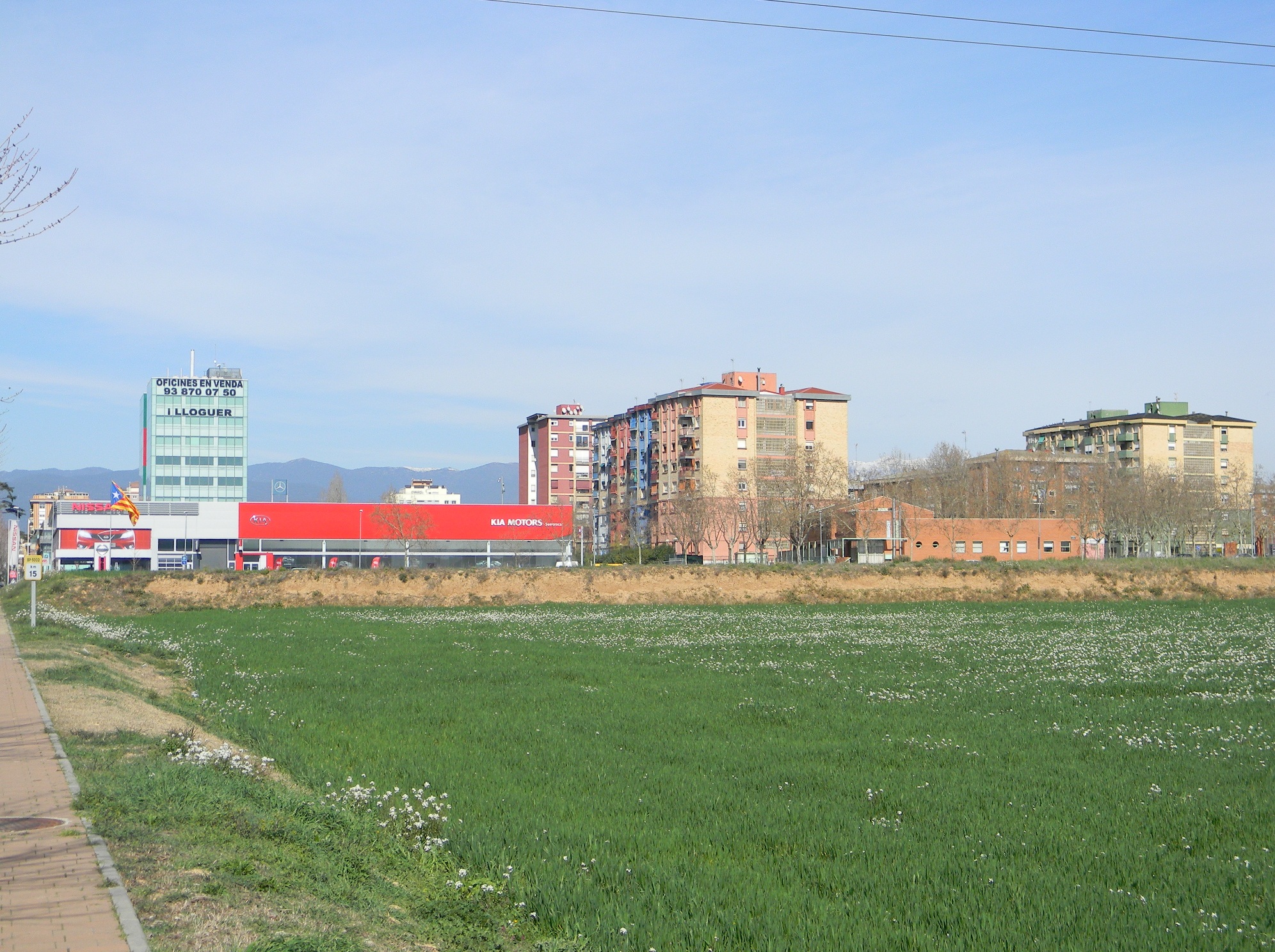 g newcomers to the city. From here, the landscape can look rather bland and suburban, with typically Spanish apartment blocks, crude-looking corner shops and the occasional industrial unit creating an atmosphere akin to a desolate town at the height of a siesta.
Indeed at 2pm most locals are taking exactly that, the post-midday break during what can be up to an 11 hour day for pharmacies, cafés and off licenses. As a result, the streets do look deserted but nevertheless tidy and rather tranquil with a cool March breeze. A mile-long walk south, along a paved but busy main road leads to Hotel H (pronounced 'hache') for which ratings vary from 2-star to 4, depending on which website you happen to chance upon. For those booking within a week of  the Formula 1 pre-season testing session at the nearby Circuit de Barcelona-Catalunya, this will likely be one of the only hotels available and the closest to the circuit you can stay without breaking the bank. You may be afforded what they refer to as a 'suite' which will set you back £230.00 for 2 nights and whilst not necessarily being cheap will contain a TV, WiFi and a balcony overlooking the car park, within audible distance of the Formula 1 track. The room also has tinted red lighting, a mini-bar, an odd-looking tripod-come-hat stand and a bedside jacuzzi giving the impression that it is suited to those with a specific sort of casual romance in mind.
The reception staff are uneasy with English and some of the older staff may even trip up with the occasional English to Spanish pronunciation given their natural language is Catalan. However, they are more than willing to aid travellers and it is their kind patience that resulted in them arranging a taxi to and from the track during my own motorsport excursion. A restaurant is located further up the road, flanked by acres of farmland and not much else, but enough sustenance in the form of crisps, beer and brioche bread can be sourced from the petrol station nearby which is open into the early hours of the morning. The result is a motel-esque atmosphere, sipping a can in the open air with the rush of the traffic below and the sun setting behind the hills.
Upon trekking back to the city centre, a few remnants of an industrial past can be seen on street corners and in public spaces. The considerably-sized Roca Umbert textile factory nowadays hosts an arts centre on the south side of Granollers with life sized people adorning the walls in a style that could be the Catalan equivalent to Banksy. Some industrial relics from the height of Catalonia's 19th Century fabric production form artistic pieces themselves, with a solitary brick-built chimney lying between Carrer Princep de Viana and Carrer Sant Jaume. The condensed squares north of here go back further into Granollers' past, with the church of Sant Esteve having gothic elements dating back to the 15th Century and a striking octagonal tower. La Porxada nearby is a 16th Century corn exchange and now hosts a rather tranquil public space for exchanges, this time of conversation. Surrounding these older structures are crisp, modern retail lots, with hip bars, international cuisine and varied shops adding to the sense of an area with some commercial merit.
These elements of an individual city add credence to the notion that Catalonia has its own history, peculiarities and identity outside that of neighbouring Barcelona. Granollers' people exist not merely as commuters into the nearby metropolis to the south, but as standalone Catalans in their own community. The subject of independence no doubt simmers politically as it does in Scotland, but from day to day, the locals in Granollers seem to be continuing business as usual, with little sign of an overwhelming Spanish influence.