Lviv is just 2 and a half hours from London, a city in Ukraine, which is situated east of Poland and north of Romania. It's a large country full of amazing architecture and beautiful mountains and forests. It's people are kind, hard-working and the Ukrainian culture is historic and traditional.
This is my second time visiting Lviv, and it certainly won't be my last. The city is stunning and many of its buildings date back hundreds of years with incredible well-kept architecture still standing loud-and-proud. Known for its many national landmarks, key areas to visit include Rynok Market Square, Lviv Theatre of Opera and Ballet, and Mountain High Castle.
Lviv streets are built with the original, individually laid cobblestones which lead you through lanes full of boutique shops, restaurants and bars. No matter where you look there's something impressive to see. The sounds of people laughing, birds singing, faint music from a close by violinist, the Town Hall bells and ringing of trams add to the almost unreal, dreamy and romantic setting.
Beyond every door, is a surprise and in many cases it's not obvious as to what's behind it (because they don't always have clear signs – I guess because buildings are protected due to their age). Lviv appears mysterious with lots of little gems and surprises hidden away behind secret doors and tucked-away corridors. You've just got to find them, or know where to go.
It's hospitality staff are always ready to be at your service, ensuring their guests are happy. Tourism is a big part of Lviv and it is a city within a poor country, albeit a fast growing place. You can really sense the purity of Lviv and the community feeling it's people share, all working hard, together, trying to develop their country, for themselves.
I'd thoroughly recommend travelling by one of the old buses. People squeeze in, old and young, shoulders touching, as the vehicle bounces along dodging large holes in the road and stopping at the verbal request of passengers. People pass money from the back of the vehicle, person-to-person, until it reaches the driver, who has a pile of notes beside him. It's easy to assume everyone in Lviv is nice, but do be careful because pickpockets are around.
Ukraine is known for its extreme weather changes, and you might find yourself soaking up the sunshine one minute, and needing an umbrella the next (but not for long because the rain doesn't last long in the summer). This weather keeps the place vibrantly green and bright with its many trees and flowers dotted around Lviv city centre as well as having large city parks, with places to walk and relax, play areas for children, and huge trees full of birds singing (it's like being in a rain forest). If you're an Instagram geek, there's plenty of places to get brilliant pictures!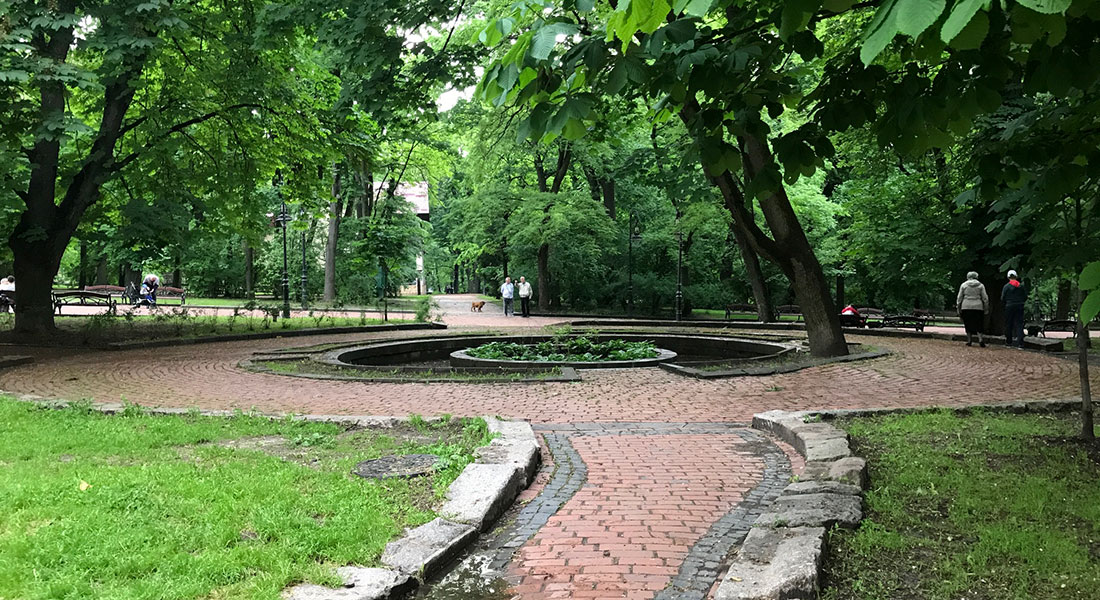 There's so much to do in Lviv and compared to UK, it's very cheap. A beer in the city centre of Lviv will cost about £1.30. You can easily eat out in a very nice restaurant for around £10 per person. Remember to tip!
Ukrainian business owners want their guests to experience something beyond the taste of its food and drinks. The places we visited really did blow us away with the settings and will never be forgotten. One restaurant we ate in called Baczewski Restaurant was full of plants in a large open space with a glass roof.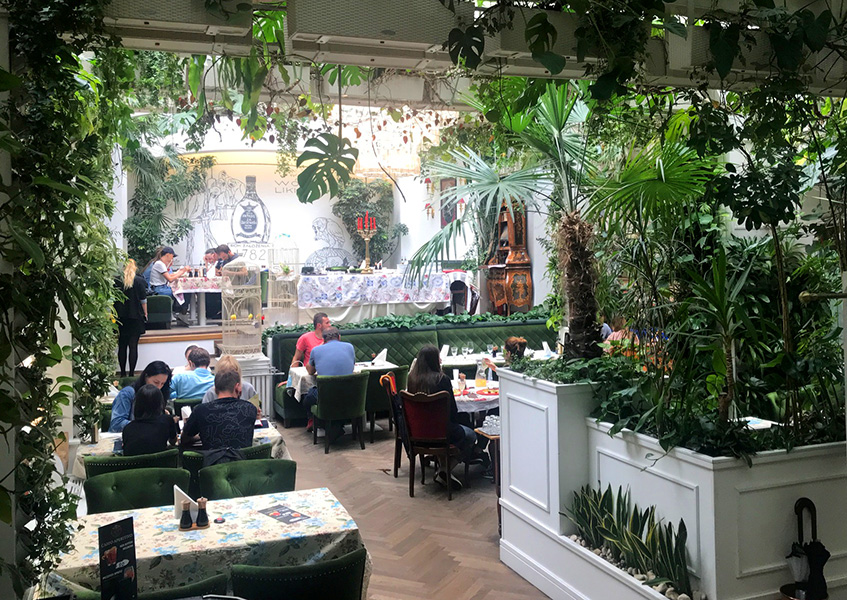 The rain pitter-pattered on the glass ceiling whilst sunshine beamed into the room as we enjoyed delicious food and drink. They have a massive selection of liquors which are served in tiny bottles and cost just 70 pence each. With 3 pages on the menu full of different flavours to choose from including mint, elder-flower, cherry, orange and my personal favourite black-current. A lovely touch is that you can bring the taste home because they have a delightful gift shop. The restaurant decor is vintage, and live music is performed as you relax and indulge on the many flavours they have to offer. On the occasion we visited, a young lady played a large harp delicately and this sound was accompanied by the restaurant pet birds chirping. Whilst I'm yet to experience it, their champagne breakfast is apparently superb!
Another place we visited for food was an old torture room called The First Lviv Restaurant of Meat and Justice! Sounds strange, well it is, but Ukrainian people want to offer an experience and they do exactly that. The grilled meat and potato tastes incredible and for the those that want to, you can be caged up and sent underground, or stretched out and lightly whipped and tickled on a torture table outside the restaurant. To top it off this bizarre entertainment is carried out by a guy wearing a scary red and black outfit with chains and keys, in the medieval, gothic, eery and yet beautiful grounds surrounding the restaurant. I didn't opt for the additional "extras" on the menu but no matter if you like the sound of this place or not, they serve delicious food and it's a place you'll never forget.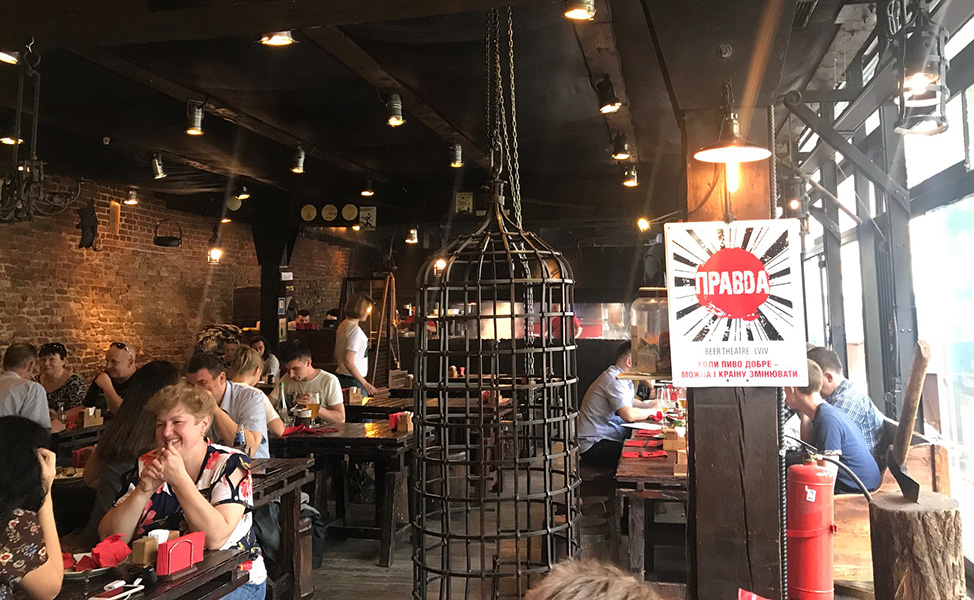 There's plenty of "normal" places to drink, cocktail bars, and recently a surge in shisha lounges being opened. We popped into Filin (near the main Lviv university) to try Hookah (shisha), and a cocktail. The place was cool, vibrant, the shisha was smooth and it was a very enjoyable experience. If you like gaming, it also has a PS4 area for guests to relax and play in a funky private area with chilled sofas and screens on the walls. The design of the venue is vibrant, unique and relaxing.
So far though, of all the places I've visited in Lviv, Ukraine, 36Po is my favourite venue of all. It simply oozes style. From the minute you walk in your are amazed at every detail, from the cave like bricked walls with ornaments tucked away in crevices, to its illusionary tiled floor, modern yet vintage decor and friendly staff – this place is just WOW! As you walk through the tunnel-like entrance, you enter the first main bar area to see a massive aquarium with beautiful marine fish swimming around!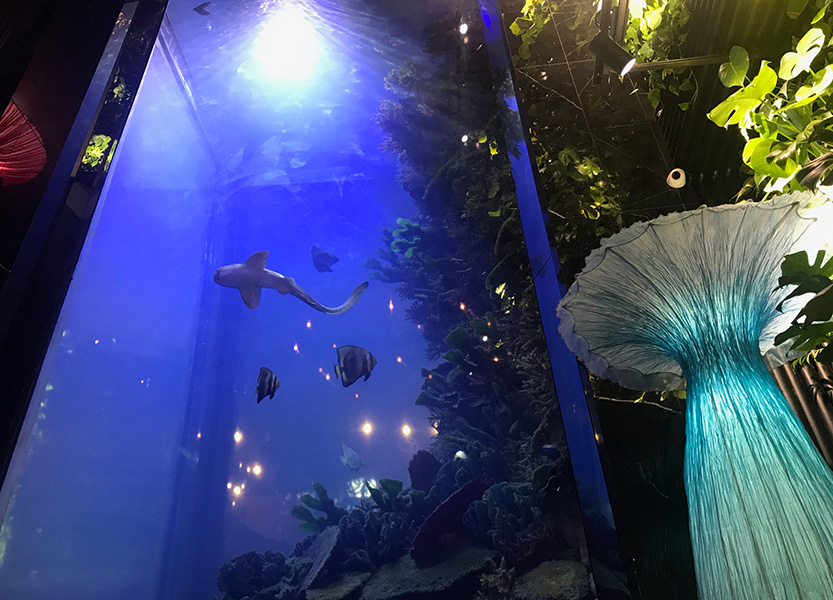 The aquarium is huge and stands two floors tall, so you can sit back, listen to some cool relaxing music, drink a beer and enjoy the stylish decor whilst watching fish and sharks, swimming beside you. Also, surrounded by live plants growing up the walls, lights dotted around and bright mushroom/pod shaped lamps, you feel almost like you're sitting in the movie set of Avatar. Take the glass lift to the top floor and overlook the Old City from great heights. I really did not expect so much energy, vibrancy, and passion from walking into a restaurant/bar. The venue is stunning and it's another place you will never forget, behind a modest door in the street which could easily go unnoticed.
As well as these superb bars and restaurants I'd recommend shopping in the small gift shops and especially the markets, appreciating the interesting antiques, handmade clothing, garments, ornaments, and admiring lots of beautiful paintings!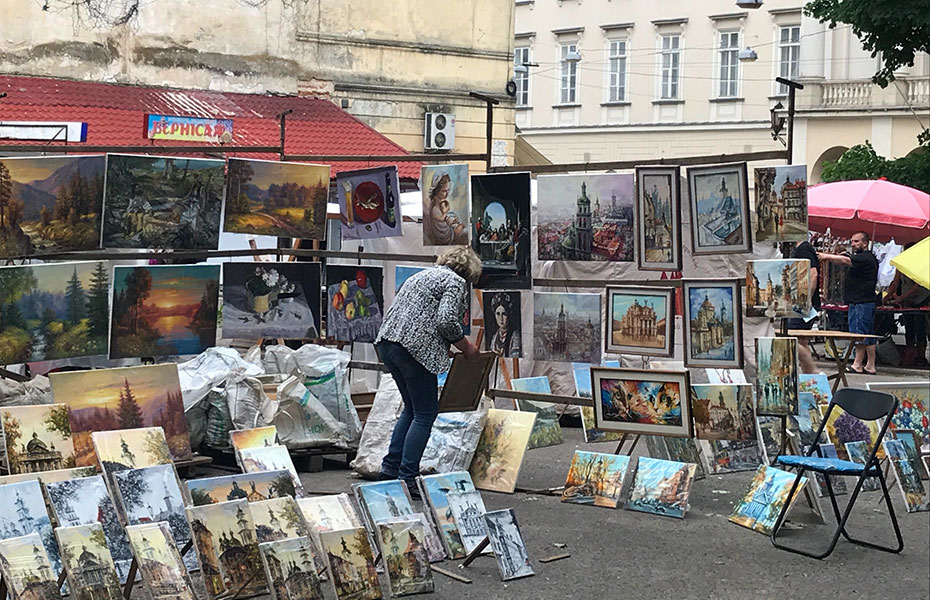 To summarise, Lviv in Ukraine is a must-see city, full of culture, history and interesting places to visit. Being so close to the UK, you can easily go for either a short break, or a longer trip, and neither will cost a lot of money. It's an unforgettable experience and I highly recommended you visit Lviv.