Crystal Bay Resort vs Mamlouk Palace.
My (now) wife and I, visited SUNRISE Crystal Bay Resort 12 months ago and having the time of our lives we asked ourselves will we enjoy a second holiday at the resort as much, and will it live up to the same high expectations?
Sure that it was our best holiday ever we decided to not only return, but to spend our honeymoon at the amazing SUNRISE Crystal Bay Resort due to our experience last year. To make things slightly different we spent the first week in Crystal Bay Resort and the second week in Mamlouk Palace (with access to SUNRISE Garden Beach). SUNRISE Crystal Bay, Mamlouk Palace and Garden Beach Resort are all 5-star luxury resorts in Hurghada (Egypt), offering the very best hospitality, services, facilities with private sandy beaches, multiple pools and restaurants on-site, however, the overall holiday experiences were quite different. And I will explain why…
Crystal Bay Resort
Upon arrival at Crystal Bay Resort various hotel staff repeatedly said "welcome home", and they really did make us feel at "home". Hotel staff eagerly awaited to help upon arrival and carried our luggage. Hot menthol face-towels were provided to help freshen us up after travelling, this was a lovely touch. Then a cocktail was served whilst we sat for a few minutes and relaxed in the stylish lobby area before making our way to the room, which was INCREDIBLE! This was the first noticeable change from our previous visit because the room was recently renovated with plenty of space, nibbles and wine!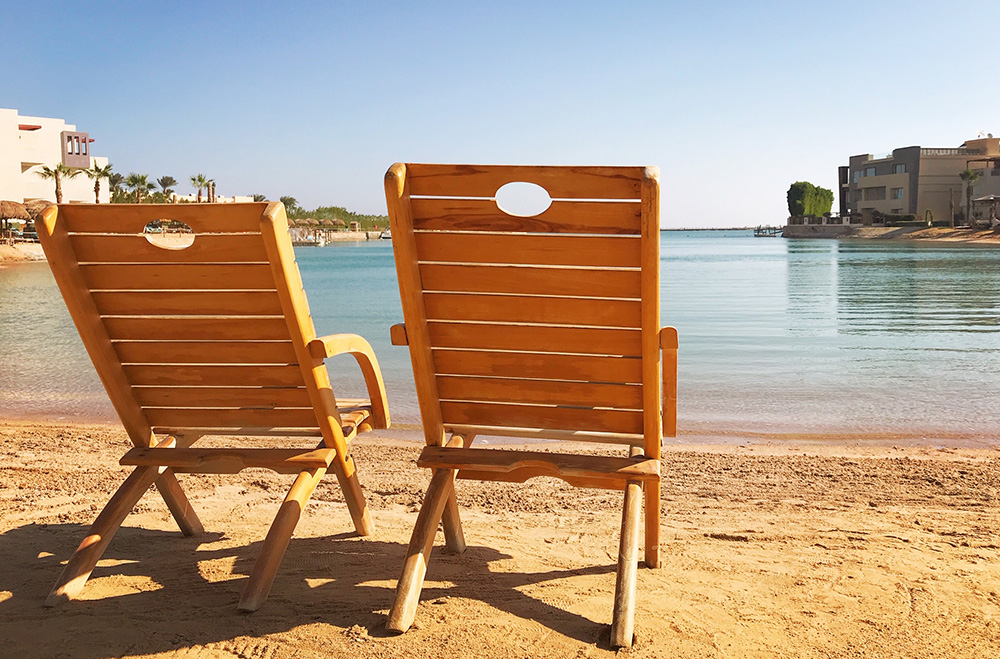 One thing about Egypt worth noting for anyone who has not been is that the sun rises and sets far earlier than it does in the UK. So over the first couple of days, we made an effort of waking up earlier than usual to take advantage of the sun, which rises around 5am and is beaming strong rays by around 8am. An obvious tip, but one many people forget is to apply sun cream lotion before going out into the sun. Egypt is particularly hot and it's really important you don't ruin your holiday by forgetting to apply, or applying lotion too late and getting burnt and damaging your skin. Another quick tip is to drink lots of water to stay hydrated, especially if you are drinking alcohol, but remember don't drink out of the tap and instead always drink from an unopened bottle!
There's a rule at Crystal Bay Resort where you cannot reserve a sun lounger on the beach until after 8am. So, what we found ourselves doing was waking up as early as possible (around 6-7am) and heading straight to the beach, getting our favourite loungers, waiting until 8am and then going for breakfast with the peace of mind that our loungers were reserved. It's also great arriving at the beach early as often we were the first there, it's incredibly peaceful and because no one is swimming in the sea yet, you get the opportunity to see more fascinating marine fish.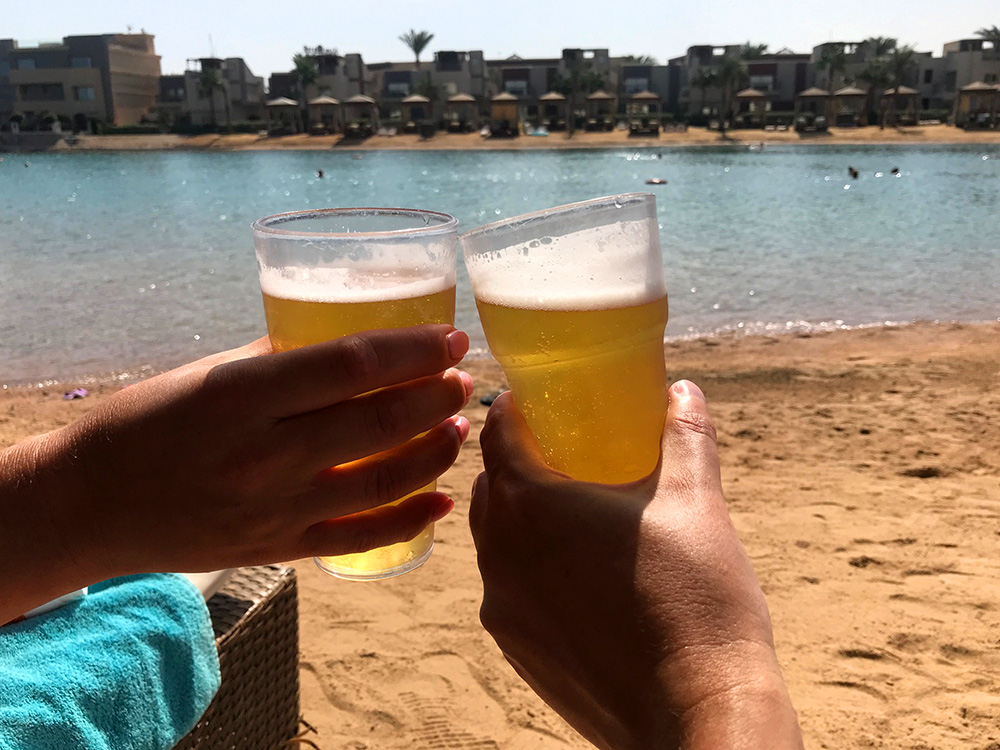 Alcohol is served from 10am which sounds very early to have your first alcoholic drink, but often by this time we'd been on the beach for 3-4 hours and already sunbathing! We got to know Mina, the Oasis Bar barman who was always very happy to see us and serve us a cocktail of our choice! Wi-Fi also works perfectly on the beach so you can listen to music or watch movies should you wish through the hotel internet connection.
Another really positive change we noticed was there is now disabled and easy access leading to the private beach/loungers as well as new swings placed right on the beach/seafront, so you can feel totally free and swing whilst looking out to the beautiful Red Sea. The hotel has also introduced paper straws showing they are taking environmental impacts seriously and are big supporters of sustainability.
During the first week at Crystal Bay Resort, we spent a lot of time at the beach and pool area. We purchased an inflatable float for the pool from the on-site mini-market (they sell all the essentials). We ended up using the float in the sea too, which is very calm so you can drift, float and totally relax and unwind without a care in the world. We were unfortunate to accidentally burst the inflatable on day 1 but the man in the mini-market was so helpful he mended it for free with no fuss whatsoever allowing us to use it for the rest of the holiday.
The pool area is superb, very relaxing, and spacious with a pool bar area. You can sit on the stools in the pool and soak up the sunshine whilst enjoying a cocktail from their large menu selection, served by friendly staff. There is a shallow and deep area for children and adults. The pool is heated but they do not turn the heated pool on until 1st November as it's not until this time of year that it is needed. There are plenty of sun loungers so it's easy to get a nice spot.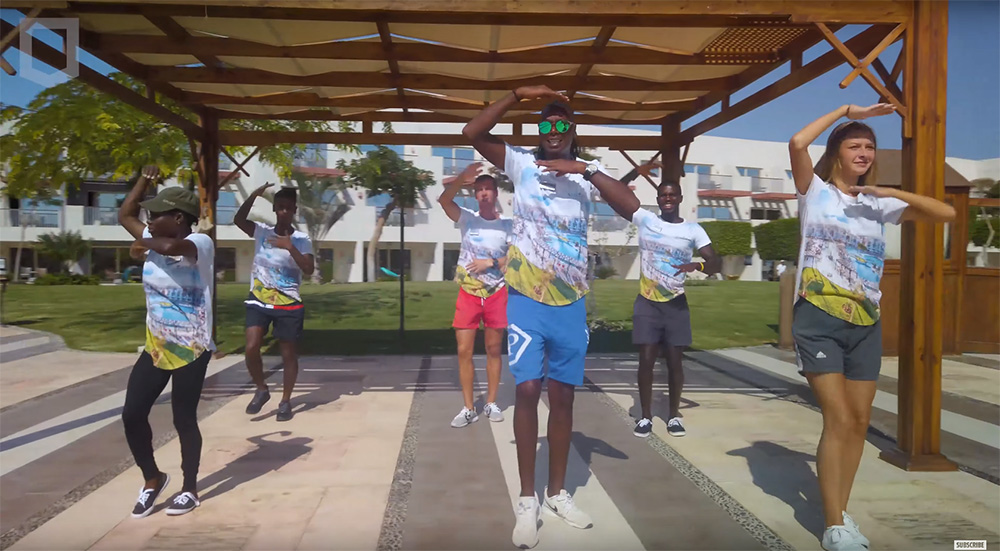 The animation team deserve a huge mention! Particularly Henry (Happy Henry), Fox and Georgia, who are just a few of the animation team who made the holiday extra special – not a moment goes by where they are not doing everything possible to make you happy with games and activities – they work very hard day and night to entertain guests. Whether it's pool activities, darts, yoga, volleyball or sea aerobics, these guys work around the clock with 100% dedication.
Pizza, chips and amazing wraps (thanks to Hamsa) were enjoyed almost daily, with a nice glass of cold rose wine sat listening to the birds singing, relaxing music and looking out to a perfect sea view – bliss. There's a selection of à la carte restaurants such as the Felucca Seafood Restaurant, Manohar Indian Restaurant, Poseidon Greek Restaurant and the new Dalila Egyptian Restaurant (which we ate at). Being in Egypt we really wanted to soak up as much of the culture as possible and the Egyptian food was extremely enjoyable – the restaurant is located on the harbour/bay looking out at the beautiful Red Sea, with sofas and a shisha area. You can book seats at these restaurants by using the digital displays at reception.
Each night there's evening entertainment on the outside terrace, usually some kind of music/singing/dancing, where you can sit back and relax on the comfy seats and enjoy free all-inclusive drinks.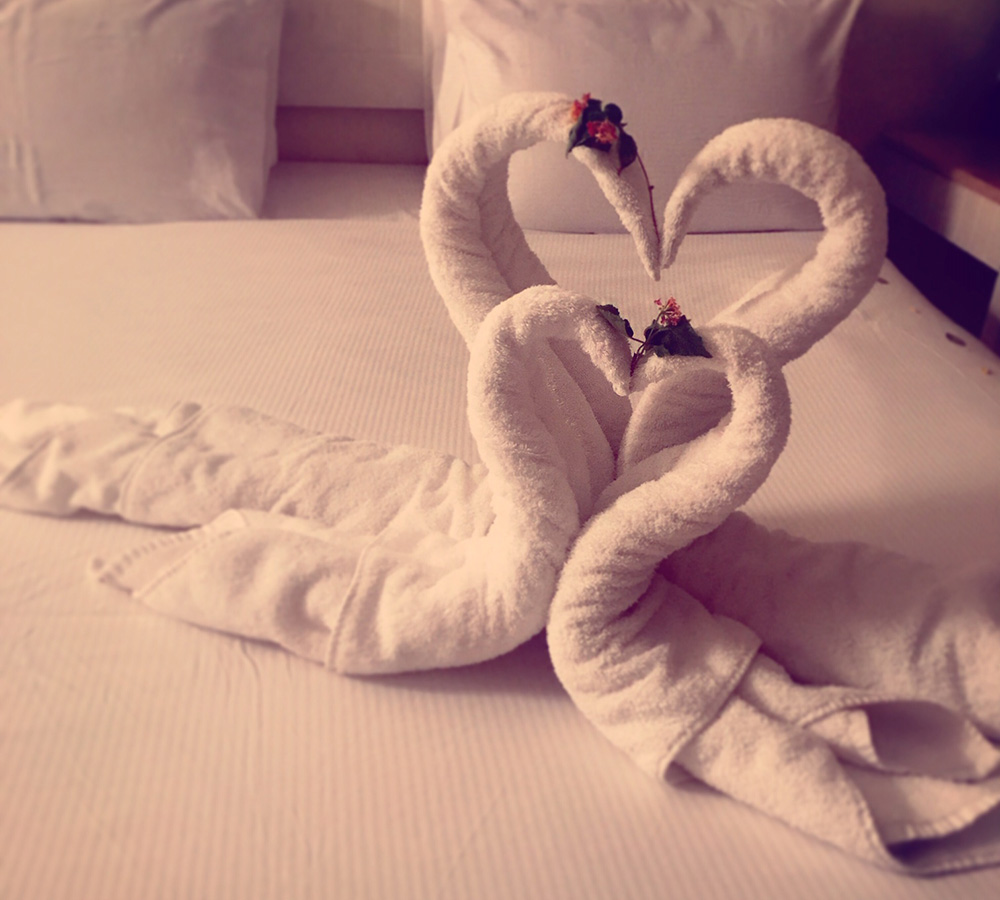 Housekeeping was amazing. Each day we came back to a new and creative origami surprise made from towels on the bed. Yasser the Housekeeping Manager was very attentive to our needs and always making sure the room was kept spotless. Whilst they will never ask for tips I'd recommend leaving a minimum of 1 US dollar per day.
Overall, the first week was exceptional. It's a perfect relaxing holiday destination with people of all age groups enjoying luxury in the superb Egypt weather. The question still lurks – how will the Crystal Bay Resort compare to Mamlouk Palace?….
Mamlouk Palace / Garden Beach Resort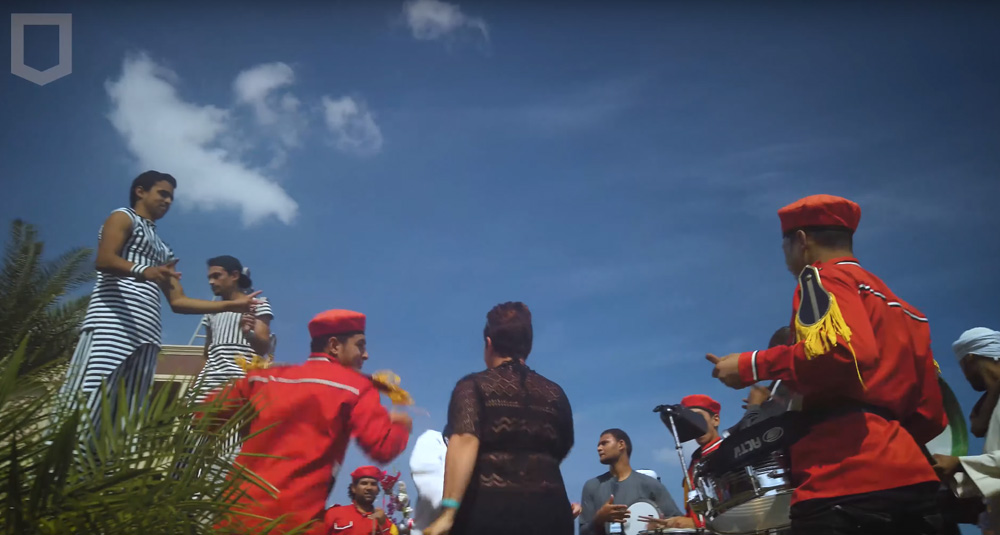 As soon as you enter Mamlouk Palace there is a very different feel to the resort. Crystal Bay feels a bit more exclusive because it is not as large as Mamlouk Palace, which is certainly bigger, but is it better? There's a buzz about Mamlouk Palace which was not the feeling we got from our first week in Crystal Bay Resort – which was a quieter, more chilled experience.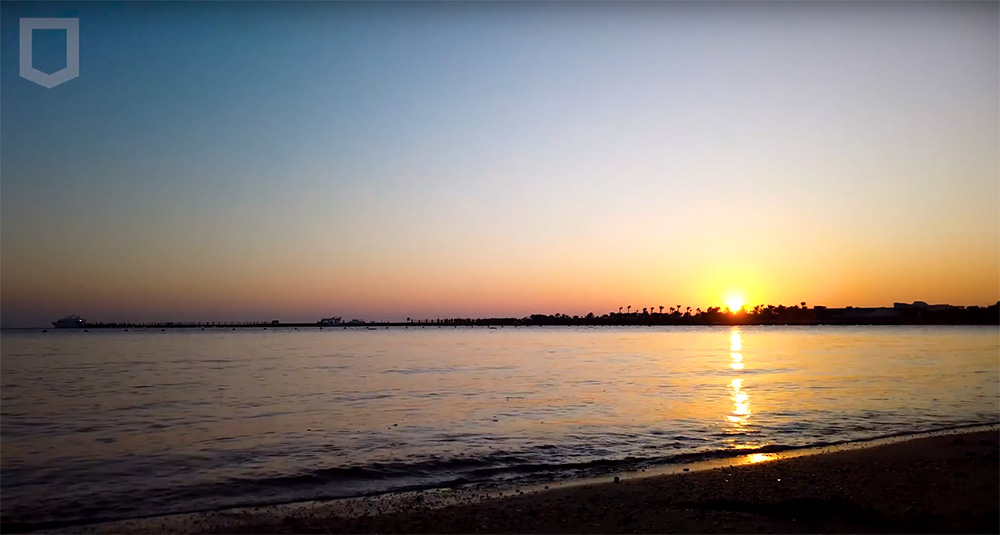 In terms of facilities, they are very closely matched. Both have a private beach – the sea area at Crystal Bay is calmer because it's more closed, like a harbour area cut-off from the sea, whereas the sea at Mamlouk Palace is more open and whilst still calm has proper waves, which we enjoy to hear.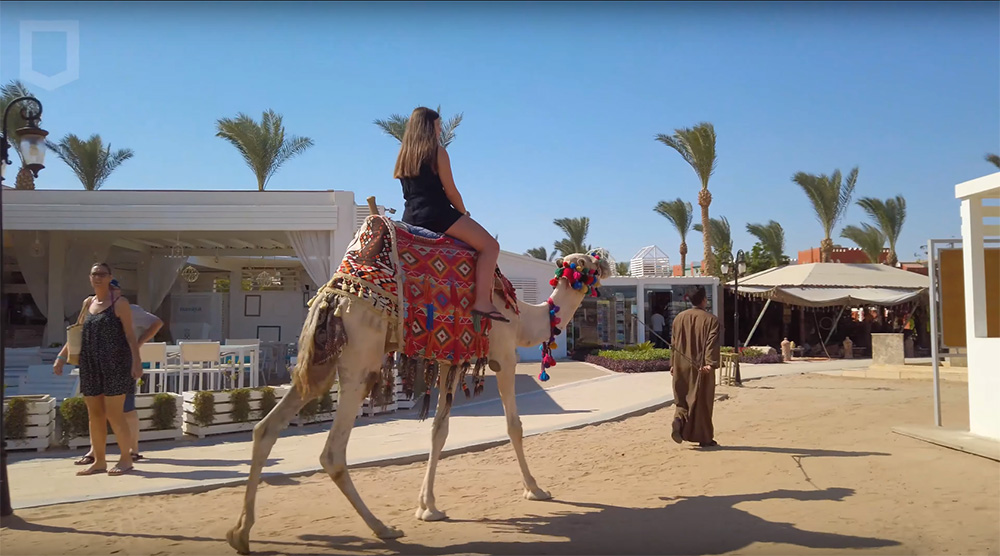 The beach area is MUCH larger at Mamlouk Palace, there are no rules about reserving loungers so guests here wake up mega early and put towels down – if you're not quick you'll be limited to where you can lay. There are two beach bars, lots of entertainment on the beach (games, activities and foam parties to name a few), a large pier where you can snorkel off, water sports activities, and a mini-golf/volley-ball/table-tennis area. There's a small craft jewellery stall, and camel rides along the walkway which divides the beach from the sea-front-facing à la carte restaurants, shops and shisha lounge – which is super cool – they even have four pet doves called 2Pac, Shakira, J-Z and Beyoncé. They are free to fly wherever they want but choose to live in the shisha lounge! The staff even provide bird seeds so you can feed and befriend the little legends.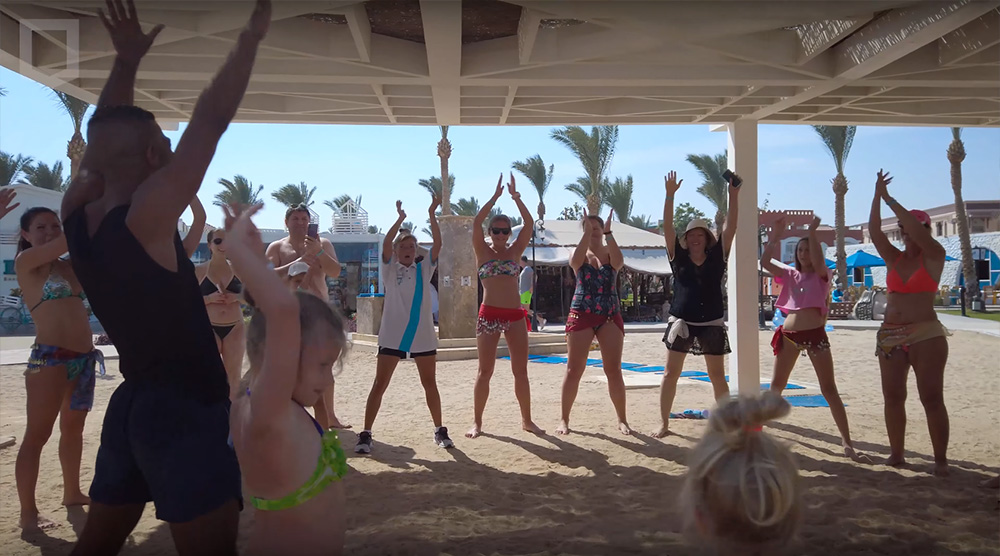 The animation team work equally as hard as they do in Crystal Bay Resort, and due to the size of Mamlouk Palace, the animation team is much larger, having to cater for more guests, so we did not get to know any of them individually. We did attend a show for Halloween and it was absolutely superb – a Michael Jackson themed event which was created and put together by the animation team, with so many world-class stunts and dancing – it was exceptional.
Mamlouk Palace is joined to Garden Beach Resort so you can easily walk into the other resort without realising, and it's not a problem because guests at each are allowed to use facilities at both resorts, including the Oasis Pool Bar, Yazol Shisha Tent, Nasaya Beach Bar and Aqua Park, with 8 slides! There's a large outside area where you can eat from the main restaurant in the evening, next to a nice water feature and in-front of a stage where evening entertainment takes place. You can get involved in fun games and sit back and enjoy delicious food and nice drinks. As you walk around the resort Mamlouk Palace has a lot of visual appeal from its well-kept gardens to ornaments such as a life-sized flamingo lit up in the well-kept garden, and a crocodile in the water stream they have created. There are relaxing hammocks, bean bags and swinging chairs dotted around for guests to enjoy. At all the resorts gardeners are constantly working hard to keep the grounds looking perfect.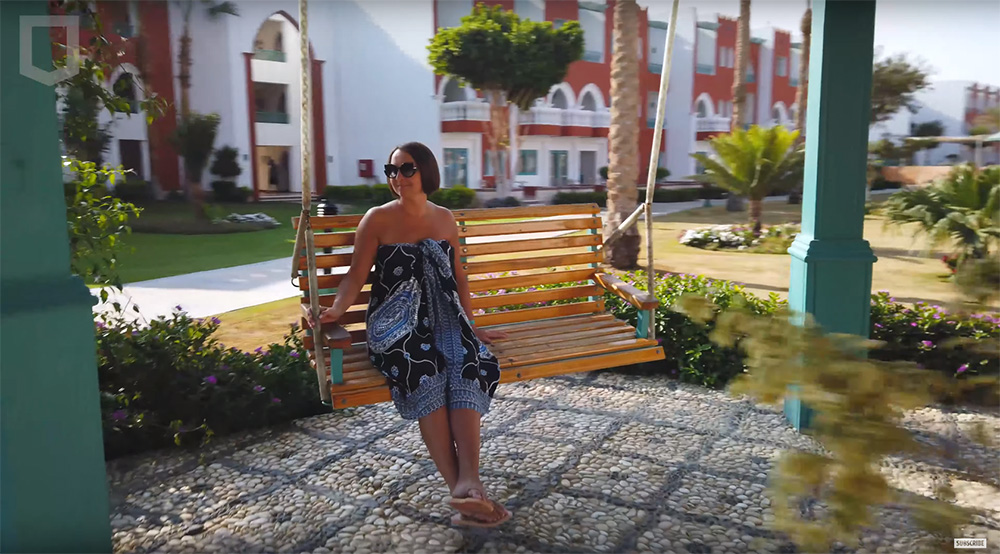 According to Trip Adviser Mamlouk Palace and Garden Beach Resort, each have a rating of 4.5/5, and Crystal Bay Resort has an ever-so-slightly better score of 4.6/5. These scores are well deserved and having been to them all, I feel the scores are a true reflection in comparison. I wouldn't necessarily say one is better than the other – the resorts and facilities are superb with extra friendly staff always making sure you are happy. Both have a mixture of people of all ages with children although there seemed to be more kids at Mamlouk Palace, which also felt more energetic and lively than Crystal Bay Resort. Therefore, it really depends on what you are looking for from your holiday. If you prefer a lively atmosphere and energetic holiday, then personally I'd recommend Mamlouk Palace, whereas if you are searching for a slightly more relaxing holiday with an exclusive feel then I'd suggest you consider Crystal Bay Resort. Either way, you can't go wrong as both really are exceptional resorts.
I hope you find this review helpful! If you have been to either, are considering booking or want to know more please don't hesitate to check us out on Facebook and Twitter where we're constantly writing new reviews, and don't forget to check out our digital magazine full of holiday reviews, experiences, tips and offers!
WATCH THE VIDEO HERE:
Don't forget to follow the Travel Pocket Guide socials for more travel videos, experiences, tips and updates:
Facebook: https://www.facebook.com/TheTravelPocketGuide
Instagram: https://www.instagram.com/travelpocketguide
Twitter: https://twitter.com/travel_pocket