This summer I had the opportunity to visit Prague, the capital of the Czech Republic, for the first time. I don't think I have ever been somewhere more quintessentially European than Prague. It was basically like being in a fairy tale. From the cobbled, and winding streets, the Gothic architecture, the colourful houses, and lit up night sky, if you picture Europe, you picture Prague.
I only had two days in Prague (actually only a day and a half) and I was worried it wouldn't be enough, but I was amazed at how much I managed to do in those two days. If you ever have the opportunity to visit Prague, even for a short time, go.
This is what you can get up to in two days…
Day 1:
I started with a walking tour. This is a great way to familiarize yourself with the confusing, narrow streets. It also takes you to the top tourist attractions. My tour guide was a local and was the funniest tour guide I have ever had. He told us about all the Czech traditions – even one that included whipping your Grandma at Easter! The tour took us first to the Prague Castle, which is also home to parliament. We didn't get the opportunity to go inside, but this is another thing you can do! Then take a stroll down the royal walk, past all the shops and straight onto Charles Bridge. Here you can rub the belly of a statue, which is meant to bring good luck! From Charles Bridge you can twist your way down past the astronomical clock and land in the middle of the old town square.
On our way we had spotted the Czech famous Trdelník, otherwise known as the Chimney Cake. This is my new favourite dessert. Ever. It's like a warm, tastier, softer doughnut in the shape of a spiral chimney. It can be filled with chocolate sauce, caramel sauce, ice cream, strawberries…anything! So, to keep you energised you must go get one!
We then had a traditional Czech dinner. This involved the largest amount of meat I have ever consumed in all my life. There was duck, chicken, ham, and beef all on one plate! I didn't see anyone finish their food. The dinner was accompanied by Czech musicians and dancers to really get you in the mood. They even brought us up to play drinking games.
After all that food I had to walk it off. Now this is a must: Go see Prague at night. There is nothing more amazing than seeing the Prague Castle lit up over the Vltava river at night. Prague isn't a huge city and you can easily walk around a large proportion of it in one evening.
After you've done all this in just one day…go get a great night sleep. You'll need it.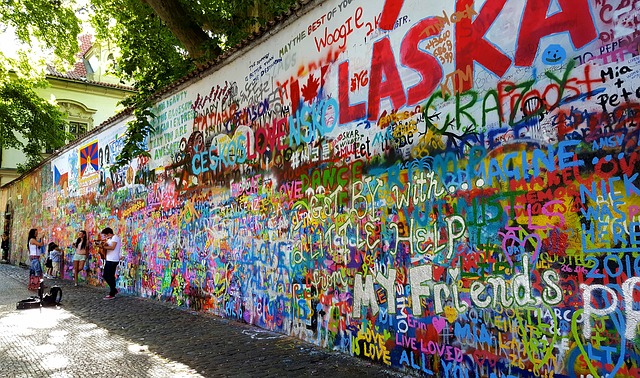 Day 2:
Wake up still full from last night's dinner. But go get yourself a Chimney Cake for breakfast anyway because YUM. The second day we explored the old Jewish quarter, and saw the oldest synagogue in Europe! We then did a bit of souvenir shopping, because is it really a holiday without getting a trashy souvenir? It was a slow morning after last night but sometimes it's nice to take things easier.
The next thing I did was take a bike ride! Prague is very flat so that was easy. What wasn't easy was trying to stay on my bike whilst tackling the bumpy streets, the cars that don't let you pass, ever, and the wind and rain. This is also a great way to see more of the sights. We stopped at the John Lennon wall, the Dancing House, the Piss Sculpture (yes, that's a thing), and the hanging man.
After this, I went up to the metronome. This is a lookout point which gives more great views of prague. Another great thing to do is go on a nuclear bunker tour. You can see what a nuclear bunker looked like when built for the cold war, and also dress up in some war getup!
After more Chimney Cake it was time to head on to my next destination for summer. I would love toe xplore moe of Czech to see if other cities are similar to Prague. One place I did get to visit on my way to Vienna was Kutna Hora. This is home to the Sedlec Ossuary, otherwise known as the Bone Church. Yup, bones, as in human bones. The bones of around 40, 000 people to be exact. Was it creepy? Yes, but definitely worth seeing.
Until next time, Prague.