New baby staycation index reveals the most baby friendly UK holiday destinations 
As a record number of Brits are expected to book a staycation this year, the thought of finding the perfect baby friendly destination may seem daunting for new parents. 
However, new research conducted by essential business services provider Direct365 has analysed key necessities that those with babies will want to consider when choosing a holiday destination, to create an index of the best locations to choose from which are most catered to babies. 
The baby staycation index analyses the number of family friendly accommodation, pram friendly walks and trails, family friendly things to do, parks and gardens, child friendly restaurants and number of babysitters in twenty of the UK's most popular holiday spots to rank each location based on baby friendly it is deemed. 
The UK's most baby friendly holiday destinations 

1.

Chester

2.

Keswick

3.

Bristol

4.

York

5.

Newcastle

6.

Bath

7.

Birmingham

8.

London

9.

New Forest

10.

Skegness
Chester revealed as the UK's most baby friendly staycation hotspot 
The research reveals the ancient city of Chester as the UK's most baby friendly holiday  destination. The city ranks highest overall as the location which offers a large selection of family friendly accommodation with plenty of pram friendly walks and parks and gardens to explore.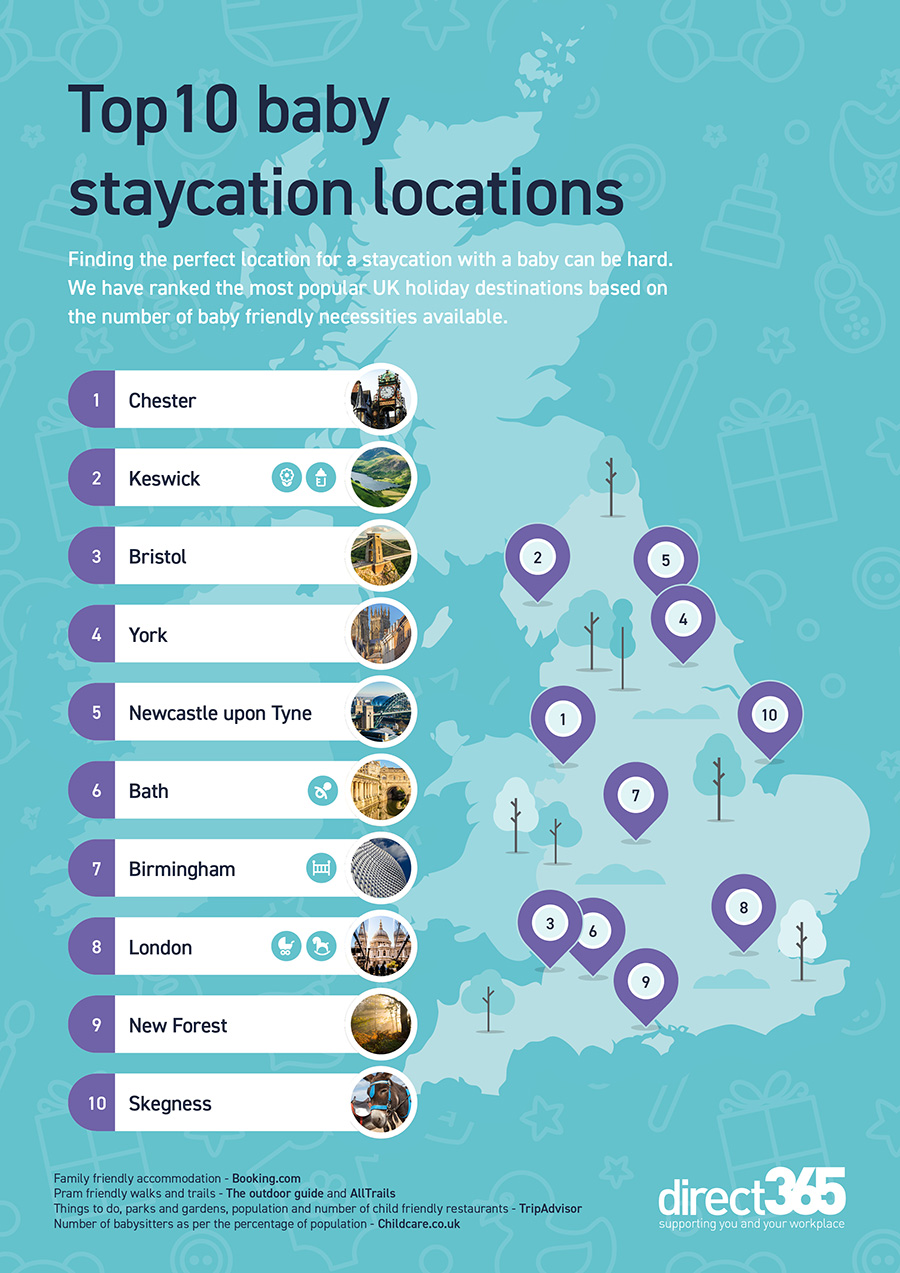 Birmingham has the most baby friendly accommodation with an impressive 88 per cent of its accommodation being suitable for new families.
London ranks best for those interested in on foot-sight seeing with fourteen pram-friendly trails and routes to pick from as well as being the destination with the most family friendly things to do (330).
The picture perfect village of Keswick ranks number one for foodies with over two thirds (69%) of its restaurants catering to children, whilst Keswick also ranks number one for its glorious gardens and parks.
And for parents who fancy a night off, Bath is the destination ranking number one for baby sitters. 
Karl Bantleman at Direct365 said: "Traveling as a new parent can be a daunting experience, whether that's trying to find the nearest baby changing facilities or which areas are pram-friendly. That's why we created the baby staycation index, to help guide mum's and dad's across the country to find the perfect UK break for a hassle free trip."
---