Gran Canaria, Amadores: Gloria Palace Royal Hotel & Spa
Award-winning beach
Amazing Infinity Pool
Friendly Staff
Clean and Stylish
Great Food & Entertainment
Short Transfer
1 Week in Gran Canaria
BOOKING
With so many different opinions and online reviews, it can often be difficult to choose where to go for a summer holiday. It's also a risk to try a new destination if you've already visited somewhere you really love, but equally less exciting to keep going back to the same place. My partner and I wanted to visit somewhere hot and not too far away from England, ideally close to the beach and all inclusive. Gran Canaria seemed like the perfect option.
We quickly spotted Gloria Palace Royal Hotel & Spa, which looked breath-taking. On Trip Advisor it's listed as number 6 of 413 hotels in Gran Canaria. It had 2,853 reviews with 1,242 saying Gloria Palace Royal is "excellent" with a total score of 4.4/5. The all-inclusive price was £750 per person and whilst not the cheapest it looked perfect, so I quickly booked without much further thought.
We flew with Norweigan airlines and the flight took around 4 hours. The shuttle bus took around 45 minutes to reach the hotel.
FIRST IMPRESSIONS
First impressions were amazing. Very friendly staff welcomed us with a glass of Prosecco whilst we checked in – the reception area has stunning views overlooking Amadores beach. We arrived just before 9pm, and in time for a meal as they stop serving at 9:30pm. When I booked the room I requested a double and when we arrived were given a twin. The staff were happy to help and we were moved into a room with a double bed, it had a sea view and was quiet as requested, situated in block 2, which I would recommend, as you cannot hear any noise from the road. The reception area has a bar, piano, lots of nice decor furniture, and massive glass windows along one side which face the beach/sea and gives the instant wow factor as soon as you enter. There's even a couple of small shops next to reception which sell a few essentials, should you need them.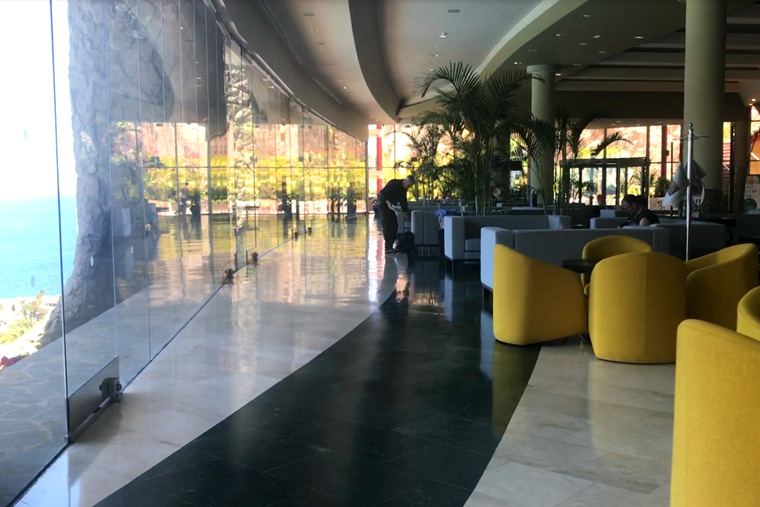 ROOMS
The rooms are very clean, spacious, with large balcony areas with nice outside furniture and a small garden area. The room has a separate shower, toilet, bathtub and sink with a mirror, all designed with marble-stone. Use the globally recognised rule of leaving towels on the floor and they are replaced daily. There's a large double wardrobe, the beds are comfy and the rooms have everything you need. Be warned though, there is no iron and an ironing service is charged per item. The room views are sensational:

FOOD
The all-inclusive breakfast, lunch and dinner is great. The main dishes change daily. Freshly cooked fish, steak and chicken were available daily with a huge choice of sides and salad, fruit, bread, cheese, wine, beer, water and soft drinks all-inclusive – you're truly spoilt for choice. The hotel bar and waiter staff get a 10/10. They are very happy, quick to serve and helpful. The restaurant overlooks the infinity pool and sea. Trousers or jeans must be worn at dinner so they say. The atmosphere is relaxed and pleasant.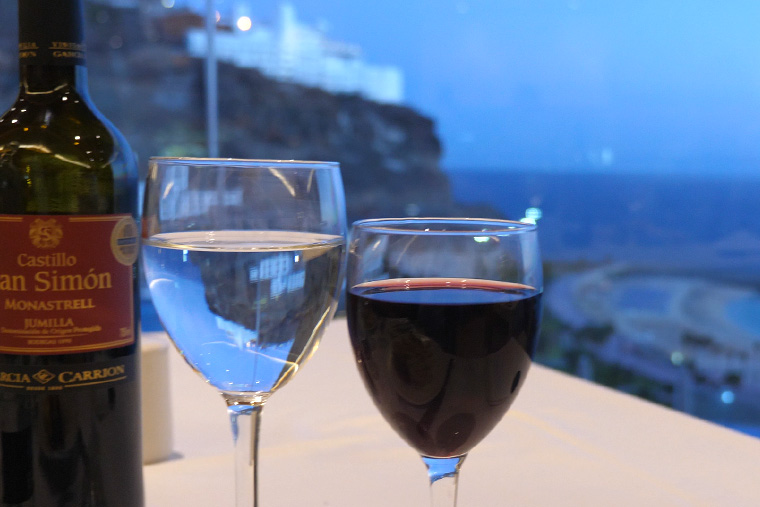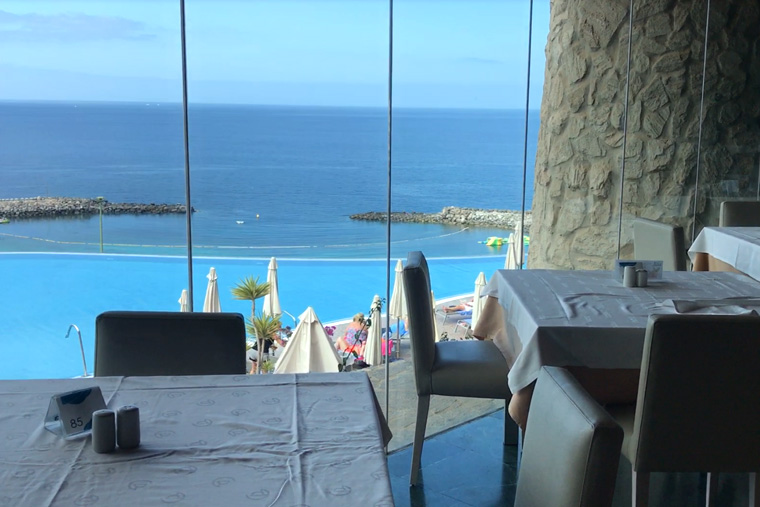 There's also a snack bar available throughout the day and whilst not everything is included within the all-inclusive package, there's still a huge selection of pizzas, burgers, and drinks including cocktails, beers, spirits etc.
An all-inclusive wrist band is given to you when you arrive, but you are asked for your key-card when ordering drinks/snacks, which we found a bit odd, so just make sure you have this in your pocket when going to the bar.
ENTERTIANMENT
The entertainment and evening bar staff again get a 10/10. They're all very friendly and work extremely hard to accommodate guests. Each night is different entertainment ranging from circus style / magic shows, to live music, each evening offers something new with karaoke and drinks after the main event until around midnight.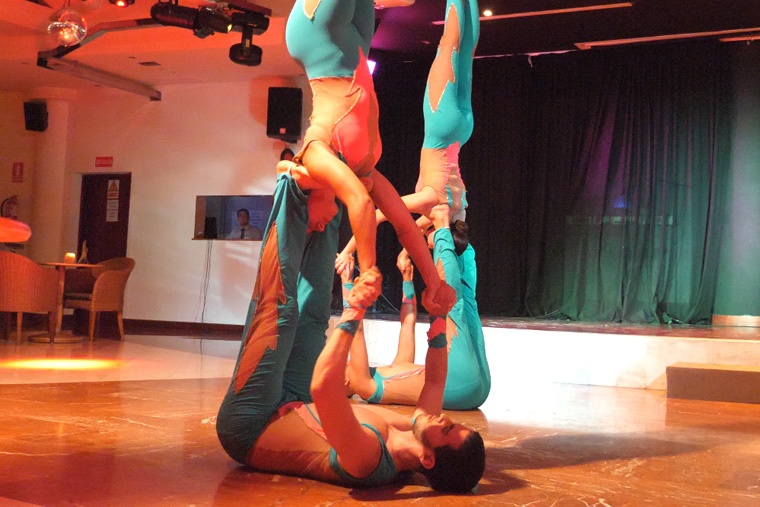 POOL(S)
The infinity pool is simply WOW. Overlooking the beautiful self-enclosed  Playa De Amadores beach and sea on the south of Gran Canaria, stretching out as far as the eye can see. It's refreshingly cool (not cold), with sun loungers dotted all around, and there were always some available, with umbrellas (sometimes needed for shade). As you make your way around the hotel, there's a second pool area, which is even more relaxed and spacious with amazing outside beds with roofs, sun loungers and another bar. This pool felt colder and we didn't actually get in it, but we did spend time in this section enjoying the Jacuzzi spa, bar, loungers and beds. The entire pool area felt very luxurious, clean and well maintained. Both pool areas are stunning.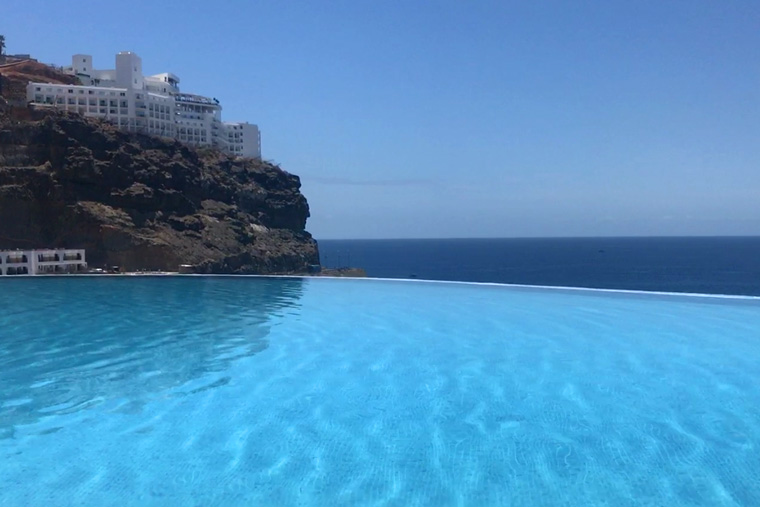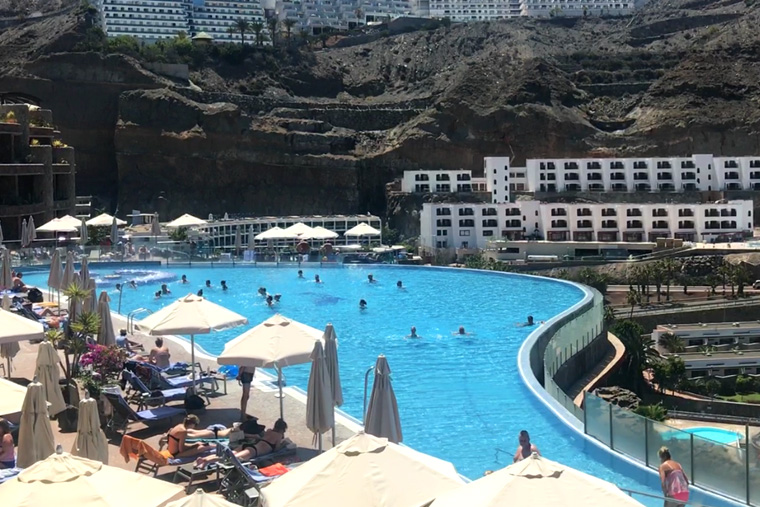 BEACH
Amadores beach is classified by many tourists and residents as "the best beach in Gran Canaria". And I can see why it has this label. Clean, stunning, ideally situated, spacious, and picturesque, Amadores beach is manmade and spans 800 metres in a horse shoe shape surrounded by shops, bars, restaurants, and just a short walk to Gloria Palace Royal.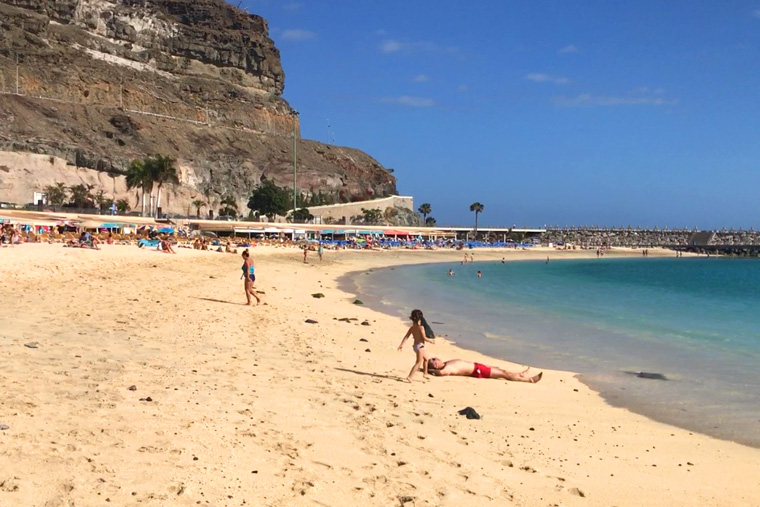 In 2014, the beach first received the Blue Flag award for its high standards in safety, management, environmental education, and water quality and continues to do so. The sand is yellow and coarser than the fine sand at many other beaches, which means it is comfortable to lie or walk on, and easy to brush off.
About a 5 minute walk away from Gloria Palace Royal hotel, the beach is a nice stroll. You can also order a drink from the hotel to take away. There are plenty of taxis around and bus routes which take you to Puerto Rico and beyond, but we didn't have enough time to venture far, and didn't want to as the beach and hotel offer plenty. If you walk around the concrete stretch which runs parallel with the sea, there's a really cool beach club which offers drinks and food service brought to your bed, with cool house music and massages etc. Also, if you stay at Gloria Palace Royal enquire at reception as they run an offer for free entry to the beach club, which usually costs 40 euro. Also, along this stretch is the Ocean Fun Park, an inflatable water park floating on the sea!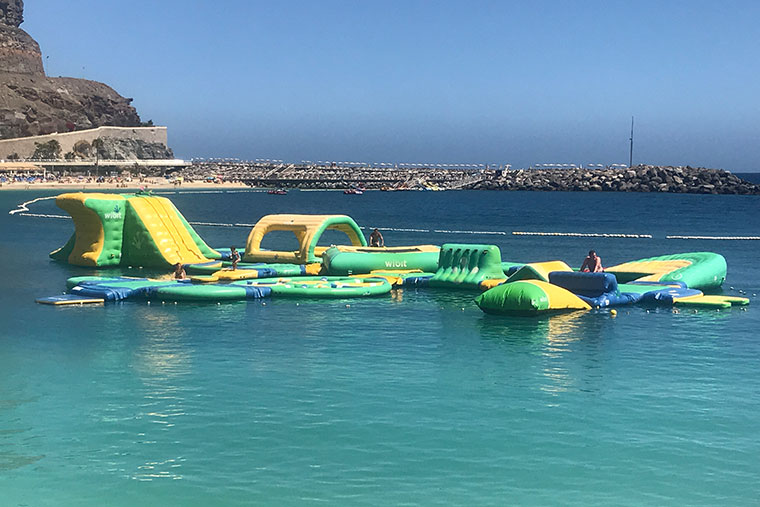 TRIPS
There's a selection of trips around Gran Canaria, including snorkelling, camel riding, buggy tours, boat trips and dolphin and whale watching! We went for a dolphin trip which we booked at the hotel through Tui and cost 30 euro per person. There's a few different dolphin and whale trips which leave at different times on different boats, and at different prices. We went for the catamaran boat trip which lasts around 2 hours. We were picked up at the bus stop and driven to Puerto Rico where we boarded the catamaran. There's lots of comfy seats and a bar on board, and 1 soft drink is included in the price. They say you are guaranteed to see dolphins or they will give you another ticket, and they weren't wrong!  Lots of curious and graceful dolphins swimming around the boat in groups jumping, playing and having fun! What I also really loved about the dolphin trip is that you can hear the chatter sound they make as they swim around charmingly checking us out! This trip is great value and a must!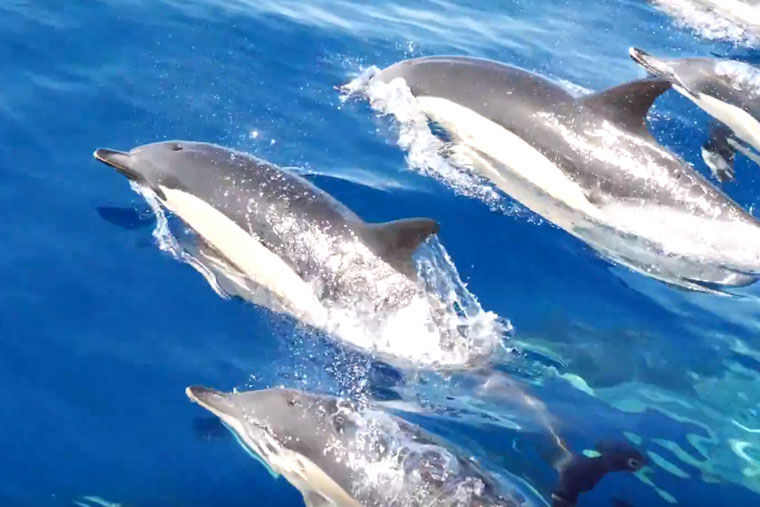 WEATHER
Gloria Palace Royal is located in Playa de Amadores, Mogán, Gran Canaria which has a "microclimate". This means, it has a climate of its own in a small area, which differs from the climate of the surrounding area. This is because it is south of the island and protected from the wind by mountains. The weather specifically in this part of the island remains hot almost all year round, with little rain throughout the year and a slight breeze, unlike other parts of the island which in the mountains is much fresher or windier destinations such as Tenerife and Lanzarote.
SUMMARY
Gran Canaria and Amadores specifically is a perfect place to visit for a getaway as a couple or a family holiday. It has plenty to offer on site as well as close by both in terms of entertainment and relaxation. Perfect weather, happy locals with a spotless beach, clean sea and a large variety of trips. Slightly more expensive than holidays to other canary islands, but you pay for what you get and we'll certainly be returning. Watch the video review below:
Check out our holiday review of Lanzarote here:
https://www.thetravelpocketguide.com/2017/06/places/sol-lanzarote-4-inclusive/