Let's be honest. We're slowly but surely packing away our flip-flops and shorts and waving goodbye to the joys of summer. Instead of dousing ourselves in sun tan lotion we're preparing to unwrap our scarfs and woolly hats and start to crunch our way through the yellowing leaves. If you're not quite ready to say goodbye to the summer and are looking for one more activity to tick of your bucket list why not have a go at learning to surf?
Surfing is an incredibly fun and exciting sport but it is also one of the most complex and difficult, especially for beginners. If you've never surfed before I would 100% recommend getting lessons from a trained professional who know the best practices, the best beaches and of course, the best waves.
We booked lessons with the Escape Surf School in Newquay – Cornwall. The beautiful thing about this school is that they offer a range of lessons to suit different abilities including beginner, intermediate, advanced and private lessons. The instructors were all friendly, helpful, passionate and determined to get you standing by the end of your lessons.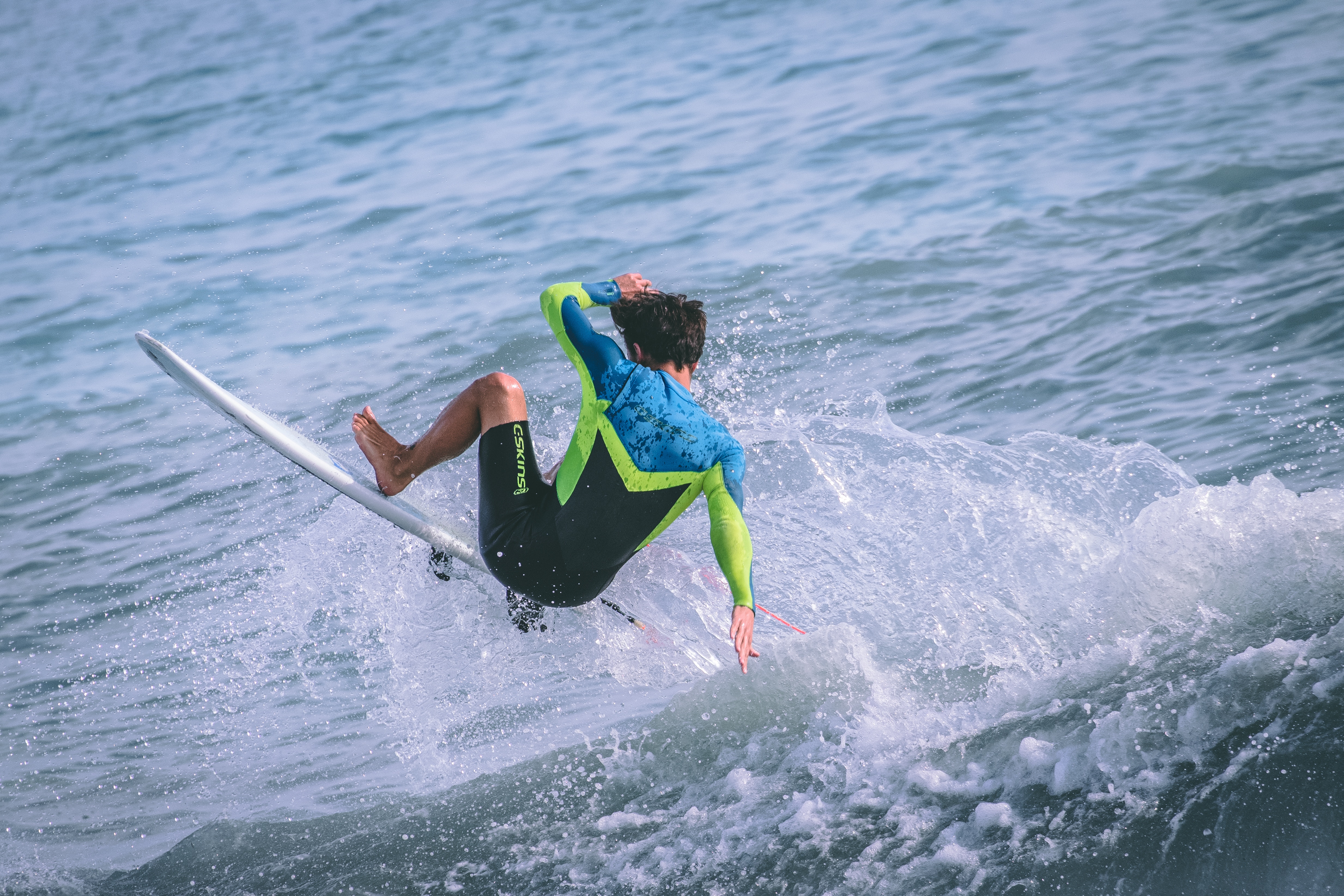 Let's fast forward a little. You've found a suitable school, you've booked your first few lessons and you're pumped. As excited as you may be, you may also be feeling a little nervous, but this is completely normal. After all you're about to learn a whole new skill and begin a brand new experience.
Here's a short list of things to consider before you learn to surf.
Research:
It'll be worth spending some time researching surf schools around the country as each school will have different teaching methods. Obviously you won't know if their lessons are perfect for you until you actually attend, but spend some time looking at reviews from past students and the school's website. It's more than likely you'll be able to find out not only about the school and their ethos, but also the instructors, meaning you'll be able to make an informed decision instead of booking blindly.
If you're looking to surf in the UK, Newquay in Cornwall is widely considered to have some of the best surfing beaches including Fistral Beach, Towan Beach, Great Western Beach and Tolcarne Beach.
Take Your Time:
The most important tip our instructors could give was to pay attention to the basic skills. You may go on to learn all the fancy tricks but your basic skills will stay with you throughout your entire time surfing.
If others in your class are standing but you're not, don't worry. You have to do this at your own pace as rushing will just make you forget all of the necessary basics making it even harder to progress. If by the end of your first lesson you're only standing on one foot celebrate that! That's more than you were doing at the start of the lesson.
You're Going to Fall:
This is just something you have to accept. You're going to fall and it's very likely you'll spend more time in the water than actually on your board, (Especially if you surf on a windy day) but that's completely normal. It is a water sport after all. If you can just accept this and get over the frustration you'll enjoy the experience a whole lot more. Falling may be annoying, but you'll completely forget that when you're filled with the thrill and adrenaline of finally catching a good wave.
Ouch:
You're going to ache the next day. As previously mentioned, this may be a completely new and alien activity for your body. You're going to work your muscles in ways they may never have been worked before, and this may result in them screaming at you the morning after. This may hurt, but just think, it'll certainly be better than a hangover.
The best way to help this relieve some of this pain will be to stretch through the screaming. Try out some basic yoga moves to release any tension and to prepare the muscles for your next lesson. It may be cheesy but you know what they say, no pain no gain.
Have fun:
Surfing is scary, exciting, new, thrilling and most importantly, it's good fun. I was thoroughly petrified before my lessons but once we got into it and I relaxed I couldn't have enjoyed myself more. This was an amazing experience and I cannot wait to get back to Cornwall to have another go.