Living in Barcelona is an adventure in itself. However, a couple of weeks ago, I found myself strolling down the streets of Gracia longing for the smell of trees and the sound of only a couple of shoe soles walking the ground. I went home and started looking for hiking paths around the Barcelona area, and it was not long until I stumbled upon a web-like pile of incredibly beautiful photos taken from a coastal path referred to as Camino de Ronda.
Camino de Ronda is where I needed to be! This trail goes by many names; Costa Brava Way, Camino de Ronda, GR92 and I am guessing many more. It is a coastal hiking trail all along the Costa Brava, but there are several paths in between charming fishing villages just waiting to be climbed, so no one is asking you to walk 220km straight. Originally it is a 220km walk starting in Blanes and going all the way to Collioure near the boarder of France. I, however, was not that engaged in my longing for nature and calming surroundings. A little week out in the open was all I was looking for, and so I packed my backpack full of excitement and prepared for 5 days of sore feet and cleansed nostrils. I packed a tent, a sleeping back, enough blister plasters for a whole army and my boyfriend. We started off by taking a train from Barcelona to Blanes, and then we hit the trail.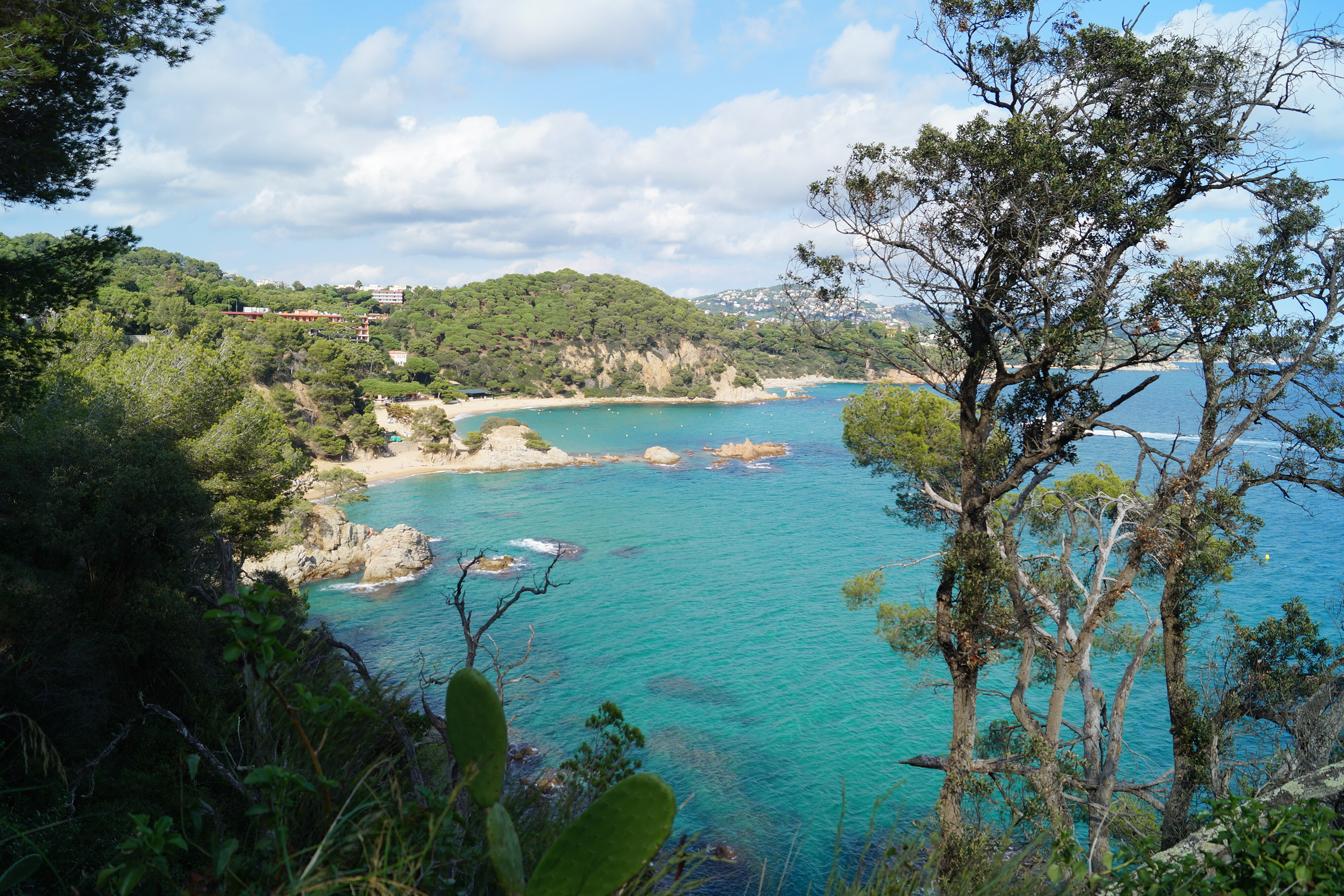 DAY 1:
On the first day we walked just about 22km to Tossa del Mar. The views along the trail were incredible and I patted myself on the shoulder for having packed 3 memory cards for my camera. Along the way we passed Lloret de Mar, but is was not for long that we were in city surroundings. It was very easy to stop for both photo shootings and snack breaks, as the route is well marked all the way. It is marked with a little red and white flag, and wherever you see it, you go, and wherever you see a cross painted in the same colours, you turn to the side and look for the right flag which is probably only a meter from the cross. That way you make sure, that you are never off the trail.
DAY 2:
From Tossa del Mar we were planning on getting to Platja D'aro in one day. That did not happen. At all. We had to face a mountain on the way, and when we finally did conquer it, there was only one way down. The mountain which I believed to be 2000 metres high turned out to be about 518,7 metres high and named Puig de les Cadiretes. Now I had gotten what I asked for; a smell of trees and fewer feet on the ground. The views were stunning and the whole mountain hike was an amazing challenge in itself. After having walked 27km up and down in 500 metres height, we ended in Salions, a city from where we could not get anywhere unless we walked further. So we got a ride and got dropped off in Sant Felieu de Guíxols, where we spent the night.
DAY 3:
The next day we headed for Palamos. This was without a doubt the best part of the route. It was simply a postcard-like view the whole way. The turquoise mediterranean sea and the light brown cliffs were everywhere. The hiking path looked like something out of a fairytale as the path was pretty much just wrapping itself around the cliffs, getting as close to the sea as possible. This part was beyond my wildest expectations and even though my feet felt detached from my body most kilometres, I was happy to walk it.
DAY 4:
Ending up in Palamos having walked another 25 km, we decided to take a bus to Begur. That was a fortunate choice, because the weather suddenly stopped being collaborative. We decided to walk a bit further the next day and walked all the way to Platja de la Gola del Ter. It was not the longest of walks but it took us by the famous Platja de l'llla Roja. Besides, 15 km on the last day was kind of a treat to our feet. After finding the nearest little village where we could get a bus, we decided to take a coach to L'Escala and after that to Girona.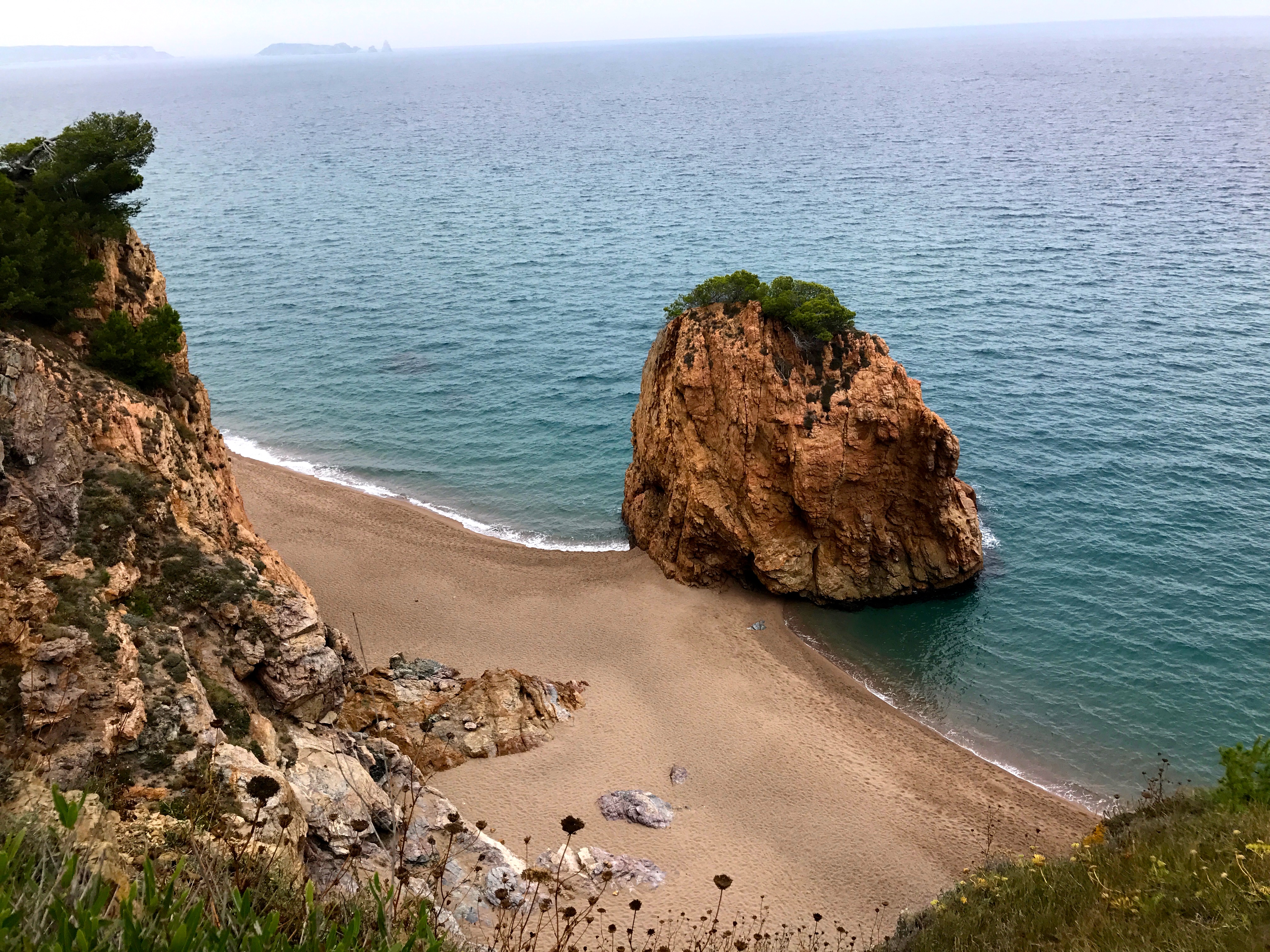 These four days of walking was a truly incredible experience. I would recommend Camino de Ronda to anyone I know, who is longing for beautiful surroundings and a break from the city life. Someday, I hope to walk all of it, just for the challenge for the stunning views. So, whether you are a spoiled brat that needs a break from Barcelona (like me), or you are just an adventurer who is looking for a trail to follow, Camino de Ronda is where you should consider going. There are lots of guides and maps online, but if you ask me, most the fun lies in just looking for the flags and figuring out the route while you're on it. It adds to the adventure, and feeling like you can manage to find your own way round is so much more giving. Besides, the detours are just as stunning and you will find your way back!