Not everyone can haul around the biggest and the best photography equipment with them on their travels. Sometimes, all we have is our phone to capture those all important travel memories. With these photo editing apps you can transform your pictures into sophisticated captures of your unforgettable travel moments.
Perfect365 
For the traveller who loves their selfie stick and enjoys being a part of their pictures, in moments of excitement and rush to capture a once in a lifetime shot, you might not always look your best. Perfect365 is an effective photo editing app that allows you to remove blemishes, shrink your face, soften skin, whiten teeth, and even give you longer, fuller lashes!
Not only that, Perfect365 allows you to try out virtual makeup looks. The app allows you to play with more than 20 beauty tools and over 200 pre-set makeup looks. So if you are concerned about not feeling your best in your travel photos, Perfect365 will help to give you that confidence boost you may need.
TouchRetouch 
Available on iOS and Android is TouchRetouch – a superb photo editing app that enables the user to remove unwanted objects from their photos. With the touch of your screen you can say goodbye to unwanted photo bombers, telephone wires, street signs, skin blemishes, and much more.
The Object Removal tools will eliminate the distractions in the photo with one simple touch or flick – there is no need to be too accurate as the tool will find the lines for you.
"There's no easier way to remove unwanted items from your images…"—The Guardian
VSCO
Available on iOS and Android is VSCO Cam which is commonly used by professional mobile photographers. It stands out from the rest of the free photo editing apps and is a great and efficient way to edit and share your travel photography.
With an array of film-inspired filters and a variety of professional image tools including lighting adjustment, cropping, exposure, contrast and crop, you can capture your moment and enhance it accordingly.
With no public followers, likes, or comments, you can take a step away from the typical social media competition and simply engage and interact with like-minded individuals who also have a passion for creativity and travel.
"The app boasts a strong editor feature where you can crop photos, adjust lighting, fix temperature and tint, add sharpness, and more." — Teen Vogue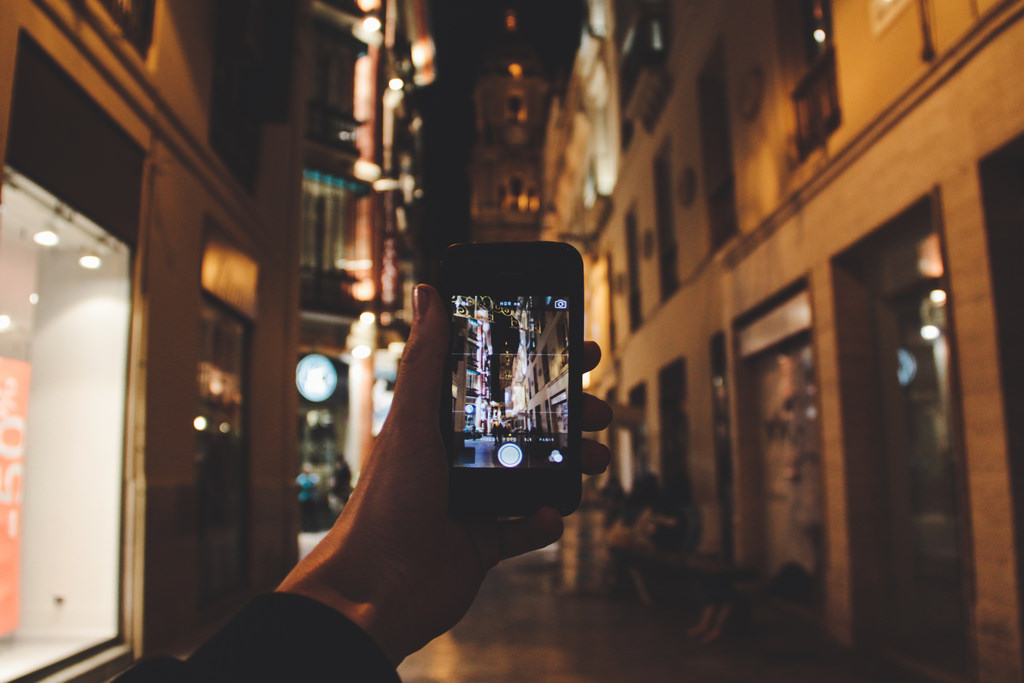 Fragment
For £1.99 you can download the astounding photo editing app, Fragment – Prismatic Photo Effects. With this app you can get in touch with your artistic side and create stunning photos with incredible geometric shapes and effects placed over them to create masterpiece photos with that little something extra.
With great interface and being simple, and easy to use, it's no wonder why so many travelling artists and photographers have fallen in love with it.
"Pixite apps really know what they are doing when it comes to creative apps I use fragment shift and union daily they produce images big enough for good quality printing and are so easy to get the hang of with amazing results. Thank you to the makers this app is wonderful." — Customer review
Snapspeed 
Snapspeed is a professional photo editing app available on iOS and Android with all the image tools you could possibly need including cropping and rotating, a variety of lighting and exposure adjustments, and even a healing brush to remove any unwanted objects such as photo bombers! You can also choose from a number of filters including grunge and glamour to really enhance your photos.
One of its newest features, Double Exposure, allows you to blend two photos together and choose which parts of the photos you want. You can finally create your perfect picture!
"With each new update it gets better & better. The new double exposure is one of the best implementations of this feature I've seen." — Customer review