We caught up with TV presenter, entrepreneur and all-round role model Laura Hamilton to talk about all things travel, best hotels, property, relocation and top tips for travelling with kids! 
Laura Hamilton interview by Ben Farrin
---
Hey Laura, firstly thank you for your time. What part of the world are you in right now?
I'm on the Costa del Sol in Spain. I'm filming and staying in our family home here.
You're a very familiar face and congratulations because I've seen you've been a Channel 4 TV presenter for A Place In The Sun for a very respectable 10 years and 11 months! I also read Dermot O'Leary and Vernon Kay helped put together your first showreel. How would summarise your journey so far, since your big break?
I've been working in TV for 22 years now and I have loved every minute of it, from working behind the scenes, to in front of the camera, there isn't a single part I haven't enjoyed. I've worked on all sorts of shows; Dancing on Ice, The Jump, Cowboy Builders, Nickelodeon and now I'm doing more with This Morning. I love live TV so hopefully you will see me doing more of that.
As a successful and established businesswoman and entrepreneur, are there any stand-out challenges you have faced and overcome during your career?
There are lots of business ideas I have come up with that haven't come to fruition but that doesn't mean you see them as failures. You can learn from these experiences and take something from it. When you own your own business there are always challenges but I've always been a positive, glass half-full person and it's all about coming out the other side stronger.
We know you love to travel, and you have stayed in some luxurious hotels around the world. What are your top 3 favourite hotels you've stayed in, and why?
I love the Maldives. I don't switch off easily and it's the one place I do. Mirihi was standout for me…. a small independent run hotel on an island you can walk around in 10 minutes.  I loved the Oberoi in India overlooking the Taj Mahal – that was just incredible and I also loved Four Seasons Marrakech. I have been so lucky to stay in some incredible hotels so it's a challenge to choose my favourites.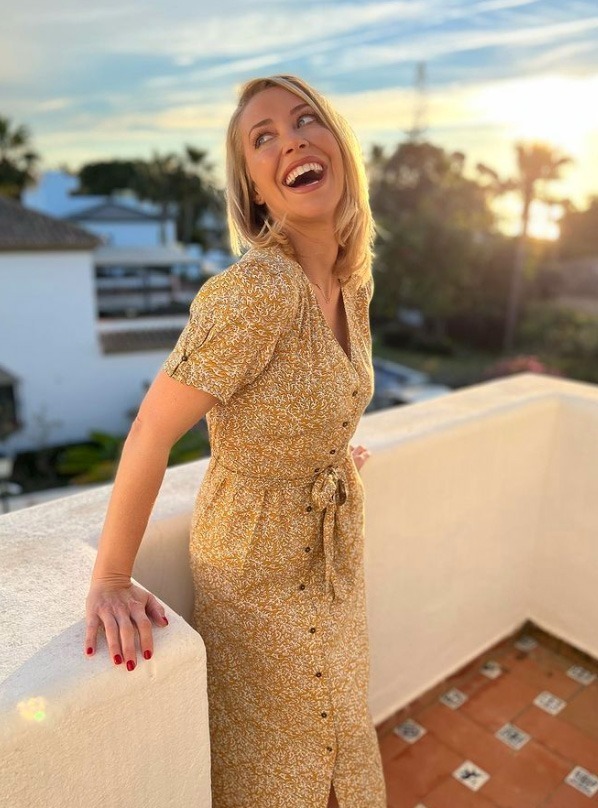 It's not all luxury though, is it? Because you've backpacked all over the world! Are you able to tell us which country made you feel the safest, and what tips can you offer to female solo travellers?
I have indeed. Life is all about balance and experiencing different things. I backpacked when I was in my early twenties and I felt safe the whole time because I met lots of fellow travellers, some of whom I'm still in touch with today.
As a mother who travels a lot with your children, what flying tips can you offer to families with kids?  
I've been travelling with my two since they were three weeks old, and when I say that it sounds crazy but they and I have known no different. It's always advisable that babies suck their thumb, dummy or teat of a bottle on take off and landing so it can help with ears pressurising. One of the best travel products I ever used was the Doona, a car seat that turned in to a push chair. I also think it's important to remember you don't need to pack lots of things to take, you can buy most things at your destination.
Great advice, thanks! Let's talk about the property side of things, and more specifically relocation. Many take the big leap to move aboard which is a massive life changing decision. What advice would you offer someone thinking about moving abroad, that doesn't quite know where to begin?
Well the Place in the Sun exhibition and website it probably a good start 😀.
Can you think of a couple of major challenges that people will likely face by relocating that they might overlook, and offer any words of wisdom to them?
Make sure you checkout what your chosen location/town is like year round.  A town can be very different out of the holiday season.
What's the relocation market like now, considering there is so much going on in the world from inflation, interest rates rising and not forgetting climate change! 
It's booming. The market overseas is crazy at all levels.  The pandemic changed a lot of things for a lot of people who can now work from anywhere. People are also to get golden visas in countries if they spend over a certain amount, which means they can stay longer than the 90 day rule that has been put in place since Brexit.
In terms of choosing a destination, are you seeing any trends at the moment, from people leaving UK?
Spain is always the number 1, followed by Portugal then France and I think it's stayed that way for sometime.
What would you say is the best decision you have made, be that work or personal related to improve the quality of you and your family's life?
To get on the property ladder at a young age. I could never have imagined I would combine my love of property with my career.
Thank you for your top tips and advice, and of course, your time. As a final question, where do you see yourself in the next 5 years?
Continuing to live my life and being happy and to be a positive role model for my children.
---
Laura Hamilton interview by Ben Farrin