Fed up with the system we live in, Scotsman Dean Nicholson set out on his bike to travel the world. Little did he know at the time but this was the start of a wonderful love story – whilst cycling through Bosnia, Dean heard a delicate meow as he was being chased up the street by a kitten. Dean stopped to give the hungry kitten some pesto and they instantly bonded. United 4 months ago, Dean and Nala have been travelling together since and are now true soulmates!
So Dean, you have an amazing heart warming story, but before we get into that, how is Nala?
Nala is good, she went and got spayed yesterday so she is still a little spaced out from the operation. She's spent the last 24 hours sleeping but it's so important to get cats spayed as it reduces risk of cancers, diseases and unwanted pregnancies!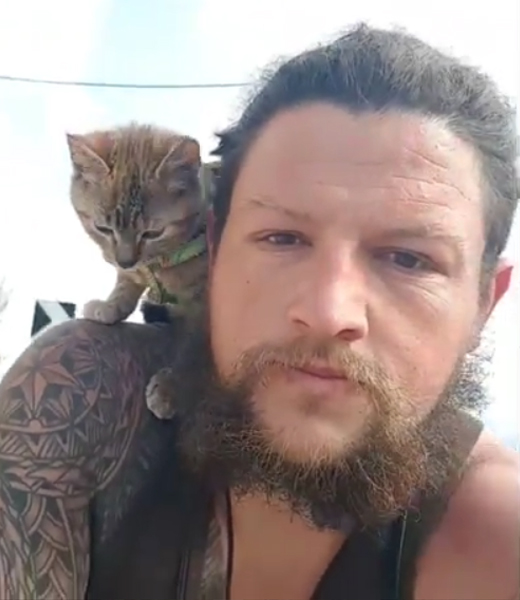 Am I right in saying you found each other in Montenegro? Please can you tell us what happened when you first saw her?
I Found Nala when I was cycling through Bosnia – I was just coming up to the border crossing into Montenegro, I was cycling up a steep hill so wasn't going that fast and had my music system on the back of my bike playing music, there was a break in the song and I heard this meowing coming from behind me. I stopped and there's this wee kitten chasing me up the hill desperately trying to get my attention. I gave her some of my pesto which is all I had and she wouldn't leave my side. The first thing I did was get her to a vet in Montenegro to see if she had a microchip. She didn't so that's when I got her chipped, a passport and started with her vaccinations allowing me to keep travelling with her. When I first got her on the bike I had put Nala in my front basket as I thought this was the best place for her, but after a few minutes she was climbing out and I thought that was her wanting away, but I let her do her own thing and that's when she climbed up onto my neck and sat there instead!
You're in Greece now, so she's already done her fair bit of travelling. How long have you and Nala been travelling together for?
I found Nala on the 10th of December so we have been on the road now for 4 months exactly!
What was your travel plans for before you found Nala, and how have they changed now you have a companion?
Before I found Nala I was putting in a lot more miles on my bike, usually 60-70 miles a day, but once I found her, I started slowing down a lot more. There was a lot more toilet breaks and a lot of people wanted to stop and get photographs with her as well, so we started doing 30 miles a day. Plus, it was nice to find somewhere to set-up camp and let her explore the area.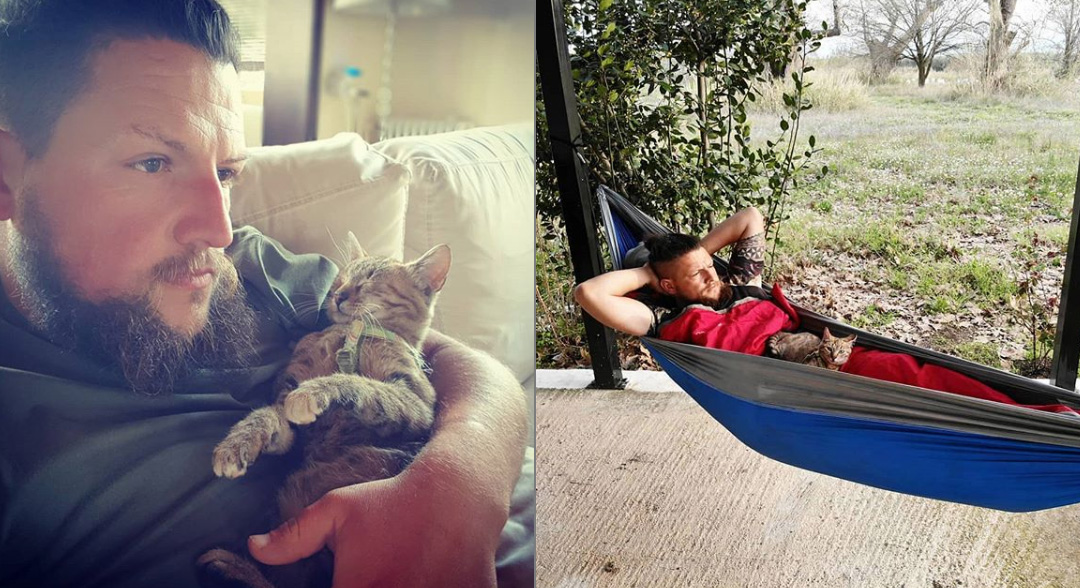 How does your accommodation work as you're travelling from place-to-place? Especially as you have a plus one furry friend?
I camp mostly everywhere, I love the challenge to sleep in new places no matter how uncomfy it seems. I have a tent, a hammock and a bivvy bag so I have plenty of options! Nala loves them all, every night she sleeps on my chest which is nice when it's cold as it's like having a wee furry hot water bottle.
What made you decide to set out on your bike in the first place?
I decided to set out on my bike because I was fed-up of the whole system, the way we live and I wanted to get out and see the world for what it is.
Of all the places you've seen so far, what's the standout memory and place?
The most standout place so far has to be Switzerland, it has beautiful scenery and everywhere felt really clean and fresh. There was a lot of cycling involved but with every big hill you climbed meant you had a beautiful view at the top.
Are you ever worried Nala will run away? Do you think once she's a fully grown adult she'll go into the wild or are you friends for life?
Not really, when I set-up camp for the night if I'm in a safe place i.e. away from roads etc, I'm happy to let Nala roam free. Off she wonders for 40 minutes then comes running back to the tent to make sure I'm still there. She loves the forests; she runs off and climbs trees!
You're true soul mates and even have her paw print tattooed on your wrist. The videos of her playing or sleeping whilst you cycle are lovely. Are you ever apart? 
Yeah there's some times we are apart, if she's sound asleep in the tent I'm not going to wake her up just to drag her to the shops but the longest I've ever left her is about an hour.
Do you ever have issues crossing borders?
Had no issues yet with borders, she's always sound asleep in the front of the bike. Hand over the passports and through I go, as long as I meet all the requirements from border patrols I should have no problem getting her around the world.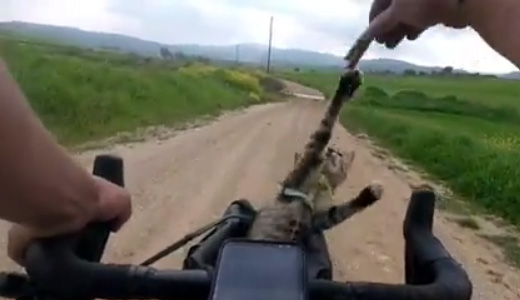 Have you gone off the beaten track at all and encountered any hair raising moments?
I go off the beaten track all the time but the only time I've had a hair raising moment is when I set-up camp first night in France, I watched a film and when I switched it off I heard loads of grunting around the tent and it was surrounded by wild boar! After a quick Google and reading how dangerous they were I got myself out they woods pronto!!
You have a huge social media following, especially on Instagram – have you got any social media tips for bloggers? 
I'm new to all this so best advice I can give is just be yourself, while trying to help the environment as much as you can.
What's your ultimate travel goal?
My ultimate travel goal is to bring awareness to the state the world is in while enjoying myself and seeing new places and cultures.
Follow Dean and Nala's adventures on his Instagram page here: https://www.instagram.com/1bike1world/