Seville in the south of Spain is the capital of Andalusia and one of the country's largest cities with over 700,000 inhabitants.
---
The city sits in the valley on the Gaudalquivir river which is navigable for 60 km. As a result it is extremely important in history, particularly when Spain undertook its conquest of the American continent with large quantities of silver and gold being landed in the city resulting in it prospering.With this extensive history, Seville is famous the world over for its culture, monuments, traditions, and artistic heritage.
How to get there
San Pablo Airport is the cities international airport, and it has well established good links across Europe and beyond. It sits 10 km from the city centre. There is a frequent and convenient bus shuttle from the airport into the city, with the journey taking approximately 35 minutes.
There is also the option of a taxi to your destination from the rank directly outside the terminal. You can also use Uber as another option to travel into the city.
Santa Justa railway station is the main station in the city, and again, it is well connected to the rest of the country and further afield across Europe by the Renfe high speed train network. A journey to Madrid, for example, would take 2 hours 30 minutes, and from personal experience, this is a scenic journey across some classis Spanish countryside.
Cruise Ship?
Ok, there is no major cruise port in the city, meaning the modern large cruise ships can't access the city directly. However, with the river being navigable, some of the smaller cruise ships do visit the city by sailing up river. That said, the nearby port of Cadiz is a popular stop on many European cruise itineraries of ships of all sizes, and it is therefore possible to visit Seville if your ship docks in Cadiz. Simply catch a train from the port to Seville it is a 1 hour 25-minute journey, and the trains are frequent and reliable. There is also the option of organised excursions to Seville from the port, and it is a city well worth seeing.
River Cruise
The Gaudalquivir river is navigable and although not as popular as some of the central European rivers you can enjoy and explore the river on a riverboat cruise. There are several companies who offer this itinerary and all have Seville as one of the trips main highlights. The river runs directly through the city, so arriving from the river means you disembarked right in its heart.
Accommodation
Being a major city and a large tourist destination you will have a wide choice of accommodation to pick from no matter if you prefer a hotel or self catering. The choice covers all budgets and styles. I do, however, have a personal recommendation from our visits to the city. Hotel Dona Maria is an excellent hotel situated only 60 meters from the cities famous cathedral. It has an authentic Spanish feel to it and offers a great location with excellent service and comfortable rooms. One of its real plus points as well as its location is its rooftop bar and pool that offer good views of the cathedral and surrounding area. We spent 4 nights here, and I could not fault it, so I'm happy to recommend it.
What to see and do
Cathedral
One of the two most famous and recognised must-see attractions in the city, Seville Cathedral. This is structure which you could spend hours within exploring its fabulous architecture, relics and curios. It has for example 80 separate chapels and is a recognised World Heritage site. The original building on the site was a Mosque but when the Moors were driven out of the city by Christians they then began the construction of what we now see today. However, once within you can still see some hints of the sites original use especially in the Court of Orange Trees which retains an Islamic Architectural look. The big must see and photo opportunity however within the cathedral walls is the tomb of Christopher Columbus.
La Giralda
This tower is attached to the cathedral and was originally a minaret for the Mosque that once stood on the site. You can buy a inclusive ticket to climb the tower that also gives you access to the cathedral. One unusual feature inside is you don't climb stairs to reach the top it is in fact a series of 34 ramps you walk up to reach the top. Apparently this strange design was so that the person leading the call to prayer from the top of the tower could ride his horse up there. However, today you walk up and on reaching the top it give's you some good views over the centre of Seville.
Real Alcazar
Along with the Cathedral this is the cities other must-see famous attractions. This UNESCO listed Palace is still used by the Spanish royal family and to view the rooms they use there is an additional fee. The site which is designed in a Moorish style was developed in the 14th century and as you walk around it you move from one courtyard to another courtyard via stunning gardens. There is also the raised Gruresco Gallery which gives you a elevated panorama over the gardens. This really is a must visit if you're in the city it is unique but like the Cathedral, it's very popular so can get very busy.
Plaza de Espana
This huge monument was built in 1929 for the Ibero-American Exhibition and stands within the Maria Luisa Park. It's built in a semi circular design edged by a water canal and overlooked by a large curved Palace.
Here also you can see many statues of famous Spanish figures as well as tiled mosaics representing each region of Spain.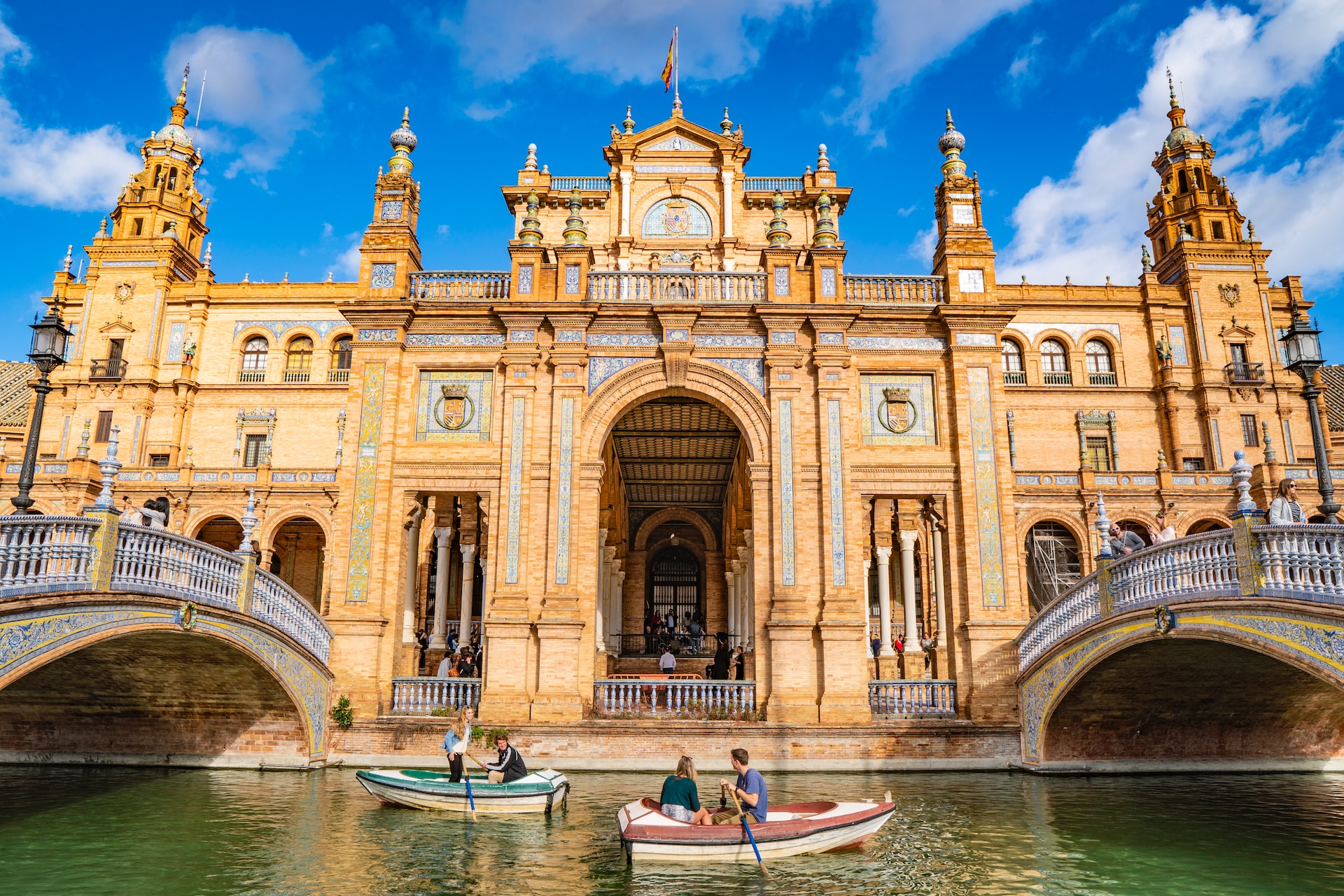 Palazzo de Las Duenas
The Royal Alcázars is the most popular palace to visit in Seville, but if you prefer to tour one that's less crowded and just as beautiful, make your way to Palacio de las Dueñas. This incredible 15th-century palace features an eclectic blend of Moorish, Renaissance, and Gothic architecture. Here you will find five perfectly manicured garden areas and a stunning courtyard lined with towering pillars and palm trees. The tour continues inside, where you'll see a beautiful collection of paintings and monuments, with an audio guide providing interesting facts as you go along.
Maria Luisa Park
This is the largest green space in the city and it can be a oasis on one of Seville's many hot day. It has long avenues of palm trees and small walks off these with some lovely tranquil areas hidden around the park.
The park is also home to the cities Botanical Garden which has some rare and exotic plants within its collections and is worth a visit on its own.
Bullring
This is one of Spain's most historic bullrings built on the site of a old plaza, it's famous Prince Gate (Main entrance) was once owned by a convent and gives you entry into a spectacular traditional setting.
No matter your view on bull fighting there is more to this site than that, it is worth a visit simply for the history and architecture of the site alone. It is also home to a interesting Museum on the traditions and history of the Spanish matador. The guided tour of the Bullring is balanced, informative and well worth doing.
Torre de Oro
This 13th century watch tower sits on the River edge and was built by the cities rulers in 1220. It has since been renovated several times the most recent in 2005 and it is now the home to Seville Maritime Museum which tells the history of the river and Seville's place in Atlantic exploring.
Las Setas
Las Setas or as the locals call it the "Mushroom" is one of the more unusual modern attractions in Seville.
It's a canopy of wooden structures on large pillars the structure covers ancient ruins that can be seen underneath it. You can climb to the top of the structure and then use the walkways designed into it to discover some interesting views out across the city.
Romeo and Juliet Balcony
Now it's not certain this was the balcony that inspired the famous and romantic classic story. However, it claimed that it was and there is no end of tourist who seek out the small path within the Santa Cruz District. That path leads you into the romantic setting of the Plaza Alfaro where the famous balcony can be seen high up in the building in the Plaza.
Santa Cruz
This is the area surrounding the cities historic central courtyard where the cities Cathedral sits. It was the old Jewish Quarter of the city and is now the heart of historic Seville. It's a maze of small cobbled streets, allys, and romantic courtyards within which you find many of the cities' best tapas and flamenco bars. This is an area that gets busy, particularly on hot summer nights, and it is well worth a wander around just to sample the atmosphere. However, if you want the authentic feel, do try some of the tapas on sale or simply enjoy a drink and soak up the ambience.
Triana
This is the former gypsy area of the city and is one of the most distinctive areas from where many famous Matador's emerged. It has quaint colourfull streets lined by many tapas bars. Many of whose walls are plastered with fading bullfight posters and flamenco dancers, all adding to this areas unique setting and atmosphere.
Alameda
Alameda is now possibly Seville's hippest, alternative neighbourhood, packed with funky shops and bars. The centrepiece is the Alameda de Hercules, a tree-lined square crowned by a pair of Roman columns. The square has a number of bars/cafes that particular come alive as the sun sets.
Getting around the City
Hop on Hop Off Bus
The historical part of city is in fact easy enough to explore on foot for anyone who is moderately fit. But the option to see the highlights of Seville on the hop-on hop-off bus tour is available. Here's how this version of that works in the city… The bus stops in 14 places. And your ticket includes free entrance to many of the museums and monuments, an audio guide is included in various languages and there are also two self-guided walking tours included in the ticket price.
Horse drawn Carriage
Why not try this traditional way of travel to see the sights. The horse drawn carriage tour is a very popular attraction in Seville. It's a great experience to get an overview and orientation of the city, especially if you are short of time. Moreover, the driver will give you an explanation of the monuments and sights you are seeing and he can even tell you some tales and funny anecdotes.
Eating, Drinking & Entertainment
As I have already said, there are a few excellent areas of the city to enjoy some real good
quality food and drink
. I would, as in any city or country you visit, encourage you to try some local dishes and it is fair to say many of them are meat based. So a few suggestions could be, Secreto Iberico: a melt in your mouth pork dish or; Serranito de Lomo: a local sandwich of pork loin serrano ham and chillies. Or, if you wanted something sweet why not try Torrijas: a deep fried bread eaten with syrup or honey.
Now for some personal recommendations to enjoy some of the excellent food on offer in Seville. In terms of authenticity I have no hesitation in recommending the following premises to try. We visited all of these and fully enjoyed all they have to offer.
Bar La Bodega
This great bar is to be found in the Santa Cruz area and offers classic local sweet wines, sherry, and tapas. It is very popular with the locals and can get busy, but it really is recommended and one you should try and experience.
El Rinconcillo
This very authentic bar and restaurant claims to be the oldest tapas bar in Spain. Dating back to 1670. It can get very busy with tourists and locals alike, but it has a wonderful, friendly, and very Spanish ambience. The upstairs is a restaurant but its downstairs is where you feel the real history of the place. It looks like nothing has changed in decades with old bottles of wine decorating the walls as a large Jamon dangles from the ceiling. To add to this setting, the bow tied waistcoated waiters serve you at the bar and keep a record of your bill using their own unique chalk markings on the bar in front of you. This really is one to enjoy.
Maqulia Bar
Now, this is a bit more modern tapas bar that also does a great menu of craft beers. You can even get a tasting menu of various beers where you get a small glass of each. The food here is also more modern but comes highly recommended as we really did enjoy our visit here, so give it a look. It's situated not that far from the Las Setas and has a good Facebook page and website.
Bodeguita Romero
This traditional bar is located on a quiet street corner, only a stones throw from the city center, and Cathedral. It is family owned and run. It has a nice outdoor seating area as well as an indoor grocery section, something that is very traditional in Seville. As well as a back room area that serves local distinctive food specialities sush as pringa pork washed down by a local rich sherry or other regional delights. The Bodeguita is a typical establishment from this area of Spain and is another one where we found a warm welcome from the staff, and where we enjoyed a good lunch and a few refreshments.
Tablaos and Flamenco Shows
Ok, Seville is a modern, vibrant city, so you have all the normal nightlife choices to choose from, but it is also home to some fantastic traditional Spanish entertainment. Flamenco happens in Seville every night no matter what time off year it may be, and a tablao is a good way to experience it with live musicians and dancers alongside bar or restaurant service. There are a number of these establishments across the city, but if you are staying near the cathedral, then Tablao el Arenal is a good choice with two 90-minute shows accompanied by dinner or tapas per night.
---
So, that's my recommendations for a trip to Seville, a brilliant vibrant and historic Spanish city that offers so much to the visitor. Plus, what I have not mentioned is that it is situated in one if not the driest parts of
Europe
and enjoys over 300 days of sunshine yearly. It is also is a excellent base to explore further afield in this authentic and historical region of Spain including the cities of Cadiz and Cordoba.