A fan of the paranormal? Below is a list of the four most haunted places in England and what makes them so terrifying. Or should we say who? Some you may have heard of, others may be more obscure, but regardless, these places are your best chance of experiencing something out of the ordinary…
Raynham Hall, Norfolk
For the last 400 years, this Norfolk country home has been the seat of the Townshend family. It is reportedly haunted by the infamous Brown Lady, and provided the public with the most famous paranormal evidence in history; the ghostly figure descending down the grand staircase.
Captured in 1936 #ghost #spirits for those of us who believe this photo is incredible! The brown lady of Raynham hall. #believer pic.twitter.com/Do527Fcpw6

— Debra Meilleur (@DebraMeilleur) November 18, 2017
The Brown Lady is thought to be the ghost of Lady Dorothy Walpole, sister of Robert Walpole who is regarded as the first prime minister of Great Britain. She was married to Charles Townshend who was notorious for his aggressive and intimidating behaviour, particularly towards his wife. Lady Dorothy supposedly committed adultery with Lord Wharton, to which her husband discovered and kept her locked inside her room to live out the rest of her life. She eventually died from smallpox in 1726.
There have been numerous sightings of The Brown Lady over the years, she's appeared on a number of occasions to visitors as an apparition. Some have described the ghostly figure to have empty eye sockets and a malicious grin… Other strange experiences from Raynham Hall include moving shadows, cold spots, and strange howling noises…
Tower of London, London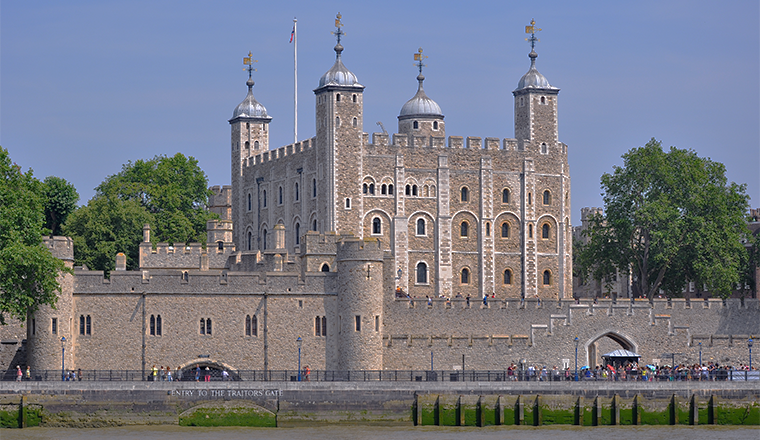 It has been described as perhaps one of the most haunted buildings in Britain and many paranormal teams and investigators have explored it over the years. It is thought be haunted by the ghost of Henry VI who was imprisoned in the tower. Some people suspected he died of melancholy after hearing of his son's death in the Battle of Tewkesbury. But shortly after he died, Edward IV was crowned which lead to many believing Edward had ordered Henry's death. Centuries later, diggers discovered Henry's body; the skull was severely damaged which concluded Henry must have died from violence…
Every year, on the anniversary of Henry's death, his mournful spirit is thought to pace through and around Wakefield Tower until midnight. Meanwhile, the White Lady is haunting the White Tower where she has supposedly been spotted by children on school trips, terrifying them. Her strong perfume has also been smelt, and it's so strong, people have been physically sick.
Pluckley Village, Kent
A seemingly peaceful and rural community received the title as the most haunted village in Britain as named in the books of Guinness World Records. It is home to 15 infamous ghosts, and during Halloween, the village is heavily policed due to high numbers of ghost hunters.
The village has also featured in multiple paranormal shows including Most Haunted and Strange But True, and many ghost hunt tours take place in the area. The terrifying Screaming Woods is a particularly popular spot for paranormal activity; the curdling screams of a man and woman who died after getting lost can be heard all year round. Multiple apparitions appear all over the village including a horse drawn coach, a gypsy woman, the reenactment of a deadly sword fight dating back to the 18th century, and that of a hanging school master in the woods who hung himself during the First World War… It's not difficult to see why this picturesque village is popular with paranormal enthusiasts.
50 Berkeley Square, London
Constructed in the late 18th century, this four-storey London townhouse is supposedly the most haunted house in Britain. In 1859 the house was bought by a strange man named Mr Myers; a recluse who never left the house and only answered the door to collect food from servants.
However, Myers isn't the main attraction of this haunted property, many years ago, legend has it that a young woman threw herself from the top floor window after being horrifically abused by her uncle. Her spirit has been reported to be so frightening that it has actually killed people out of fright. She supposedly appears as brown mist or a white figure.
One night in 1887, two sailors stayed in the home, by morning, one had died after being aggressively chased by the spirit of the young woman. Many other stories surround the property, including Mr Myers locking himself inside and slowly going insane until he died, whilst another is concerned with the murder of a little girl who was brutally killed in the attic by a sadistic servant, but this was never confirmed.