Crystal clear waters lap yellow sandy beaches along the coast of Nusa Penida Island. Home to the famous "Kelingking Beach", secluded lagoons and secret coves, Nusa Penida is a relatively untamed part of Asia.
Translated to English, this small island off the coast of Indonesia is called the "Island of Priests". Home to black magic and many temples, the island of Nusa Penida remains relatively unexplored and intact. Rather than adventuring here for common holiday activities, visit this section of Bali to relax and enjoy the slower kind of life amongst the unbridled nature.
Perfect For…
Couples and small groups of friends looking to taste untrammelled lands
Visit In…
The months between May and September for a pleasant experience
---
Nusa Penida's Many Beaches
Until Instagram discovered Nusa Penida, the small island was relatively unknown and uncharted in the western world. However, one of the many reasons the island drew people to it was Kelingking Beach. A fascinating rock formation situated on this beach amazed many people, and it has since become one of the most recognizable cliffsides in Indonesia. Although the name "Kelingking" can be translated to "little finger", it's mostly referred to as "the t-rex" by westerners due to its resemblance to the prehistoric lizard. This unique cliffside is one of the most instagrammable locations in the world! What do you think? Can you see the closeness?
Other popular beaches include Diamond Beach with its gorgeous landscape (often called the most beautiful beach in Nusa Penida) and Pasih Uug Beach. An equally trendy location, you'll find Pasih Uug Beach after a walk along a dusty pathway, where you'll be greeted by an incredible archway reclining over the tropical waters. Take your time exploring every beach as each shore has its own unique flair for attracting you to it. After all, the only shared feature across all of these waterfronts is the ability to take your breath away!
Bali's History of Magic and Culture
Nusa Penida has a rich history to explore, garnering its name from the many temples and ruins spread out over the island. Originating from a Sanskrit word meaning "city" or "palace", temples are known as "pura" in Bali. Due to the different types of Balinese rituals, there are several types of pura, each with a different function! The most visited temples on Penida island are Pura Dalem Pad and Pura Goa Giri Putri. Both are extremely important to Balinese culture and the history of the island. Pura Dalem Pad remains the most important temple on Penida island because it hosts Gede Mecaling, the demon king. Therefore, the Balinese consider Pura Dalem Pad to be one of their most holy temples!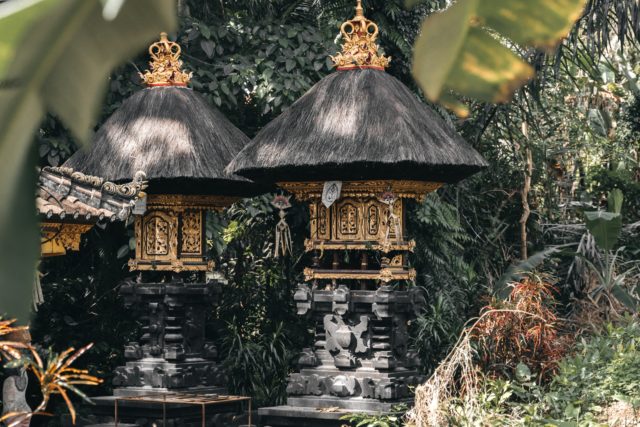 At this point in the article, you may be asking yourself why Nusa Penida was mostly untouched by tourism until recent years. After all, the island is both beautiful and interesting. However, in the past, Nusa Penida had an evil reputation that dissuaded people from visiting. The deportation of black magic users to Penida island gave way to negative stigma, enveloping the island in myths of dark magic. It's this negativity that diverted attention away from tourism for a long time!
Fun Fact:
A Dutch map from 1900 refers to Nusa Penida as "Bandit Island". This is because the island's Klungkung regency also used to deport its criminals here!
Indonesia's Beautiful Cottages
At one point, it was near impossible to find a hotel, villa or cottage to stay at on Penida island. Now, thanks to tourism, many beautiful vistas are waiting to house you! There are ample resorts and hotels to pick from, all with their own amazing views of the island. When looking for a place to stay here, make sure it has air-con as it can get quite hot very quickly. Most of the resorts will have a swimming pool to laze in, but we recommend ditching the pools and going straight to the sea! An amazing plus is that the prices for many of the hotels on Penida island are relatively low.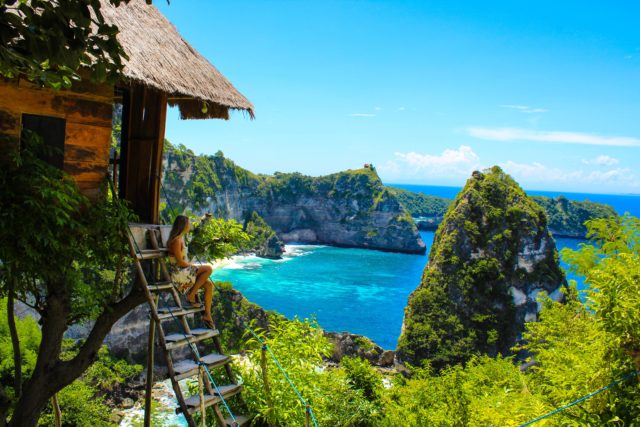 Of course, you could stay in a resort, but if you really want to experience nature here, you should absolutely rent out one of the wooden a-frame bungalows! Namaste Bungalows are a little farther out than most other places, but the views, staff and food all make up for it. And when you want to travel, the staff will be more than happy to help arrange transport for you! As for beaches, if you're fit enough, Crystal Bay is within walking distance. Another tried-and-tested destination is Tentacle Bali. Featuring an infinity pool, garden and hammock, a stay at Tentacle is an absolute treat!
Start Booking Your Travel
The amazing scenery, opulent beaches and low-cost stays make Penida island in Indonesia a must on any wanderlust bucket list. Delve into the history of black magic or laze in a hammock while enjoying the sunshine; there are so many options when it comes to enjoying this island! Whatever you choose to do, Nusa Penida is waiting to spoil you with its untamed landscape.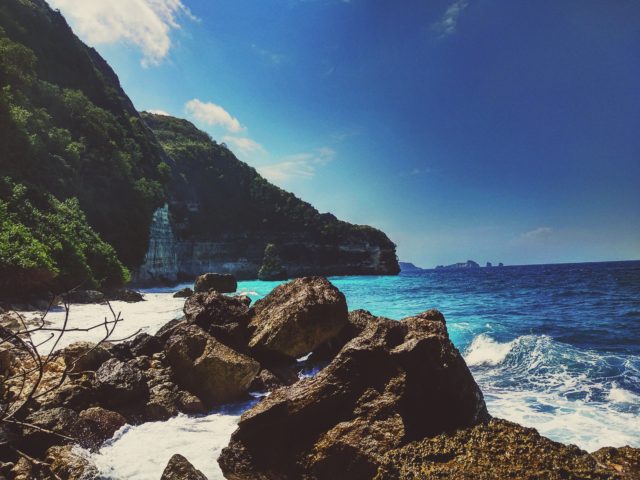 ---
By Skylar Grace